NTL CROSS COUNTRY: ATHENS GIRLS TOP TROY TO TAKE CONTOL OF DIVISION TITLE CHASE; ATHENS BOYS SPLIT (23 PHOTOS)
(2022-09-20)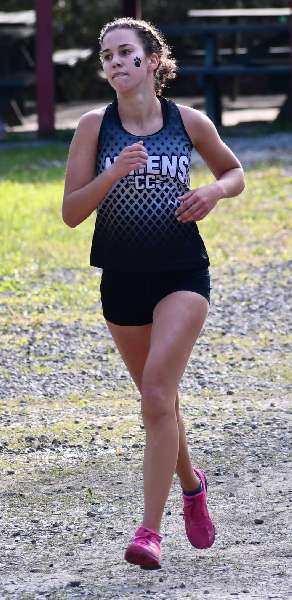 Valley Sports Report
ATHENS TOWNSHIP — The Bronson sisters — sophomore Sara and senior Emma — finished 1-2 to lead the Athens girls to wins over Troy and Sayre to take control of the NTL Large School Division title chase, while the Athens boys topped Sayre, but dropped a decision to Troy.
GIRLS
Athens 24, Troy 32
Athens 15, Sayre 47
Troy 17, Sayre 40
Sara Bronson clocked in at 20:39, and Emma Bronson was second in 21:49 to lead Athens to a 24-32 win over Troy, and a 15-47 win over Sayre.
Thea Bentley finished fifth against Troy in a time of 22:40, while Emily Henderson was seventh in 25:31, Olivia Cheresnowsky was ninth in 27:39, and Abby Prickett was 10th in 28:01. Janae Harkins was 12th in 35:25, and Mary Rose Bertsch was 14th in 40:24.
Bentley, Henderson, Cheresnowsky, and Prickett finished third through sixth, respectively, against Sayre, while Harkins was 14th and Bertsch was 16th.
Sayre's Corey Ault placed fifth against Troy and seventh against Athens in a time of 28:39, while Rose Shikanga was sixth against Troy and eighth against Athens in 28:58, and Deborah Shikanga was eight against Troy and ninth against Athens in 30:12.
Olivia Corbin was ninth against Troy and 10th against Athens in a time of 36:28.
BOYS
Troy 25, Athens 34
Athens 15, Sayre 48
Troy 15, Sayre 50
Ethan Hicks and Ethan Denlinger finished 1-2 for the Wildcat boys, but Troy runners were the next five to cross the finish line to pull out wins over Athens and Sayre.
Hicks clocked in at 18:21, and Denlinger was second in 18:54, while Nate Prickett was eighth against Troy in a time of 20:52, Ronel Ankam was 11th in 22:00, and Samuel Sensing was 12th in 22:09.
Aiden Oldroyd (22:45) and Caleb Simwale (23:08) finished 13th and 14th, respectively, while Pierce Oldroyd (23:42) was 17th, Aiden Pollock-Sinsabaugh (24:03) was 19th, Andrew DeForest (25:04) was 21st, and Lohith Kinthala (26:05) was 22nd.
Prickett, Ankam and Sensing finished third through fifth, respectively, against Sayre, while Aiden Oldroyd was seventh, and Simwale was eight.
Sayre's Sam Claypool finished sixth against Athens and eighth against Troy in a time of 22:24, and Mark Golden was 12th against Troy, and 11th against Sayre in a time of 25:59.
JUNIOR HIGH
Boys
Athens 15, Troy 44
Athens 15, Sayre 50
Troy 15, Sayre 50
The junior Wildcats swept the top five spots in convincing wins over Troy and Sayre.
Graham Wanck won the race in a time of 9:41, while Eli Hicks (10:57), Jacob Shores (11:23), Matt Rossetti (11:30), and Zach Fisher (11:41) finished second through fifth, respectively.
Steinfelt finished in 12:04 for Athens to place seventh overall, while Darius Miller was 13th in 13:35, and John Roberts was 19th in 16:27.
Sayre's Casey Hurd finished 11th overall in a time of 12:53, and Ian Garrison was 17th in 14:02.
Girls
Alyssa Vaughn won the junior high girls race in a time of 12:49, and teammate Abby Conklin was fourth in 19:45.
Reagan McGaughey led Sayre with a third-place finish in a time of 14:57, while Luanne Niema was fifth in 20:15, and Krystal Nyangogo was sixth in 21:17.
———————
IN PHOTO 1: Athens sophomore Sara Bronson. … PHOTOS BY LIZA HENDERSON.