NTL GIRLS SOCCER: ATHENS RALLIES IN SECOND HALF TO EDGE WYALUSING, 2-1 (23 PHOTOS)
(2022-09-20)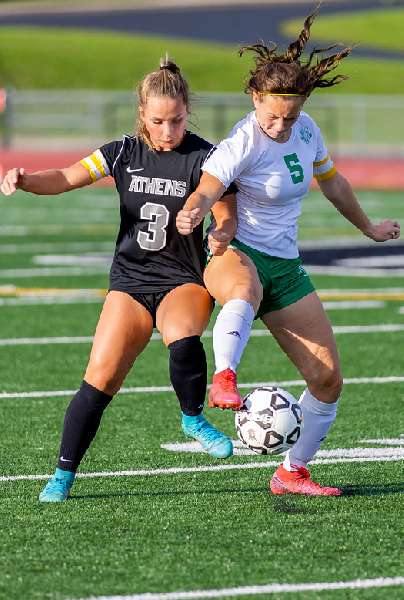 Valley Sports Report
ATHENS — Athens scored a pair of second-half goals to rally for a 2-1 win over Wyalusing here Tuesday evening in NTL girls soccer action at Alumni Stadium, snapping a three-game losing streak.
Layla Botts, off a feed from Chloe Bennett, broke a scoreless tie with 7:04 remaining in the first half to give Wyalusing a 1-0 lead, which it carried into the halftime intermission.
About nine minutes into the second half, senior Ally Thoman drove a shot into the back of the net to tie the game at 1-1.
With 11:06 remaining in the contest, sophomore Addy Wheeler took a cross from Kendra Merrill and knocked in a shot from 20 yards out to put the Lady Wildcats ahead 2-1.
Athens has an 11-10 edge in shots-on-goal, and a 7-6 advantage in corner kicks.
Senior Karlee Bartlow recorded nine saves in net for the Lady Wildcats.
Athens, now 3-5, returns to action Thursday.
——————
IN PHOTO 1: Athens senior Ally Thoman. … PHOTOS BY DAVID ALLIGER — TRAVELING PORTRAITS.