NTL BOYS SOCCER: ATHENS HANDS NEB FIRST LEAGUE LOSS, 5-0
(2022-09-21)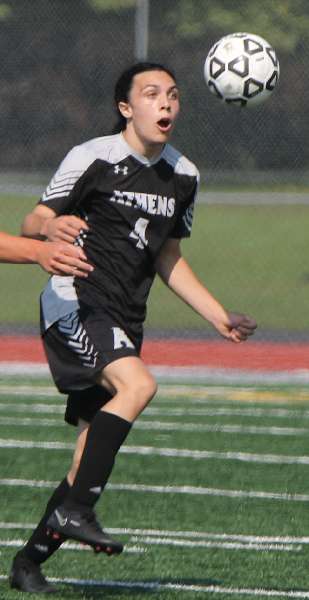 Valley Sports Report
ROME, Pa. — Sophomore Marco Quiros netted a first-half hat trick as Athens handed Northeast Bradford its first NTL boys soccer loss, a 5-0 decision here Wednesday afternoon.
Athens (6-3) overall improves to 5-1 in league play, while NEB (4-2) is now tied with Williamson (5-2) at 4-1. Wellsboro sits atop the NTL standings at 7-0.
"It took us a little while in the first half to get settled in," said Athens coach Jake Lezak. "NEB has some good midfielders who were tough to handle all game, but especially early on.
"Once we started passing and creating, moving the ball forward it just came together for the boys," he noted. "We created a lot in the second half and just didn't put it low and away from there keeper.
"The boys played a good defensive game with guys getting in and behind where we needed them," added Lezak. "We still have to work hard at staying consistent for 80 minutes, regardless of who is in, but we are narrowing that gap."
Quiros, off a feed from senior Levent VanHelden, scored with 24 minutes remaining in the first half, and the Wildcats scored four more goals in the next 13 minutes.
With 22 minutes remaining, junior Korey Miller, off an assist from sophomore Isaac Wilcox, scored to extend the lead to 2-0. Two minutes later, Quiros scored off an assist from Miller to make it 3-0.
With 15 minutes remaining in the half, Quiros finished off his hat trick, with VanHelden getting the assist.
Four minutes later, senior Brayden Post capped the scoring, with Miller credited with an assist.
Athens had a 14-3 advantage in shots-on-goal, while NEB had a 3-2 edge in corner kicks.
Senior Grady Liechty had three saves in net for the Wildcats.
Athens returns to action Friday when it hosts powerhouse Corning.
——————
IN PHOTO: Athens sophomore Marco Quiros.