IAC VOLLEYBALL: WAVERLY RALLIES TO TOP EDISON, 3-1 (20 PHOTOS)
(2022-09-21)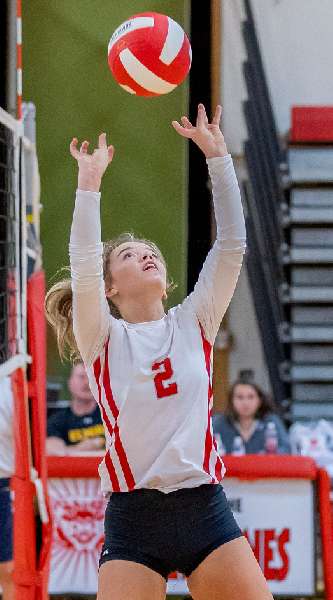 Valley Sports Report
WAVERLY — Waverly dropped a hard-fought first set, but rallied to win the next three in a 3-1 win over Thomas A. Edison here Wednesday night in IAC South Large School Division volleyball action.
The Lady Spartans needed extra play to win a 26-24 decision in the opening set, but the Lady Wolverines answered with wins of 25-17, 25-17, and 25-20.
Senior Michaela Lauper led the Lady Wolverines with a triple-double, recording 14 points, including five aces, 14 digs, and 24 setter assists, while freshman Brilynn Belles had 14 points, including six aces, four kills, 17 digs, and two assists, and sophomore Maddy Olmsted had 12 points (three aces) and nine digs.
Sophomore Lillie Kirk had six points (three aces), four kills, and nine digs in the win, while junior Erica Ryck had dive points (two aces), a team-high 10 kills, and seven digs, junior Ashlen Croft had four points (three aces), five kills, and two digs, and junior Peyton Shaw added four points, four kills, and two blocks.
Waverly, now 4-1, hosts Candor Friday.
JV:
Edison swept the junior varsity match by scores of 25-15 and 25-18.
Adrianna Presher led Waverly with seven points, six digs, and two assists, while Mady Briggs added four points, Lauryn DeLill registered four kills and two blocks, Zaelea Lane recorded five assists and four digs, and Megghan Apgar chipped in with two digs.
——————
IN PHOTO 1: Waverly's Michaela Lauper. … PHOTOS BY DAVID ALLIGER — TRAVELING PORTRAITS.