NEW YORK STATE FOOTBALL: AIELLO BELIEVES TIOGA STILL HUNGRY AS STATE PLAYOFFS BEGIN
(2022-11-17)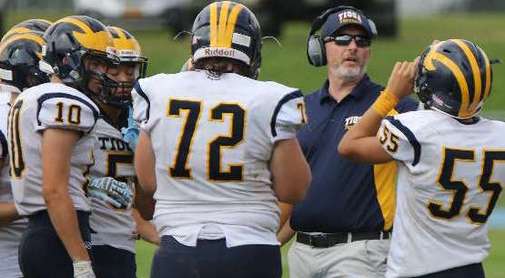 TOP-RANKED TIOGA SQUARES OFF WITH FIFTH-RANKED DOLGEVILLE IN CLASS D QUARTERFINALS


By TIM BIRNEY
Valley Sports Report
TIOGA CENTER — Tioga is coming off winning its fifth straight Section IV, Class D title, and has its sites set on the defense of its 2021 state title.
The Tigers, 11-0 and ranked first in the State, will square off with the Dolgeville, 10-0 and ranked fifth in the State, in the Class D state quarterfinals at Cicero-North Syracuse High School Friday at 5 p.m.
Longtime Tioga coach Nick Aiello believes this team is as hungry as ever.
"This team definitely had a goal in mind. They bring a lot of experience back, and put a lot of work in over the summer.
"I don't think the thought was to go undefeated, they just wanted to put themselves in position to win a Sectional title, and go on to the state playoffs to have the opportunity (to defend the state title)," said Aiello.
"They've done everything they needed to, to put themselves in that position," he noted. "Now, they'e right where they wanted to be.
"The guys are excited, they understand at this point every team is good, and it's one week at a time," Aiello added.
The Tigers, who won their 10th Section IV title in the last 11 postseasons, are 9-0 in state quarter-final games, including a 50-12 win over Dolgeville last year.
"Again, we've really tried to send the message that every team is good at this point," said Aiello. "In the next two rounds, any team we play, or possibly play, is undefeated.
"We played Dolgeville last year, and Dolgeville returned a lot," he noted. "There's a reason Dolgeville is undefeated, they're doing a lot of good things.
"I think our kids, and not just in football, understand that you need to respect your opponent, and prepare yourself the best you can if you're going to be successful come game day.
"I'm not too worried about any of our kids looking past Friday because they understand if we don't get the job done Friday, we won't be practicing next week," added Aiello. "These kids are focused and looking to take on Dolgeville."
After a nearly perfect regular season weather-wise, Tioga navigated its way through heavy rains last Friday in a 42-14 win over Delhi in the Section IV, Class D title game. This Friday, the forecast is temperature in the low 30s at game time with 10 to 20-mile-an-hour winds.
"Playing in the cold is a different animal," said Aiello. "We actually talked about that in August … you start in 90 degrees, worried about the heat index, and by the end of the year you're worried about hands being cold and just trying to stay warm out there.
"Playing in the elements is something we try to get them mentally-prepared for," he noted. "We also try to get them acclimated, but it's getting cold pretty quick.
"The kids have played in the cold before," added Aiello. "They just have to be ready … and really you have to be prepared to keep your hands and your feet warm, so you're not uncomfortable out there."
Aiello was pleased with the way his team played in the rain Friday.
"I was definitely happy with the way the guys handled the rain," he said. "We had a little trouble with a punt snap, and we had one or two dropped snaps, but we didn't turn the ball over.
"Any time you play in a monsoon and you don't turn the ball over, I'll take that as a victory," added Aiello.

WHEN DOLGEVILLE HAS THE BALL
Dolgeville enters the game averaging 42.8 points, and 329.7 yards per game in total offense, while Tioga allows 11.4 points per game, and forced 20 turnovers.
The Blue Devils advanced with a 44-22 win over Beaver River in the Section III title game.
Senior Jared Bilinski leads Dolgeville with 1,298 yards and 18 TDs on 148 carries (8.8 yards per carry), while senior Cameron Dager has 480 yards and five TDs on 72 carries (6.7 yards per carry), and junior QB Cade Mosher has 291 yards and five TDs on 47 carries (6.2 yards per carry).
Mosher has completed 72.4 percent of his passes (42 of 58) for 652 yards, and 13 TDs, with just two interceptions. Senior tight end Kamryn Comstock leads the Blue Devils with 20 receptions for 391 yards and eight TDs, and senior Michael Blaskey has 14 grabs for 175 yards, and three TDs.
"Dolgeville is a power run-oriented team," said Aiello. "They look to establish the line-of-scrimmage, and they look to be physical.
"I think that's why they were able to cruise through Class D in Section III, because they play a very physical brand of football," he noted.
"They return quite a bit from last year, and they look very comfortable and confident in what they're doing," added Aiello.
WHEN TIOGA HAS THE BALL
Tioga enters the game averaging 46.2 points, and 378.3 yards in total offense per game, while Dolgeville has allowed 9.7 points per game, and has forced 19 turnovers.
Junior Drew Macumber leads Tioga with 1,062 rushing yards and 18 TDs on 112 carries (9.5 yards per carry), while junior Ousmane Duncanson has 717 yards and 13 TDs on 55 carries (13.0 yards per carry), and junior QB Caden Bellis has 494 yards and eight TDs on 62 carries (8.0 yards per carry).
The Tigers are averaging 276.9 yards per game on the ground, and 9.3 yards per carry.
Bellis has completed 67 percent of his passes for 1,115 yards and 19 TDs, while being picked off just three times. Junior Valentino Rossi leads Tioga with 20 receptions for 467 yards and seven TDs, while junior Evan Sickler had 16 grabs for 232 yards, and four TDs, and junior tight end Karson Sindoni has 13 catches for 192 yards, and four TDs.
"Dolgeville mixes it up quite a bit," said Aiello. "They mix up their fronts a lot, but a lot of that seems game-planned oriented in terms of their fronts and what type of blitzes they're using.
"They're going to bring a lot of pressure, and they tend to play quite a bit of man coverage," he noted. "We're going to have to be ready for them to really load the box, and bring a lot of pressure.
"Taking advantage of certain things we've seen on film is going to be key.
"They also look like they have some petty good team speed, especially on the defensive side of the ball," added Aiello.

THE KEYS TO THE GAME
"The key this week is playing our style of football, and we have to come out of the gate hot," said Aiello.
"It's a longer trip for us, the longest trip we'll take this year … it's a little bit out of routine, we'll be leaving during the day on Friday," noted Aiello. "Being able to put that all out of our mind, and once we get there being able to prepare for the game is key.
"Being able to play in the cold and execute offensively, and then fly around fast and physical on defense is going to be key," he added.