NEW YORK STATE GIRLS' SWIMMING: KITTLE HAS STRONG SHOWING AT HER FIRST STATE MEET (8 PHOTOS)
(2022-11-18)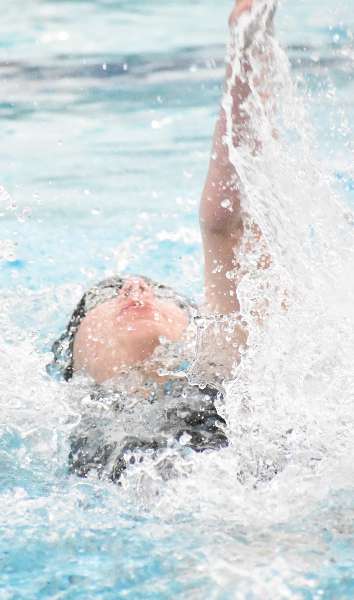 By BRIAN FEES
Valley Sports Report
WEBSTER — For Mira Kittle just being at the state meet was special. To get a chance to come back for Saturday made things that much better.
"Very exciting, as a 14-year-old I think it was great I got to be here in general," Kittle said. "But, making it to the second day is really crazy to me."
Kittle will return on Saturday in both the 50 free and the 100 back at the NYSPHSAA Swimming & Diving Championships at the Webster Aquatic Center. In the 50 free Kittle was 24th in the prelims in 24.70.
The top 10 make the final, the next 10 then swim the consolation final, and the next 10 swim in a heat.
"I did a lot of improvements over the two weeks before I came here," Kittle said. "Today was just testing it out to see if it worked. And, if I made it too Saturday I can focus on what I really want to try."
In the back stroke Kittle was 29th in the prelims in 1:00.67.
"There was definitely some things I need to work on, but that will come with tomorrow too," Kittle said. "Today was really try and put in those little fixes we did and see if they worked better or if we had to go back to my other plan."
For Kittle the entire experience was a lot of fun.
"It was very nice," she said. "A lot of people were very nice, allowing me to swim with them to warm up. Overall, they were helpful too."
Getting to states at such an early age just helps Kittle be better prepared for later in her career.
"A lot of help," Kittle said. "Just already knowing what to expect here, what the rues are, who to swim with, dealing with crowds. It's better I got to do this younger than when I'm a senior like a lot of other girls."
The atmosphere was something different for Kittle.
"A lot different," she said. "It is somewhat like the Wolverine Invite or the Elmira Invitational, but here it's just so much louder and bigger and crazier."
And the speed of some of the swimmers was impressive to Kittle. In the 50 free Angie McKane of Corning has the top time in the prelims at 23.39, an All-American Consideration time that's just off the pool record, and in the 100 back Tess HOwley swim a 53.24, an Automatic All-American time.
"It's really crazy," Kittle said. "When we are at the Waverly pool sometimes we'll watch NCAA's, the college girls, their meets and you come here and these girls some are as good as the NCAA girls. If you look at some of the times they are already making All-American Consideration and automatic times, it's just crazy to see."
——
PHOTOS BY BRIAN FEES