NEW YORK STATE FOOTBALL: TIOGA CONTINUES DOMINANCE OVER SECTION III; ROLLS TO 42-6 WIN OVER DOLGEVILLE IN CLASS D QUARTERFINALS (24 PHOTOS)
(2022-11-18)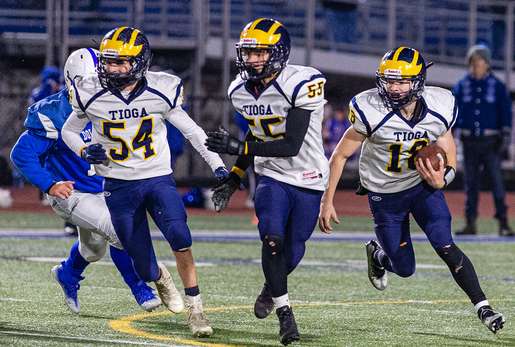 By TIM BIRNEY
Valley Sports Report
CICERO, N.Y. — Tioga continued its domination of Section III here on a cold and snowy Friday night, rolling to a 42-6 win over Dolgeville in the quarterfinals of the New York State, Class D football playoffs.
The Tigers, now 12-0 — ranked first in the State, and winners of 25 consecutive games — improve to 10-0 against Section III champs since 2011 in the state quarterfinals, which also serves as the Central Region championship.
Longtime coach Nick Aiello has no real explanation for Tioga's dominance of Section III.
"If we make it to this point, we're a pretty good team, and the kids focus up every year," he said.
"Dolgeville did a real nice job of making it through Section III, but I thought we matched up real well with them this year," Aiello added.
The game was played with temperatures hovering in the high 20s, and first-half snow flurries that intensified into a heavy snowfall in the second half.
The Tigers featured a balanced offense, with junior QB Caden Bellis completing 6 of 12 passes for 184 yards, and two TDs, while rushing for 58 yards on six carries. Junior tailback Drew Macumber led the ground game with 103 yards and four TDs on 20 carries.
"Considering the conditions, we didn't think it would snow, but there were flurries the whole game, I thought we threw ball way we wanted to, especially after being so conservative last week, playing in that monsoon," said Aiello.
"I thought we needed to come out and get more people involved, and we did," he added.
In all, Tioga piled up 358 yards in total offense.
"The linemen were doing great up front, the wide receivers were getting open, and Drew (Macumber) was running hard," said Tioga junior QB Caden Bellis.
Dolgeville received the opening kickoff, and picked up eight yards on back-to-back 4-yard runs by Cam Dager and Jared Bilinski. On third-and-2, Tioga junior Trent Browne sliced into the backfield and dropped Bilinski for a 3-yard loss, forcing a Blue Devil punt.
The Tigers took over at their 33, and quickly moved into Dolgeville territory on runs of six yards by Macumber, and seven by Bellis, then 11 yards by Macumber, and 16 yards by Bellis.
After a penalty left Tioga in a second-and-15 predicament at the Dolgeville 32, Bellis found junior tight end Karson Sindoni open across the middle for a 26-yard gain.
Two plays later, Macumber scored on a 5-yard run to cap the nine-play, 67-yard drive that consumed 4 1/2 minutes off the game clock. Junior Gavin Fisher's PAT kick made it 7-0 with 5:28 remaining in the first quarter.
Fisher's ensuing kickoff was mishandled inside the 10 by Tim Rankins, who collected the loose ball. As he attempted to change directions. he was hit by Tioga junior Evan Sickler and coughed up the ball. Caden Bellis pounced on it at the Dolgeville 8.
"That was a big fumble, it changed the momentum right around," said Caden Bellis.
"All my teammates were telling me, 'you had enough time, why didn't you pick it up and run, there was nobody around.' To be honest, I had no clue you could do that on a kickoff," laughed Bellis.
Two plays later, Macumber scored on a 3-yard run. Fisher tacked on the PAT kick to make it 14-0 with 4:48 remaining in the first quarter.
"That was a big swing," said Aiello. "To go up 14-0, and they've only run three offensive plays, that's a tough hole to climb out of.
"It gave us the momentum, and made us comfortable in the game.
"I don't think (Dolgeville) was pressing, but it made them go to their spread stuff, instead of grinding out drives like they're use to doing," Aiello added.
Dolgeville answered on its next possession, forging a 13-play drive that bridged the first and second quarters.
Junior QB Cade Mosher capped the 78-yard drive that took more than 6 1/2 minutes off the game clock, scoring on a 1-yard run on fourth-and-goal. The Blue Devils' two-point conversion failed, and they trailed 14-6 with 9:59 remaining in the half.
From that point on, Tioga's defense did not allow a point, forced four turnovers, and two turnovers on downs.
"We really settled in on defense," said Caden Bellis.
"We were kind of slow looking at their formations early, but we got through that, adjusted to it, and everything worked out for us," he added.
Junior Valentino Rossi returned the ensuing kickoff 30 yards to the Tioga 45, but the Tigers coughed the ball up on their first play, and Dolgeville recovered it at midfield.
Runs of 6 and 7 yards by Mosher, and a 7-yard run by Bilinski quickly moved the ball to the Tioga 30, but junior Ousmane Duncanson hit Dolgeville's Michael Blaskey in the backfield on the next play, jarring the ball loose. Junior Gianni Silvestri recovered the fumble to give the Tigers the ball at their own 37.
"It's a one-score game, and you fumble to give them the short field, you definitely get nervous," said Aiello.
"We always tell the kids to forget about it, and move on," he noted. "The fumble recovery gave us the momentum, and we were able to go down and score after that."
Tioga picked up a pair of first downs, but faced third-and-8 at the Dolgeville 39. Caden Bellis kept it on the option, broke a couple of tackles and picked up 13 yards for a first down. He duplicated the 13-yard gain on the next play to move the ball to Blue Devil 13, but a personal foul moved the ball back to the 28.
Two plays later, Caden Bellis connected with Sickler in the flats. Sickler broke a pair of tackles and scored on a 26-yard pass play with 2:32 remaining in the first half. Fisher's PAT made it 21-6.
Dolgeville picked up a quick first down on its next possession, but an incomplete pass, and a mishandled snap that resulted in a 5-yard loss left the Blue Devils facing fourth-and-11 at their 45.
After a Tioga timeout, Dolgeville punted. Sickler fielded the punt at the Tioga 15, and returned it 27 yards to the Tiger 42 with 45.9 seconds remaining.
Facing third-and-7 at their own 45, Caden Bellis hit Sickler on a quick slant. Sickler broke a tackle and legged out a 38-yard gain to the Dolgeville 17.
Without calling its timeout, Tioga hustled to the line-of-scrimmage, and gave Macumber the ball off the left side. He picked up a pair of blocks, and scored on a 17-yard run with 11.3 seconds remaining. FIsher's PAT kick made it 28-6.
"Sickler's punt return was big," said Aiello. "We talk all the time about how a big special-teams play can set you up.
"I thought we set the return up nicely, the kids did a nice job blocking, and Sickler did a good job … he got us close to midfield, so were comfortable trying to punch one in.
"Putting the score in right before half was big," noted Aiello. "It was a huge score.
"We had 45 seconds and one time out," continued Aiello. "We were trying to get a big pass play to put us in position to score … it's the second time this year we've been able to do that, and punch one in right before half.
"It makes you feel good going into the half, and then getting the ball back to start the second half is nice, too," he added.
Junior Levi Bellis fielded Dolgeville's onside kick attempt to open the second half at the Tiger 47.
Three plays later, on fourth-and-4 at the Dolgeville 47, Bellis connected with Macumber on a quick hitch. Macumber broke a tackle, and raced 39 yards to the Dolgeville 8.
"We went back-and-forth as to whether or not we wanted to punt … the wind was in our face, and it was blowing hard with snow at that point," said Aiello.
"We were pretty comfortable with the play call, so we figured why punt into the wind?" added Aiello. "We had a three-touchdown lead, so (if we didn't get it), we could play defense after that."
Three plays later, Macumber scored on a 7-yard run with 9:10 remaining in the third quarter. Fisher's PAT kick made it 35-6.
Dolgeville picked up a first down on its next possession, but turned the ball over on down at the Tioga 44.
Two plays later, Caden Bellis hit Rossi in stride for a 53-yard TD pass with 5:25 remaining in the third quarter. Fisher, who was 6-for-6, split the uprights with the PAT kick to make it 42-6.
Dolgeville moved the ball into Tioga territory on its next possession, but Sickler put an end to the drive with a one-handed interception of a tipped ball at the Tioga 11.
With Tioga subbing freely, it's offense was shut down, but it's second-team defense came up with a turnover on downs, and an interception by junior Ben Leary to keep the Blue Devils off the board.
Sickler led Tioga's receivers with three grabs for 66 yards, and one TD.
The Blue Devils rushed for 188 yards on 40 carries, with 65 yards coming in the fourth quarter against Tioga's second-team defense.
Bilinski led the Blue Devils with 84 yards on 16 carries, while Mosher added 39 yards on 10 carries, and Dager added 38 yards on eight carries.
Mosher completed 2 of 10 passes for 35 yards, and was intercepted twice.
Tioga will play the winner of Monday's game between Section V champ Randolph (10-0) and Section VI champ Oakfield-Alabama-Elba (11-0) Friday at 3 p.m. at Union-Endicott High School.
——————
IN PHOTO 1: Tioga's Caden Bellis. ... PHOTOS BY DAVID ALLIGER — TRAVELING PORTRAITS.