NEW YORK STATE FOOTBALL: WAVERLY HAS NO ANSWERS FOR GENERAL BROWN'S GROUND GAME IN 29-14 LOSS IN CLASS C QUARTERFINALS (24 PHOTOS)
(2022-11-19)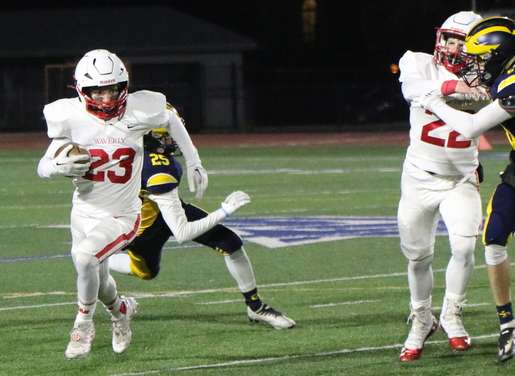 By TIM BIRNEY
Valley Sports Report
CICERO, N.Y. — Waverly had "no answers" for General Brown's relentless ground game in a 29-14 loss here Saturday night in the quarterfinals of the New York State Class C football playoffs at Cicero-North Syracuse High School.
The Wolverines, who entered the contest ranked No. 1 in the state, were coming off one of the biggest wins in program history — a come-from-behind, 28-14, victory over Chenango Forks in the Section IV, Class C title game, but longtime Waverly coach Jason Miller doesn't believe his team suffered any type of hangover from that win.
"I don't think that anything to do with it.
"We prepared as hard this week as any other week," said Miller. "I thought we had a great week of practice … what's really amazing is I doubt (General Brown) had a great week of practice.
"They just put it to us, we didn't have any answers," added Miller.
The Lions, now 10-1, ran the ball 77 times for 411 yards, and had the ball for 36 minutes and 14 seconds to Waverly's 11 minutes, and 46 seconds.
General Brown got off to an inauspicious start, however, mishandling the ball on the opening kickoff, and getting pinned at their own 11.
On the second play from scrimmage, senior QB Ryan McManaman botched a hand-off, but fell on the ball for a 2-yard loss to leave the Lions in a third-and-4 predicament.
That was the last time the Lions put the ball on the turf, and they dissected the Wolverine defense for the remainder of the game.
Senior tailback Kaleb Natali capped the opening drive — a 17-play, 89-yard masterpiece that took nearly 7 1/2 minutes off the game clock — with a 3-yard run with 4:34 remaining in the first quarter. McManaman hit Gabe Malcolm for the conversion to make it 8-0.
"I think the first drive set the tone," said Miller.
"They ran mid-line well, they ran the veer well, and they ran the toss well," he noted. "Those are the three plays we had had to stop, and we didn't do it.
"They did hurt us on some counters. I would say our preparation for that was probably not great. We hadn't really seen them do it a lot, but that hurt us tonight in some key third-down situations.
"We knew coming in, they were tough runners. They got a lot of yards after contact inside. I give them a lot of credit, they played a whale of a game.
"They executed very well," Miller added. "Bottom line is we never stopped them."
Waverly's first possession resulted in four yards on three plays, and the Wolverines lined up to the punt. Junior Joey Tomasso took the snap, rolled to to the right looking to punt, then took off, but was stopped well short of the first-down marker.
Miller said it was not a fake punt, but a miscommunication.
"It was a roll (rugby-style) punt, and he couldn't get it off," said Miller. "There was a little miscommunication in the huddle about what we were doing. We called punt, Joey rolled out because he thought it was a roll punt, and he couldn't get it off.
"I wish we had that one back, they made us pay for our mistake," added Miller.
Natali picked up 16 yards on General Brown's first play, and two plays later Malcolm scored on a 3-yard run with 1:56 remaining in the opening quarter to make it 14-0.
Waverly moved the chains a few times on its next possession, thanks to completions of 10 and 14 yards from Tomasso to junior Jake VanHouten, and a pair of completions to Jay Pipher — the second tying the single-season record of 55 receptions.
However, a holding call on the Wolverines stalled the drive, and General Brown took over at its 30.
The Lions picked up a pair of first downs, but Waverly's defense stiffened and forced a turnover on downs at the Wolverine 41.
On Waverly's first play, Tomasso sprinted up the middle, shook off one would-be tackler, then outran several Lions to the end zone on a 59-yard TD scamper with 5:21 remaining in the first half. Senior Ryan Clark's PAT kick closed the gap to 14-7.
Clark's ensuing kickoff was a touchback, and General Brown started its possession at its 20.
Not to be deterred, however, the Lions used nine running plays and a personal foul against the Wolverines to move the ball to the Waverly 8.
On first-and-goal, Malcolm was stopped for a 1-yard gain by sophomore Kam Hills and senior Nate DeLill. On second down. senior Ty Beeman sliced through the offensive line, and stuffed senior Sheamus Devine for a 3-yard loss.
On third-and-goal, VanHouten picked off a McManaman pass in the end zone to end the threat with 17.4 seconds remaining in the half.
"All things considered, I felt pretty good going into the half down seven, especially since we were getting the ball to start the second half," said Miller.
The Wolverines opened the second half with back-to-back runs of 6 yards by Pipher and Tomasso, then on second-and-6, Pipher broke loose on a jet sweep for a 44-yard TD run with 10:10 remaining in the third quarter. Clark's PAT kick tied the game at 14-14.
"I thought we were in good shape, coming out and scoring on the first possession of the second half to tie it, but we only had two possessions after that," said Miller
The Lions mishandled the ensuing kickoff, and VanHouten made a big stop, pinning them at their own 9.
Much like the opening possession of the game, General Brown used 13 plays — and a 15-yard face-mask call against the Wolverines — to drive 91 yards in a drive that consumed 5 minutes and 47 seconds.
McManaman capped the drive with a 6-yard run with 4:17 remaining in the third quarter. Natali tacked on the conversion to give the Lions a 22-14 lead.
Waverly's ensuing possession lasted just 20 seconds, and after three straight incompletions, Tomasso punted the ball back to the Lions.
Once again, General Brown put together a near-perfect drive, using 15 plays in a 64-yard drive, which included a fourth-down conversion and overcame a holding call that created a first-and-20.
The drive chewed up 7 minutes, and 23 seconds from the game clock, culminating with a 1-yard TD run by Devine with 8:28 remaining in the contest. The PAT kick provided the final margin.
Waverly had one last gasp left in them as Tomasso hit VanHouten on a 38-yard strike down the center of the field, then connected with junior Carter George on completions of 6 and 10 yards.
Tomasso added a 10-yard run as the Wolverines moved the ball to the General Brown 14, but the drive fizzled and the Lions took over at their 11 with 6:25 remaining in the game.
"We got down to the red zone, but didn't finish it," said Miller.
General Brown strung together five first downs, with Devine picking up three of them on runs of 11, 25 and 14 yards, and Malcolm adding another on a 13-yard run, to run out the game clock.
Devine led the Lions with 168 yards and one TD on 26 carries, while Natali had 149 yards and one TD on 24 carries, and Malcolm added 63 yards and one TD on 15 carries.
McManaman, who was 0-for-2 with an interception throwing the ball, rushed for 31 yards and a TD on 12 carries.
Tomasso completed 8 of 18 passes for 96 yards, and rushed for 105 yards and one TD on 10 carries.
Jay Pipher, who had two catches for 7 yards, added 52 rushing yards and one TD on three carries.
VanHouten led the Wolverines receivers with four catches for 73 yards, and George had two grabs for 16 yards.
The Wolverines wrap up the season at 10-2.
Waverly will graduate 11 starters, including seven who start on one side of the ball or the other.
"This group of seniors has provided great leadership all year," said Miller. "We're going to miss them.
"We've won a lot of games over the last two years, and a lot of it had to do with the group, it's a pretty special group.
"The guys coming up have a lot of big shoes to fill," added Miller.
——————
IN PHOTO 1: Waverly's Jay Pipher on his way to the end zone. … PHOTOS BY TIM BIRNEY.