WOMEN'S COLLEGE BASKETBALL: WAVERLY GRAD TOMASSO RECORDS SEASON-HIGHS IN POINTS, REBOUNDS IN BACK-TO-BACK GAMES
(2022-11-21)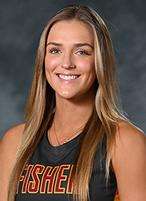 Valley Sports Report
ROCHESTER — Waverly grad
Sidney Tomasso
, a sophomore on the St. John Fisher women's basketball team, recorded season-highs in points and rebounds in back-to-back games as the Lady Cardinals split a pair of games in the Mark's Pizzeria Crosstown Shootout.
In a 68-55 loss to the University of Rochester Thursday, Tomasso scored 16 points, and hauled down seven rebounds, to go along with two assists, and one blocked shot. She was 2-for-3 from behind the 3-point arc.
In a 70-48 win over RIT Saturday, Tomasso scored 17 points. pulled down seven rebounds, and dished out three assists. She made two 3-pointers, and was 5-for-5 from the free-throw line.
On the season, Tomasso has scored in double-figures in four of five games. She is averaging 13.4 points and 5.2 rebounds, as well as 1.4 assists, and 1.2 steals per game.
St. John Fisher, now 4-1, returns to action Tuesday when it hosts Hamilton College.
——————
IN PHOTO: Sidney Tomasso.