FROM THE PRESS BOX: A CRYSTAL BALL LOOK AHEAD TO CROSS COUNTRY, NTL GOLF, GIRLS SWIMMING, AND FIELD HOCKEY IN 2023
(2022-11-22)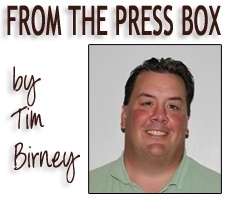 The fall season offers an interesting mix of sports in the Valley.
All four schools have cross country and volleyball programs, but only three have football, boys soccer, and girls soccer programs, while Tioga is the only school with a field hockey program.
There are also seasonal issues. New York State has girls swimming in the fall, while girls swim during the winter season in Pa. Conversely, Pa. offers golf in the fall, while N.Y. golfs in the spring.
I've fired up the crystal ball to take a look ahead to the 2023 cross country season, as well as NTL golf, Tioga field hockey, and Waverly girls swimming seasons.

CROSS COUNTRY
The Valley sent three runners to States this fall — with Athens senior Ethan Denlinger, Athens sophomore Sara Bronson, and Waverly junior Elizabeth Vaughn all qualifying for the final meet of the season.
Bronson, a two-time state qualifier, and Vaughn headline the list of runners with an eye on next year's State meets, but they could have company in Waverly's Harper Minaker, who qualified as a freshman, and Athens' Ethan Hicks.
Another one to keep an eye on is Athens freshman-to-be Graham Wanck, who won every junior high race he competed in this fall, including the prestigious McQuad Invitational, where he won not only his race, but he ran the fastest time in any of the junior high races.
On the team front, the Athens girls lose their No. 2 runner Emma Bronson, but return nearly everyone else. All three of the Lady Wildcat junior high runners were 7th-graders, so if they are to repeat as Large School champs, they'll have to recruit someone from the hallways, or do it with what they have.
On the flip side, Wanck leads a strong group from the junior high boy ranks to re-enforce the Athens boys squad, which loses two of its top three — Denlinger and Nate Prickitt.
Hicks and Wanck will be a strong 1-2 punch, and the Wildcats have a lot of runners to push each other. Pardon the pun, but they could go on quite a run at the top of the division over the next several years.
Sayre, meanwhile, graduates its top girl (Corey Ault) and boy (Sam Claypool), from incomplete teams. Numbers, obviously, will be the biggest factor for the Redskins.
The Waverly girls could be a team to watch with Vaughn, Minaker, and "Newcomer of the Year" Mackenzie Chamberlain all returning, along with Haylie Davenport.
The Lady Wolverines have a couple of modified runners — Taylor Sinsabaugh and Trinity Mayo, who could make an impact next year. The team's success could hinge on how quickly they transition to the varsity race.
Tioga graduates Thomas Hurd, who qualified for States as a junior, but returns a pair of quality underclassmen in Andrew Earley, and Talon Wood. The Lady Tigers could also bring back several runners.
Like Sayre, Tioga success as a team will be determined by numbers.
——————
NTL GOLF
Athens returns five of its top six golfers, led by state qualifier Evan Cooper, from a team that won its second straight NTL title.
With Dylan Saxon, Sean Clare, Brady Darrow, and Nicholas Jacob all returning, along with Cooper, the Wildcats will be the odds-on-favorite for an NTL three-peat.
On the individual front, Cooper could have company at States next year if Saxon continues his progression.
Sayre brings back several golfers from a team that didn't win a point this season.
There's a chance the Redskins could make a nice jump next year. Young golfers can cut scores from 120 to 95 pretty quickly, but how much further they drop depends on how much work they put in.
——————

GIRLS SWIMMING
The Waverly girls swim team graduates a trio of seniors — Sophia DeSisti, Josie VanDyke, and Abigail Knolles, but return a slew of swimmers, including record-breaker and state qualifier Mira Kittle, who headlines a very strong sophomores-to-be class.
Lauryn Welles will be an 8th-grader next year, and she ended this season as a major contributor.
Add to that, the Lady Wolverines have a strong sixth-grade class, a few of which could make an instant impact in 2023.
It may not happen next year, but Waverly could rule the roost in the IAC for a few years.
Individually, I cannot wait to see how low Kittle can go, and how many school records she can break.
——————

FIELD HOCKEY
The Tioga field hockey graduates six seniors from a one-win team.
The Lady Tigers do return Chloe Gillette, who had a tremendous season in her first year in the net.
Tioga will be inexperienced again next year, but should have good numbers on varsity, and could field a junior varsity team, which will help player development in the short term, and the long term.
Numbers are good in the modified ranks, and the youth program is booming under Angela Englebert.
The Lady Tigers may take some more lumps next year, but this program is headed in the right direction under Aubrey Worthing, who did a great job in her season at the helm, JV coach Kristi Hamley, and Engelbert, who is also the modified coach.