NTL BOYS BASKETBALL: FIRST-YEAR SAYRE COACH PLEASED WITH NUMBERS; OPTIMISTIC ABOUT 2022-23 SEASON
(2022-11-23)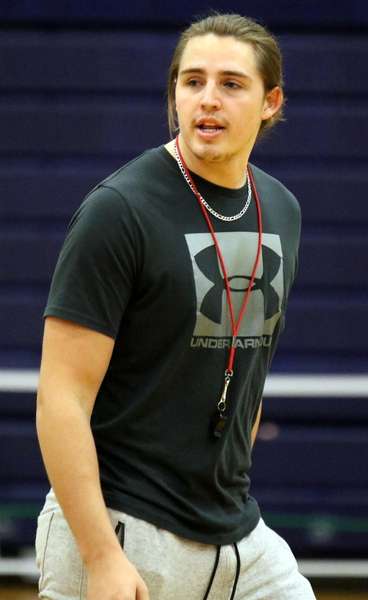 By TIM BIRNEY
Valley Sports Report
SAYRE — Jon Ward is just two years removed from playing college basketball, and has one year of coaching under his belt, but the Waverly grad is ready to lead the Sayre boys basketball program into the future as it prepares for the 2022-23 season.
"It's definitely different, but in a good way," said Ward. "Coming from college, I always wanted to step up the level I coach.
"Junior high was great, I had a great group of boys — a few of them are here with me now.
"I'm excited to get to schemes, watching film, and breaking down what it takes to win at the varsity level," he added.
Ward is excited by the program's numbers.
"Our numbers are really good, actually above any other sport here at Sayre," he said. "We're at 19 for varsity and JV, junior high has 22, and we have a good solid recreation program from grades three to six.
"I don't see our numbers changing for the next 10 years.
"A lot of these boys are invested," added Ward. "Hopefully, this sets an example for everything moving forward."
The Redskins are coming off a 6-16 season, and suffered some key losses to the program through transfers, but Ward is optimistic.
"I think we have a lot of sleepers, people aren't ready for us," he said.
"It's a whole new year," noted Ward. "Just because last year, we weren't where we expected to be doesn't mean this year will be the same thing.
"I have to let every other coach know who thinks we're going to be down and out, we're definitely not. I promise that," added Ward. "We're going to be in every game."
Sayre will be scrimmaging at Mountain View on Saturday, and will open the season Dec. 2-3 against Susquehanna and Blue Ridge in the Bradford-Susquehanna Counties Challenge.
——————
IN PHOTO 1: Sayre coach Jon Ward. … PHOTOS BY TIM BIRNEY.