WOMEN'S COLLEGE BASKETBALL: ATHENS GRAD MILLER KNOCKS DOWN TRIO OF 3-POINTERS IN PENN COLLEGE WIN
(2022-11-23)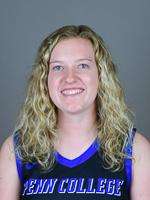 Valley Sports Report
WILLIAMSPORT — Athens grad
Kayleigh Miller
, a sophomore on the Penn College women's basketball team, knocked down a trio of 3-pointers in a recent win over Mount Aloysius.
Last Wednesday, Miller was 3-for-5 from behind the 3-point arc for nine points in a 72-45 win. She also had four assists, and two rebounds in 19 minutes of action.
On Tuesday Miller had three points on 1 of 4 shooting from three-point range in 16 minutes. Penn College dropped a 58-42 decision to Lycoming.
Miller is averaging 3.8 points per game, in 13.5 minutes per game. She has five 3-pointers and five assists.
Penn College, now 1-3, returns to action Nov. 30 at Penn State-Altoona.
——————
IN PHOTO: Kayleigh Miller.