COLLEGE FOOTBALL: MORRISVILLE (TIOGA GRADS WILLIAMS, WOOD) DROPS HEARTBREAKER TO RPI IN ECAC BOWL
(2022-11-23)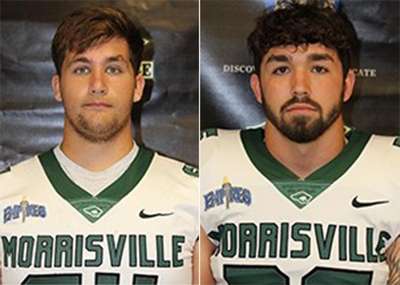 Valley Sports Report
TROY, N.Y. — Morrisville State led for the majority of the game, but RPI scored with 40 seconds remaining to pull out a 10-6 win here Saturday in the ECAC Scotty Whitelaw Bowl.
Tioga grad
Cole Williams
, a sophomore, and Tioga grad
Emmett Wood
, a freshman, both started for the Mustangs.
Wood led Morrisville with 51 rushing yards on 17 carries, and also had a season-high three receptions for 17 yards.
Williams started on the offensive line. He started in all 11 games this season.
Wood wraps up his first season at Morrisville with 347 yards, including a long 0f 43 yards, and one TD on 77 carries. He averaged 4.51 yards per carry.
Wood also had seven catches for 35 yards.
The Mustangs end the season at 7-4.
——————
IN PHOTO: Cole Williams (left) and Emmett Wood.