FROM THE PRESS BOX: A CRYSTAL BALL LOOK AHEAD TO THE 2023 SOCCER SEASONS
(2022-11-23)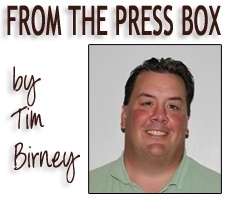 It was a pretty good soccer season in the Valley with four of the six teams qualifying for the postseason, and a fifth showing marked improvement from last year.
The postseason wasn't very pleasant, with only the Waverly girls recording a win, and the other three losing their first-round games by a combined 20-0.
I've dusted off and fired up the crystal ball for a look ahead to the 2023 season. The season is still more than 9 1/2 months away, so it's a bit murky, but I'm sure we'll see a few things.
BOYS
Athens Wildcats:
Coming off a 9-8-2 season, which included a brutal non-league schedule, and culminated with a loss to top-seeded Selinsgrove in the semifinals of the District 4, Class 3A playoffs, the Wildcats graduate five seniors.
The Wildcats bring back a lot of talent, led by Alex Campbell, Korey Miller, and Mitch Hamilton, and their numbers within the program continues to be impressive.
The one spot Athens will need to address is goalkeeper.
Prediction:
Athens was 1-5 against its non-league slate this season, but 9-2-2 in league play. Wellsboro, which was perfect in league play in 2022, only loses four to graduation, but all four were first-team all-stars. The Wildcats have a clear path to win the league title next year, but Wellsboro will still be a major obstacle. …
2023 record: 12-6.Tioga Tigers:
A 3-11-1 season night not sound like much, but last year Tioga won just one game, and two years ago didn't have a varsity team, so for coach Adam Layman's team, the 2022 campaign was a minor success.
The Tigers only lose one senior, and will pick up a few re-enforcements from the modified program.
Senior-to-be Tyler Roe scored 22 goals this season, but the remainder of the team only scored a handful. They will need to find a second consistent scorer if they're to make a major jump next season.
Prediction:
If Tioga can get a little more athletic on defense, and find another scorer, the 2023 season could end up being a pretty good one. …
2023 record: 7-9.Waverly Wolverines:
With back-to-back trips to the postseason in the books, coach Eric Ryck's re-build of the Waverly soccer program is complete. The next step is bridging the gap with the elite in Section IV, Class B (Owego and Oneonta), and that, while difficult, is not impossible. It was just a couple of years ago that Owego suffered through a winless regular season.
The Wolverines graduate just one senior, but will also likely lose junior-to-be Ethan Gorsline, who is expected to move out of the district, as well.
Waverly has a very strong class of seniors-to-be, and a very strong class of sophomores-to-be, and should get some re-enforcements up from a solid modified program.
Prediction:
With its team returning nearly en tact, improving on this season's 9-7 mark would seem like a very reasonable expectation. It's not always that easy, but Ryck has done a great job with this program, and a step backward doesn't seem like it's in the cards. …
2023 record: 11-5.GIRLS
Athens Lady Wildcats:
Like the boys team, the Athens girls were near the top in the league standings at 8-3-1, but struggled (0-6) against a brutally-tough non-league slate, before finishing an 8-10-1 season with a loss to top-seeded Shikellamy in the semifinals of the District 4, Class 3A playoffs.
The Lady Wildcats lose four starters to graduation, including high-scorer Ally Thoman, but sophomore-to-be Kaitlyn Sutton should pick up a lot of that slack.
Replacing Karlee Bartlow could be coach Rich Pitts' biggest concern, but the defense, led by senior-to-be Mya Thompson, should be pretty good in front of the keeper.
Prediction:
I would assume Pitts will continue to build a tough non-league schedule, so another season around .500 is probably in the cards. I expect the Lady Wildcats to challenge for the league title in 2023. …
2023 record: 10-8.Tioga Lady Tigers:
Tioga went 0-13 this season, but was competitive in most games without a senior on the roster.
The Lady Tigers need to find a consistent goal-scorer, or two or three girls to share the wealth, and they need to get a bit more athletic on the defensive end of the field.
Prediction:
With everyone back, and help, at least in terms of numbers, on the way from the modified team, there's no reason to think Jim Walsh's team won't get off the snide in 2023. …
2023 record: 3-11.Waverly Lady Wolverines:
Waverly only graduates a pair of starters from a 13-2-1 team that saw its season end in the Section IV, Class B semifinals, but one of those graduates (Kennedy Westbrook) is headed to Division I NJIT in the fall.
Another key loss could be freshman-to-be Lauren Gorsline, who is expected to move out of the district.
Waverly brings back a ton of talent, led by seniors-to-be Lea VanAllen, Paige Robinson and Kiley Stillman, and a strong freshman-to-be class. They should also get a couple of re-enforcements from the modified ranks.
Prediction:
Coach Tara Hogan continues to put together winning teams, and next year should be no exception. …
2023 record: 12-2.