WOMEN'S COLLEGE BASKETBALL: ELMIRA COLLEGE (TIOGA GRAD AYRES, WAVERLY GRAD NITTINGER) OFF TO 4-0 START
(2022-11-23)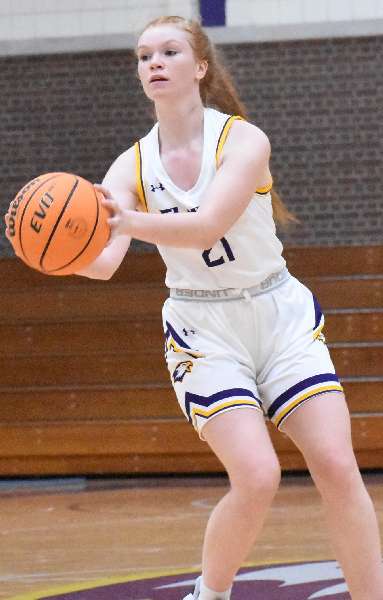 Valley Sports Report
ELMIRA — Tioga grad
Olivia Ayres
, a sophomore on the Elmira College women's basketball team, and Waverly grad
Olivia Nittinger
, a freshman, each saw playing time in Lady Soaring Eagles' third straight win to open the season — a lopsided win over Wells College Saturday.
Ayres, who started, knocked down three 3-pointers for nine points, and had one steal and one rebound in 14 minutes in EC's 114-19 win over Wells. Nittinger had five rebounds, three assists, and three steals in 15 minutes.
On Tuesday EC made it four in a row with a 59-44 win over Hilbert College. Ayres scored seven points, and had three rebounds, and three steals in 26 minutes.
On the season, Ayres, who has started in all four games and played an average of 21.3 minutes, is averaging 8.3 points, 2.8 rebounds, and 2.0 steals per game. She has nine 3-pointers on the season, and is shooting 40.9 percent from behind the arc.
Nittinger, who has played in two games, has seven rebounds, three assists, and three steals in 25 minutes of action.
Elmira College, now 4-0, returns to action Dec. 2 at Nazareth College.
——————
IN PHOTOS: Olivia Ayres. ... PHOTOS BY BRIAN FEES.