IAC BOYS BASKETBALL: TIOGA HOLDS OFF GROTON IN 77-74 WIN (17 PHOTOS)
(2023-01-20)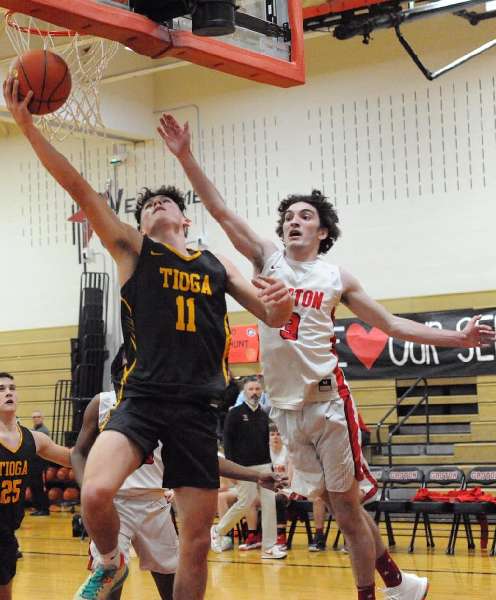 Valley Sports Report
GROTON — Tioga built a 15-point lead after three quarters, then fended off a fourth-quarter comeback bid by Groton in a 77-74 win here Friday night in IAC Small School boys basketball crossover action.
"We played a good first half, and a great third quarter," said Tioga coach Brian Card. "It was (Groton's) Senior Night, so they came out playing fast and playing hard.
"We weathered the storm, and managed to take the lead into halftime," added Card. "We had a lapse in the fourth quarter, and had a lot of turnovers right in a row, but I was proud of my guys holding their composure and finishing out the game."
Junior Evan Sickler knocked down a pair of 3-pointers, and scored eight points in the first quarter, and junior Gavin Fisher added seven points to help Tioga to a 17-15 lead after the first eight minutes.
Sophomore Shea Bailey canned a pair of 3-pointers, and scored eight points in the second quarter, while Sickler scored six points, and Fisher added four as Tioga outscored Groton, 22-20, to take a 39-35 lead into the halftime intermission.
Fisher, who was 4-for-4 from the free-throw line in the stanza, scored eight points in the third quarter, while Sickler, and juniors Ethan Perry and Karson Sindoni each scored four points to fuel a 24-13 blitz that gave the Tigers a 63-48 lead heading into the final eight minutes.
Groton chipped away at the lead throughout the fourth quarter, and pulled within nine points, at 76-67, with 1:18 remaining.
Tioga led five when Groton scored its final points with 2 seconds remaining.
Sickler led Tioga with 23 points, including a pair of 3-pointers, and 13 rebounds, while Fisher scored a career-high 21 points and pulled down seven boards, and Bailey added 13 points, including two 3-pointers.
Sindoni and Perry scored six points apiece in the win, while junior Valentino Rossi had four points and four rebounds, and senior Nick Guiles-Vought chipped in with four points points.
"Gavin Fisher had a great game attacking the basket and he played a huge role in the win," said Card. "Shea Bailey and Ethan Perry did a great job defensively, they passed well, and shot the ball well.
Evan Sickler did well with his decision-making on when to attack and when to pass or shoot.
"Karson Sindoni made great plays passing the ball and finishing layups," added Card. "And, Ethan Landmesser and Valentino Rossi did excellent boxing out and making sure that our team secured the rebound."
Mason Slade led Groton with a game-high 27 points, while Austin Hunt scored 15 points, and Ben DeMatteo added 11 points.
Tioga, now 7-4, returns to action Tuesday when it hosts Union-Endicott.
——————
IN PHOTO 1: Tioga's Evan Sickler. … PHOTOS COURTESY OF CRISTINA ROSSI.