ON TAP TODAY: IAC WRESTLING CHAMPIONSHIPS, ATHENS-WELLSBORO BOYS GAME HEADLINE SATURDAY'S ACTION
(2023-01-21)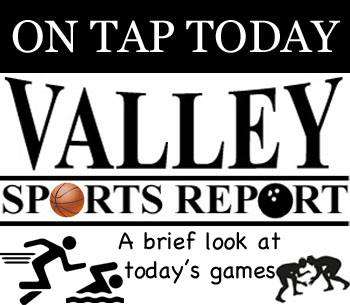 Valley Sports Report
THE VALLEY — The IAC wrestling championships, and the Athens-Wellsboro boys basketball game bookend a busy Saturday in the Valley.

WRESTLING
IAC Championships @ Waverly, 9:30 a.m.:
Powerhouse Tioga will have top seeds at 118 (freshman Jayden Duncanson — 23-3), 126 (junior Gianni Silvestri — 24-1), 132 (junior Tyler Roe ' 23-6), 138 (junior Caden Bellis — 18-2), 145 (junior Drew Macumber — 18-5), and 160 (junior Ousmane Duncanson — 19-0).
The Tigers will also have freshman Logan Bellis (22-6), junior Levi Bellis (21-6), junior Deakon Bailey (15-7), freshman Kadin Cole (14-8), senior Jack Woodcock (8-5), and sophomore Tate Macauley (12-11) in action.
Waverly will be led into action by senior Ty Beeman (24-3), sophomore Kam Hills (10-1), 8th-grader Matthias Welles (21-8), freshman Troy beeman (20-7), senior Braeden Hills (18-10) 7th-grader Drayton DeKay (14-7), junior Josh Courtney (13-11), and senior Gage Tedesco (4-3).
Athens at Coal Cracker Tournament, 9 a.m.:
Senior Jack Courtney and junior Josh Nittinger are in the quarterfinals of the rugged 60-team tournament, while freshman Cooper Robinson and sophomore Caleb Nason are still alive in wrestlebacks.
Sayre at NEB, noon
:
BOYS BASKETBALL
Wellsboro (8-4 overall, 6-1 NTL Large) at Athens (10-4, 7-1), 5 p.m. JV start:
The Wildcats are coming off a 63-53 win at Sayre Thursday night, while the Hornets topped Canton, 51-34.
Athens and Wellsboro are tied for second in the Large School Division, trailing North Penn-Mansfield, which is 8-0 in league play.
GIRLS BASKETBALL
Athens (8-5) at Blue Ridge (6-6), 1 p.m. JV start:
The Lady Wildcats are coming off a 47-45 overtime loss to Northeast Bradford, while the Lady Red Raiders dropped a 43-23 decision to Riverside.
BOYS & GIRLS SWIMMING
Athens at Tunkhannock Invitational, 10 a.m.