NTL BOYS BASKETBALL: WELLSBORO KNOCKS OFF ATHENS, 57-48 (24 PHOTOS)
(2023-01-21)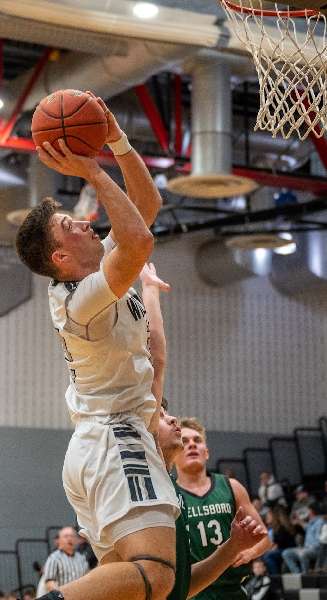 Valley Sports Report
ATHENS — Wellsboro used a big third quarter to take control of a close game here Saturday evening on its way to a 57-48 win over Athens in NTL boys basketball action.
Junior Korey Miller knocked down a pair of 3-pointers in the first quarter, and senior Lucas Horton added one 3-ball, but Wellsboro's Cam Brought pumped in 10 points to help the Hornets to a 12-11 lead after the first eight minutes.
Both teams struggled offensively in the second quarter as Wellsboro used a 7-6 advantage to up its lead to 19-17 at the half.
Peyton McClure scored nine points in the third quarter, including a 3-pointer, and Brought added five points, including an old-fashioned three-point play to fuel a 21-9 blitz that gave the Hornets a 40-26 lead heading into the final eight minutes.
Junior Connor Mosher scored six points in the fourth quarter on a 3-pointer, and a conventional three-point play, while Miller scored five points, including his third 3-ball of the game, and Horton and senior Lucas Kraft each canned 3-pointers in a 22-point Wildcat fourth quarter.
Athens trailed by 12 points, at 44-32, early in the fourth quarter, but used a 13-3 run, fueled by 3-pointers by Kraft and Horton, to close the gap to 48-45.
After a bucket by Wellsboro, Miller knocked down a 3-pointer, to trim the deficit to 50-48, but Wellsboro scored the final seven points of the game, with Connor Adams going 6-for-6 from the free throw line.
Miller led Athens with 13 points and two steals, while Lister had seven points, five rebounds, two assists, and two blocked shots, and Horton scored 10 points, and Mosher chipped in with nine points.
Mosher scored six points for the Wildcats, while Kraft added five points, three boards, and one blocked shot, senior Chris Mitchell chipped in with four points, and sophomore Xavier Watson grabbed five rebounds, and blocked two shots.
Brought had 17 points and 12 rebounds, and Adams had 17 points, five assists, and three rebounds to lead Wellsboro, McClure scored 12 points, and Caden Smith added eight assists, four rebounds, and four steals.
Athens, now 10-5, hosts Canton Tuesday night.
——————
IN PHOTO 1: Athens senior Lucas Horton. … PHOTOS BY MATT PATTON.