NTL GIRLS BASKETBALL: ATHENS TOPS BLUE RIDGE, 51-43
(2023-01-21)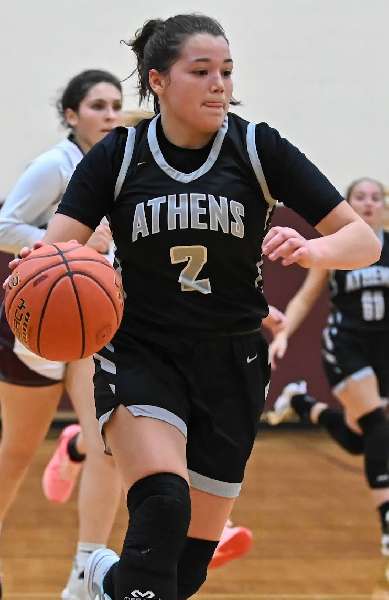 Valley Sports Report
NEW MILFORD, Pa. — Athens coach Brian Miller said his Lady Wildcats played well in all facets of the game in a 51-43 non-league win over Blue Ridge here Saturday afternoon in girls basketball action.
"We executed well in the half-court shooting 40 percent, and we limited our turnovers to only eight," said Miller.
"We were 8 of 9 from the foul line, and played great defense," he noted. "And, we almost had four girls in doubt-figures.
"This might be our best game payed all year," added Miller. "I'm really proud of the girls. They played 32 good minutes. Now, we need to keep it rolling."
Senior Karlee Bartlow scored five points in the first quarter, while senior Emma Bronson knocked down a 3-pointer, and sophomore Addy Wheeler converted an old-fashioned three-point play to help Athens to a 13-10 lead after the first eight minutes.
Wheeler scored six points in the second quarter, while Emma Bronson added four points, and Bartlow drained her second 3-pointer of the game as Athens outscored Blue Ridge, 13-12, to take a 26-22 lead at the half.
Blue Ridge had its best eight minutes in the third quarter, but junior Mya Thompson scored seven points, including a traditional three-point play,, and Wheeler canned a 3-pointer. The Lady Red Raiders only trimmed one point off their deficit, and trailed 38-35 heading into the final eight minutes.
Bartlow scored five points in the fourth quarter, and sophomore Sara Bronson added four points as the Lady Wildcats put the game away with a 13-6 run in the final eight minutes.
Bartlow led Athens with 13 points, four rebounds, and two assists, while Wheeler had 12 points, seven rebounds, and three assists, and Thompson had 11 points, nine rebounds, and two assists.
Emma Bronson added nine points and five assists in the win, and Sara Bronson chipped in with four points, six rebounds, and two blocked shots.
Athens, now 9-5, hosts Sayre Monday night in its annual "Pink Out" game.
——————
IN PHOTO 1: Athens senior Karlee Bartlow. … VSR STOCK PHOTO.