IAC GIRLS WRESTLING: TIOGA'S BAILEY, SINDONI WIN TITLES AT FIRST-EVER GIRLS CHAMPIONSHIPS; WAVERLY HAS THREE RUNNERS-UP (24 PHOTOS)
(2023-01-22)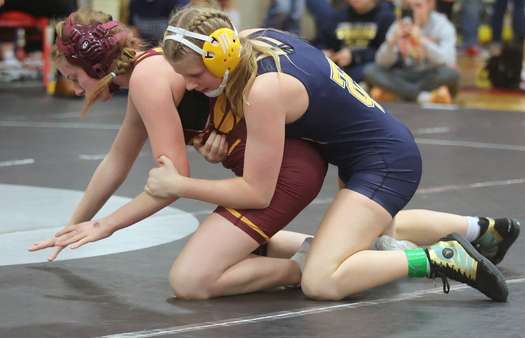 By TIM BIRNEY
Valley Sports Report
WAVERLY — Tioga sophomore Kali Bailey, and senior Emily Sindoni each won titles at the first-ever IAC girls wrestling championships, while Waverly had three runners-up.
"I'm proud of Kali for her effort and perseverance this season," said Tioga coach Kris Harrington.
"Winning this weekend sets her up nicely for the Sectionals next month.
"Emily has dominated this season," noted Harrington. "I'm excited to watch her compete at the women's states Friday."
At 132 pounds,
Bailey went 3-0 — all via fall — to win the weight class.
Bailey started her day with a pin of Lily Sickler in 2:10, then pinned Waverly's Tayanna Andrews in 46 seconds.
She capped off a perfect day with a 59-second fall over Whitney Point's Isabelle Keihle.
At 126 pounds,
Sindoni, the No. 1 ranked wrestler in her weight class in the country, scored a pair of first-period falls to win her title.
Sindoni decked Marathon's Maddox Hoy in 69 seconds in her first bout, then pinned SVEC's Taya Beach in 62 seconds.
Waverly juniors Lily Sickler, and Lillian Wright, and freshman Lizzy Robinson placed second for the Wolverines, and freshman Emma Vanderhoof was third.
"It was a great day," said Waverly coach Justin Wolcott. "We knew the type of competition we'd see with Tioga bringing their girls in.
"We hadn't seen the Whitney Point or Lansing girls because they've been wrestling the boys all year, so we didn't know what to expect from them. They brought their A-game," noted Wolcott.
"Overall, the girls who wrestled today wrestled well," added Wolcott.
Several of Waverly's top wrestlers — junior Mackenzie LaForest, freshmen Elona Holmes, and Abby Sickler, and senior Lilyparker Ennis — did not have anyone else in their weight classes.

At 114 pounds,
Wright began her day with a 74-second pin of Dryden's Kassie Lindsay, then pinned Vanderhoof in 1:14 in her second match.z
Lansing's Curtis Kayden-Lane pulled out a wild 16-9 decision over Wright to win the title.
"Lillian Wright wrestled a great match in the finals, she was in it right down to the final buzzer," said Wolcott.
Also at 114,
Vanderhoof lost via fall in 5 minutes to Kayden-Lane in her first bout, then lost to Wright.
She bounced back with a pin of Lindsay in 5:39 to place third.
At 132 pounds,
Sickler lost via fall to Bailey in her first match, but bounced back with a pin of Kiehle in 26 seconds, then pinned teammate, freshman Tayanna Andrews in 1:17 to finish 2-1, and in second place.
"Lily Sickler had a good day," said Wolcott. "She lost to Tioga's Kali Bailey in her first match … we're definitely looking forward to that rematch at Sectionals."
Also at 132 pounds,
Andrews was 0-3 to finish fourth.
At 185 pounds,
Robinson lost via fall in 64 seconds to Edison's Abigail Johnson in the championship match.
——————
IN PHOTO 1: Tioga's Kali Bailey. … PHOTOS BY TIM BIRNEY.