NTL BASKETBALL: ATHENS SENIOR MASON LISTER — FROM 'GYM RAT' AT 5 TO 1,000-POINT SCORER (5 PHOTOS)
(2023-01-22)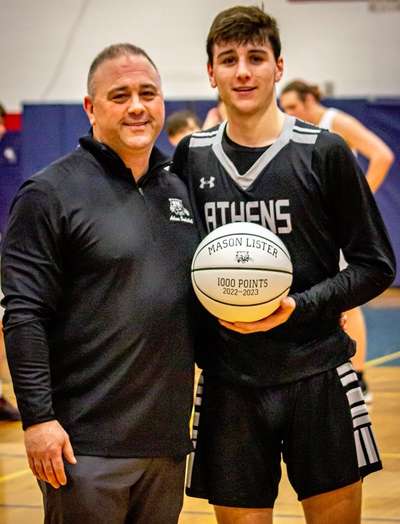 By TIM BIRNEY
Valley Sports Report
ATHENS — From "gym rat" at 5, to the varsity as a freshman, Athens' Mason Lister is now a member of an exclusive club as a senior — the 1,000-point club.
"I've been watching him play since he was a little boy. He was a gym rat… he has an older brother (Austin) who is 6 years older, so when he was little-little, he was in the gym playing all the time," said Mason's father and coach, Jim Lister.
"When he got his opportunity, he took off," noted the elder Lister. "He started as a freshman, and that's not easy to do, but that's what it takes to score 1,000 points these days. You have to put the time and the work in."
"I was 5 or 6 when I first started wanted to play, and be around the game," said Mason Lister.
"I watched (Austin) for the longest time," he noted. "Watching those games, I just wanted to be on the court with him. Unfortunately, I was never able to do that, but he definitely whooped me around in the driveway for years, so that definitely helped."
Lister logged hundreds of games in the youth and junior high ranks, and ended up being one of the select few to play a full season on the varsity as a freshman.
"It was all about hustle," he said. "As a freshman, there's really only one way to prove yourself, and that's flying around the court, and diving all over the place.
"I just played my role as a freshman," noted Lister. "I played defense, and sat on the three-point line and knocked down some shots to help my team win.
"We had a really good team my freshman year, so that definitely helped," he added.
Lister has played on good teams his entire varsity career.
"I could have never reached 1,000 points without all of my teammates," said Lister. "All four years, everyone shared the ball, there was good teamwork."
"I have to thanks all the guys who have helped me along the way, I can't even name them all — coaches and players.
"For four years, I've had tremendous teammates and I couldn't have done any of this without them," he added.
Lister is enjoying his best varsity season to date. He attributes it to a change in philosophy.
"I definitely have lost the touch from the 3-point line over the years," he said.
"My freshman year, my game was a lot more behind the arc … now, I've adapted to driving for lay-ups," noted Lister. "I try to stay close (to the basket) as much as I can."
Lister entered Thursday's game at Sayre averaging 20 points per game, and needing only four points to reach the 1,000-point plateau. He scored just six points in the win, and didn't get his milestone point until knocking down a free throw late in the fourth quarter.
"I'm not a big guy on patience, so I just wanted to get it over with," he said. "Unfortunately, that was not the case.
"It got stuck in my head a little bit, but I finally got it on the free throw, and I didn't think I was making that either," he laughed.
"We found a way (to get his 1,000th), and more importantly, we got the win; that's all that matters," added Lister.
In his previous game, a loss to North Penn-Mansfield, Lister pulled down his 500th career rebound. So, which means more to Lister — scoring or rebounding?
"Honestly, I like the assists category … being able to share the ball, and prove myself, not being a ball hog, and swinging it around the floor," he said.
"But, at the end of the day, it's all about who's going to win the game, and that's all I'm really worried about," Lister added.
Jim Lister likes the all-around player his son has grown into.
"What's really big for me is that he got his 500th rebound last Friday night, and he's only a couple assists away from 300," added Lister. "To me that's a complete player, and that's what I'm always looking for."
Mason Lister will also graduate from Athens as the football program's all-time leader in passing yardage and passing TDs. This spring, he'll start on the baseball team for the third straight year (Covid cost him his freshman season when he likely would have been a starter.)
Lister is appreciative off all the coaches he's had at Athens.
"All the coaches I've had are different.
"Coach (Jack) Young has been there with me since 8th-grade, trying to get me to that next level," said Lister. "He's like a second father to me.
"Coach (Bob) Woodward was all about hustle. If you hustled, you were going to see time on the floor.
"Coach (Charlie) Havens, I love that guy. He's a funny guy, and he keeps the mojo and team pride at a high," noted Lister.
"Then there's my father, he can be a pain sometimes," laughed the younger Lister, "but at the end of the day it's all love.
"It's 100-percent different playing for your father," added Lister. "I feel like you don't want to let him down. I just want to secure the 'W' for both of us."
——————
IN PHOTO 1: Athens senior Mason Lister and his father / coach Jim Lister. ... PHOTO 1 COURTESY OF JOEY VanALLEN. ... PHOTOS 2-5 BY DAVID ALLIGER — TRAVELING PORTRAITS.