COLLEGE VOLLEYBALL: ATHENS' RYAN SIGNS TO PLAY COLLEGIATELY AT MUHLENBERG COLLEGE
(2023-01-23)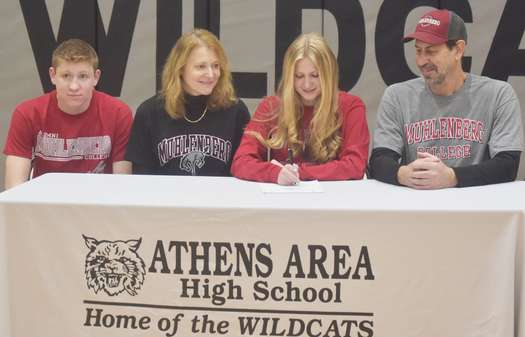 BY TIM BIRNEY
Valley Sports Report
ATHENS — Athens senior Jenny Ryan set her sights on playing volleyball at Muhlenberg College for a number of reasons, including a chance to play as a freshman, and she recently signed a National Letter-of-Intent to play there.
"I chose Muhlenberg because it's very competitive, and when I went there to visit, the team made me feel very welcome," said Ryan. "I like the team, the coach, the atmosphere, and I think it's at the level I want to play at.
"I also chose there because their senior setter is graduating, and it give me an opportunity to play, but I know I need to prove myself," Ryan noted.
Ryan knows she has some things to work on to play at the next level.
"I am starting strength training … I think I just need to keep working out to get stronger, and I need to work on my endurance," she said.
"And, I need to keep playing at more competitive levels," noted Ryan. "I learned a lot at Athens, but going into club season is helping me a lot more because we're playing at a much higher level.
"I think playing at a higher level will help me prepare for college," added Ryan, who plays for the Williamsport-based Nightmare.
Athens volleyball coach Heather Hanson, who was a collegiate volleyball standout, says Ryan just needs to keep doing what she's been doing.
"If Jenny keeps with the willingness to do whatever it takes for the success of the team and the work ethic she showed this season she will have a smooth transition."
Playing setter in college is a little more involved that playing setter in high school, but Ryan has shown she's capable of playing the all-around game.
"I do pretty much everything," she said. "I ran a 5-1 (at Athens), I run a 6-2 on my club team … I'm hitting, I'm blocking, I'm playing defense, and I'm setting. I play a full-six rotation, so I never come out."
Hanson has little doubt Ryan is ready to succeed at the next level.
"Jenny has trained as a setter, and yet was one of our strongest hitters and passers in serve-receive," she said. "Again, it will be more about the willingness to work on whatever the coach suggests.
"She has the basics down, she developed her jump set a ton, and continues to work on that," noted Hanson. :At the next level, it will be reading what the opponents (blockers) are doing and masking her sets so they can't read her, which she already is amazing at.
"It will be more about the education of what kind of system each team plays," added Hanson. "I am very excited for her to play at the next level and I know she will excel."
Ryan will pursue a Business Degree at Muhlenberg.
"I'm not sure what I want to do with it yet, but it's a broad area to start," she said.
——————
IN PHOTO: Athens senior Jenny Ryan is flanked by her family as she signs her Letter-of-Intent to attend Muhlenberg College. From left, Jack Ryan (brother), Sandy Ryan (mother), Jenny Ryan, and Jack Ryan (father). … PHOTO PROVIDED.