NTL GIRLS BASKETBALL: ATHENS RIDE STRONG SECOND HALF TO 42-20 WIN OVER SAYRE (24 PHOTOS)
(2023-01-23)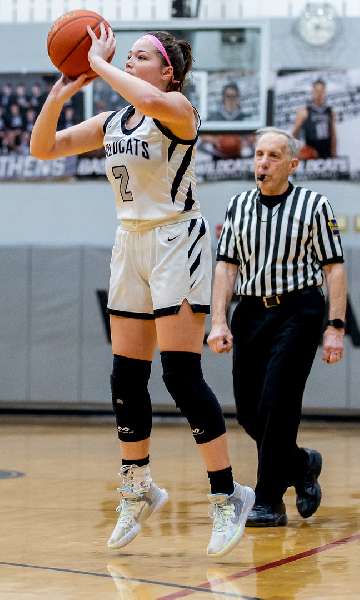 Valley Sports Report
ATHENS — Sayre played a strong first half, but Athens finished strong in a 42-20 win here Monday night in NTL girls basketball action.
The Lady Redskins led 14-10 at the half, but the Lady Wildcats used a 22-1 third-quarter blitz to take control of the game.
Both coaches spoke of the 180-degree contrast of the two halves after the game.
"It was a tale of two halves," said Sayre coach Bob Fauver. "We played tremendous defense the first half ,and although we struggled some on the offensive end, we led at halftime.
"When the second half started, I didn't recognize the team out there," noted Fauver. "We missed defensive assignments, we didn't rebound the ball, and we threw the ball away way too many times against their pressure, which they turned into easy layups.
"Once they got the double digit lead I knew it would be an uphill battle to get back in the game," added Fauver.
"We just couldn't make any shots in the first half," said Athens coach Brian Miller.
"We used our pressure defense to score in transition, and then made some perimeter jump shots to get some life in our game in the third period," he noted.
"We need to play like with did in the second half for all four quarters," added Miller. "if we do that, and we can compete with anybody."
Freshman Kaitlyn Sutton knocked down a 3-pointer and scored another bucket in the early going to give Sayre a 5-0 lead.
Athens closed the opening stanza with a 6-2 run, with sophomore Addy Wheeler scoring all six points, but the Lady Redskins led 7-6 after the first eight minutes.
Junior Liz Shaw converted an old-fashioned three-point play in the second quarter as Sayre used a 7-4 advantage to take a 14-10 halftime lead.
Senior Karlee Bartlow took over for the Lady Wildcats in the third quarter.
Bartlow knocked down a 3-pointer early in the stanza, and another one in the final minute. In between, she scored four other buckets for 14 points to fuel Athens' decisive 22-1 run that gave it a 36-15 lead heading into the final eight minutes.
Wheeler and junior Kendra Merrill scored four points apiece in the fourth quarter to close out the win with a 10-5 advantage in the final eight minutes.
Bartlow led Athens with 16 points and eight steals, while Wheeler had 10 points and six rebonds, and junior Mya Thompson had six points and six boards
Merrill scored six points in the win, and sophomore Sara Bronson had three steals and three assists.
Sutton led Sayre with 11 points, and five steals, while sophomore Abbie McGaughey added five points and six rebounds, and freshman Rylee Lantz hauled down six boards.
Athens, now 10-5, returns to action Wednesday, while Sayre (3-12) hosts Wyalusing.
——————
IN PHOTO 1: Athens senior Karlee Bartlow. … PHOTOS BY DAVID ALLIGER — TRAVELING PORTRAITS.