COLLEGE BASEBALL: SAYRE GRAD HANAFIN RAPS OUT THREE DOUBLES IN PENN COLLEGE WIN
(2023-03-10)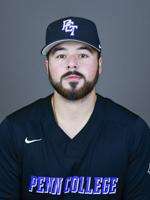 Valley Sports Report
MYRTLE BEACH S.C. — Sayre grad
Quinn Hanafin
, a sophomore on the Penn College baseball team, has hit safely in seven of his first 10 games for the Wildcats this season.
Hanafin, who has three multi-hit games, rapped out three doubles and drove in two runs Tuesday afternoon in Penn College's 9-4 win over LaRoche College.
Hanafin's last five hits have been doubles. He was 1-for-3 with a double in a 7-2 loss to nationally-ranked Catholic University Wednesday, and on Thursday, he was 1-for-3 with a double and an RBI in a 3-1 win over Suffolk University.
On the season, Hanafin is hitting .324 (11 hits in 34 ABs) with seven doubles, two runs scored, and seven RBI.
Penn College, which was 4-4 at the Spring Break Tournament in Myrtle Beach, is 4-6 overall.
The Wildcats return to action March 17 at Penn State-Abington.
——————
IN PHOTO: Quinn Hanafin.