SECTION IV BASEBALL: UNION SPRINGS EDGES TIOGA, 3-2, IN CLASS C QUARTERFINALS
(2023-05-22)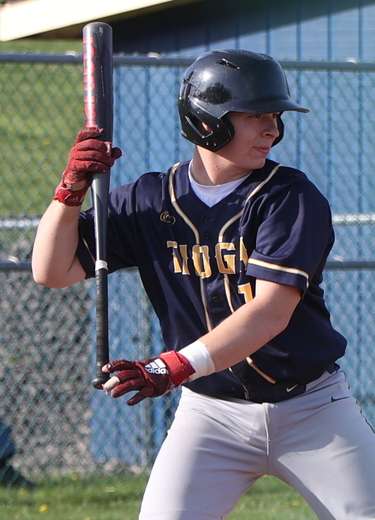 Valley Sports Report
UNION SPRINGS — Ebon Brown's sacrifice fly in the bottom of the sixth inning was the difference as fourth-seed Union Springs edged fifth-seeded Tioga, 3-2, here Monday afternoon in the quarterfinals of the Section IV, Class C baseball playoffs.
"It was a well-played game by both teams," said Tioga coach Kevin Evanek.
"Both teams made some nice defensive plays to help pitchers get out of jams," he noted. "(Ethan) Perry and (Shea) Bailey both pitched really well."
The Tigers threatened in the top of the first inning as junior Drew Macumber reached on a one-out error, then stole second, and moved to third on a single to right field by senior Max Dydynski, but Union Springs starter Jack Walters recorded a strikeout, and a groundball to second base for a force out to escape the inning unscathed.
The Wolves took an early lead with a pair of runs in the home half of the first, taking advantage of a walk, an error, and doubles by Aaron Johnson, and Dustin Walawender.
Tioga tied the game up with two runs in the top of the third inning. Sophomore Shea Bailey started the rally with a one-out infield single, stole second, and scored on an RBI single by Macumber to close the gap to 2-1.
After Macumber stole second and third base, Dydynski worked a walk. Macumber then scored on a passed ball to tie the game at 2-2. Dydynski, who took second on the passed ball, was stranded at second base.
Bailey, who relieved Perry on the mound to start the third inning, sailed through his first two innings, then pitched out of a bases-loaded jam in the bottom of the fifth inning.
Walters, meanwhile, retired seven batters in a row after setting Tioga down in order in the top of the sixth inning.
Walters then led off the home half of the sixth inning with a line-drive double to left field. After consecutive walks loaded the bases, Bailey registered a strikeout.
Brown then lifted the go-ahead sac fly to left field, and Bailey retired the next batter to end the inning.
Sophomore Garrett Godfrey reached on an error to lead off the top of the second inning, and took second base on a wild pitch, but was doubled off when Wolves' second baseman Anthony DeAngelis snared a line drive off the bat of sophomore Tate Macauley.
Eighth-grader Jackson Bombard followed with a line-drive single up the middle, but Walters finished off the complete-game win by inducing the next batter to hit a fly ball to center field for the final out.
Walters allowed one earned run on five hits, while striking out four and walking to in seven innings.
Macumber singled, scored one run, stole three bases, and had one RBI to pace Tioga at the plate, while Bailey singled, and scored one run, and Dydynski, Macauley, and Bombard each had one hit.
Bailey was the tough-luck loser, allowing one run on four hits in four innings of relief. He struck out two and walked three.
Perry started and allowed two runs on two hits, while striking out four and walking one in two innings of work.
Tioga wraps up the 2023 season at 11-9.
"I'm really proud of my guys for battling all year, and I'm looking forward to having almost all of them back next year," he added. "We're very young, (Max) Dydynski's our only senior."
Evanek said Dydynski will be missed.
"He was a great leader, who did an excellent job catching every inning for us this season. He'll be tough to replace."
Union Springs improves to 14-7, and will host ninth-seed Bainbridge-Guilford, which shocked top-seeded Trumansburg, 11-6, Monday, in the semifinals Wednesday.
—————
IN PHOTO: Tioga senior Max Dydynski. … VSR STOCK PHOTO.