SECTION IV BOYS GOLF: ROE FINSIHES SECOND, LEADS TIOGA TO SECOND-PLACE FINISH AT CLASS D CHAMPIONSHIPS
(2023-05-22)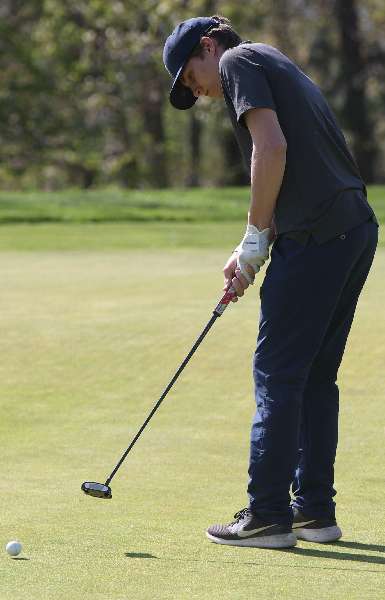 Valley Sports Report
DELHI — Tioga had a trio of golfers, led by junior Tyler Roe, finish in the top eight Monday afternoon to lead the Tigers to a second-place finish in the Section IV, Class D boys golf championships here at The College Course at SUNY Delhi.
Roe finished second with a round of 79, seven strokes off the pace of low-medalist Grady Glennon of Hunter-Tannersville.
Junior Evan Sickler was fifth with a round of 82, and junior Ben Davis was seventh with an 83.
Junior Levi Bellis shot a 96, and sophomore James Luther carded a 99, while junior Caden Bellis tacked on a non-scoring round of 104.
Candor won the team title with a five-player aggregate score of 436, while the Tigers carded a 439. Union Springs was third at 450, while Groton was fourth with a 476, and Hunter-Tannersville was fifth at 483.
Tioga wraps up the 2023 campaign Tuesday at the IAC Championships at Soaring Eagles.
——————
IN PHOTO: Tioga's Tyler Roe.