SECTION IV SOFTBALL: GREENE ACE SHUTS DOWN TIOGA'S BATS IN CLASS C QUARTERFINALS; LADY TIGERS FALL, 6-0
(2023-05-24)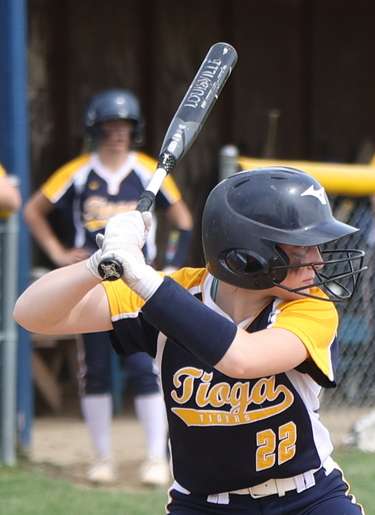 Valley Sports Report
GREENE — Payton Yahner shut down fifth-seeded Tioga's bats, and led fourth-seeded Greene to a 6-0 win here Tuesday afternoon in the quarterfinals of the Section IV, Class C softball playoffs.
Payton Yahner yielded just three singles, while striking out 16 and walking just one in seven innings to earn the win.
"(Yahner) throws hard and is consistent," said Tioga coach Heather Klossner. "She throws harder than anyone we have seen this season. We barely touched her.
"Erin (Luther) threw a great game, and for the most part, we played well behind her," noted Klossner. "A couple miscues that snowball have been our problem all year — that one inning.
"Today, it was the sixth inning, but regardless, if you don't hit, you probably aren't going to walk away with the win," she added.
Greene had its first opportunity to score in the home half of the first inning, but Yahner, who ripped a two-out double, was gunned down at the plate attempting to score after an error on the play.
Freshman RaeAnne Feeko had Tioga's first hit of the game — a two-out single in the top of the third inning, but was stranded at first base.
Luther matched zeroes with Payton Yahner until the bottom of the fourth inning when Yahner led off the inning with a triple, and scored on a groundout off the bat of Kenzie Button to make it 1-0.
Feeko flared a one-out single to right field in the top of the sixth inning, but was left at first base.
An error, and four straight singles, including a two-run single by Abby Yahner, and a passed ball resulted in five runs in the home half of the sixth to extend the Lady Trojans' lead to 6-0.
Sophomore Makenzie Williams led off the seventh inning with a single, took second on a passed ball, then moved to third on a passed ball with two outs, but was stranded their.
Feeko had two hits, and Williams had one to account for Tioga's offense.
Luther was tagged with the loss, allowing four earned runs on seven hits, while striking out six and walking three in six innings.
Payton Yahner was 3-for-3 with two runs scored, and Abby Yahner singled, scored one run, and drove in two runs to pace Greene at the plate.
Tioga wraps up its season at 9-8. It loses a small group of seniors, led by Mykenzie Thetga and Felicia Lantz.
"This group of seniors, their leadership and personality, will be missed," said Klossner.
The Lady Tigers returns a large group of under classmen with a great deal of experience for 2024.
"The underclassmen coming back already play some key roles," said Klossner. "They are solid.
"RaeAnne (Feeko) is only a freshman, and Erin (Luther), the MVP of our division, and Kenz (Williams) are only sophomores," added Klossner. "And, we will get leadership back in the outfield with Meg Vance."
——————
IN PHOTO: Tioga's RaeAnne Feeko. … VSR STOCK PHOTO.