DISTRICT 4 FOOTBALL: TOP-SEEDED DANVILLE ROLLS PAST ATHENS IN CLASS 3A QUARTERFINALS (20 PHOTOS)
(2023-11-03)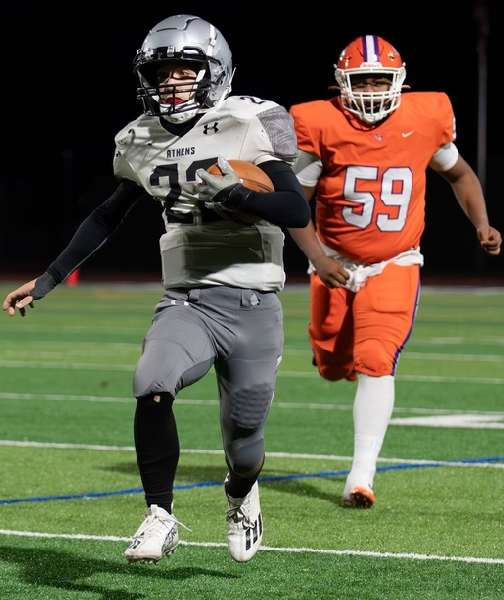 Valley Sports Report
DANVILLE — Athens coach Shawn Bradley said his team faced a "daunting task" prior to its match-up with three-time defending District 4 champs Danville here Friday night in the quarterfinals of the Class 3A playoffs, and the top-seeded Ironmen delivered on his expectations.
Danville QB Madden Patrick threw four first-half TDs, and Bo Sheptock added a pair of rushing TDs as the Ironmen raced out to a 55-0 lead at the intermission on their way to a 55-7 win over eighth-seeded Athens.
"(Danville) is a very good team," said Athens coach Shawn Bradley. "We were outgunned.
"We fought uphill all year, but the kids fought," added Bradley. "And, they fought all night tonight."
Patrick hooked up with Aaron Johnson on TD passes of 65 and 38 yards on Danville's first two possessions of the game.
After a 15-yard TD run by Sheptock, Patrick connected with Johnson again on a 15-yard TD pass to give the Ironmen a 28-0 lead at the end of the first quarter.
Madden and Johnson hooked up again early in the second quarter on an 18-yard TD pass to make it 34-0.
The Ironmen tacked on three more TDs in the second quarter — a 30-yard pass from Wyatt Shultz to Cameron Kiersch, a 35-yard interception return by Eli Welliver, and a 6-yard TD run by Sheptock — to extend their advantage to 55-0 at the half.
The Wildcats avoided the shutout thanks to an 18-yard TD run by sophomore Eli Chapman in the fourth quarter. Adam Kemp tacked on the PAT kick to provide the final margin.
The Ironmen ended the game with 320 yards in total offense to Athens' 129.
Patrick completed 8 of 10 passes for 211 yards, and four TDs, with Johnson hauling in four receptions — all for TDs — for 136 yards.
Chapman completed 3 of 8 passes for 46 yards, and one interception for the Wildcats, and freshman Connor Davidson completed 4 of 15 attempts for 19 yards, and one interception.
Sophomore Sean Peters led Athens with three catches for 37 yards, and Davidson had two grabs for 17 yards.
Chapman led Athens with 43 rushing yards and one TD on six carries, and Davidson tacked on 15 yards on 12 carries.
The Wildcats wrap up the season at 3-8.
The season began with two of Athens' top returners transferring, and another (Josh Martin) suffering a season-ending knee injury in the preseason. The Wildcats also lost two more starters during the season to transfers, and had a string of injuries.
"There was a lot of adversity this year, but I give a lot of credit to our kids," said Bradley. "They showed up everyday, they worked."
"We do have some maturing to do, we're very young, but when that starts happening … this is a good football team," he noted. "It might be a year or two away, but it's there, we just have to keep working, and plugging and we'll get there."
The Wildcats will lose a half-dozen seniors to graduation, including two-way linemen Josh Nittinger and Nate Polzella, and two-way starter Kaden Parrish.
"Losing these seniors is the tough part," said Bradley. "We can't replace them, we'll need need guys to step up.
"They are great kids, and they'll all do great things in life," added Bradley. "We will definitely miss them."
Bradley is looking forward to the offseason work.
"We need to spend lots of time in the weight room," he said. "We want to do a lot of 7-on-7, a lot of competition … we need to get better, and tougher.
"We just need to keep working and progressing," Bradley added.
Despite the lopsided loss to end the season, Bradley said his team improved throughout the campaign.
"We were better at the end of the season, than we were at the beginning," he said. "We could have easily won two or three more games this season.
"Drawing Danville is not what we wanted," noted Bradley. "We would have liked to have played someone else. … we lost a couple tight games that I would like to get back, and we drew them; that's the way the ball bounced."
——————
IN PHOTO 1: Athens sophomore Eli Chapman. … PHOTOS BY MATT PATTON.