ON TAP TODAY: TIOGA FOOTBALL OPENS POSTSEASON PLAY AGAINST WALTON; ATHENS DUO AT STATE XC MEET, WAVERLY GIRLS AT CLASS B SWIMMING CHAMPIONSHIPS
(2023-11-04)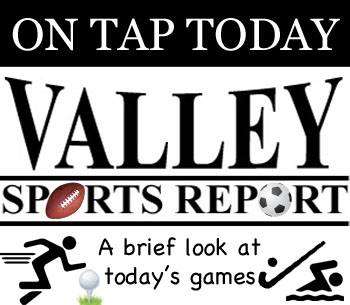 Valley Sports Report
THE VALLEY — Tioga take its first postseason step toward its sixth straight Section IV title, and third consecutive New York State Class D title on the gridiron this afternoon, while Waverly sophomore Mira Kittle looks to punch her ticket for a return trip to the New York State Swimming & Diving Championships.
FOOTBALL
Section IV Playoffs
Class D Semifinals

4-Walton (5-3) vs. 1-Tioga (9-0), noon @ Susquehanna Valley H.S.: The Tigers are coming off a 63-6 win over Newark Valley, while the Warriors blanked Harpursville-Afton, 46-0.
Tioga enters game riding a 36-game win streak, and is outscoring its opponents by an average of 52.7 to 8.7 points per game this season, while Walton has outscored its foes by an average of 25 to 20.8 points per game.
The Tigers enter the contest averaging 392.7 yards per game in total offense — 282.3 yards per game on the ground, and 110.4 through the air.
Senior Drew Macumber leads Tioga's rushing attack with 768 yards and 14 TDs on 86 carries (8.9 yards per carry), while senior QB Caden Bellis has 433 yards and nine TDs on 35 carries (12.4 yards per carry), junior Jonah Lamb has 374 yards, and eight TDs on 26 carries (14.4 yards per carry), and senior Ousmane Duncanson has 247 yards and four TDs on 34 carries (7.3 yards per carry).
As a team, Tioga averages slightly more than 10 yards per carry, rushing for 2,541 yards on 253 carries.
Bellis has completed 67.9 percent (38 of 56) of his pass attempts for 981 yards, and 19 TDs, with just one interception. Bellis' completions this season have been for an average of 25.8 yards.
Senior Karson Sindoni leads Tioga with 11 receptions for 245 yards, and four TDs, while senior Valentino Rossi has 10 catches for 352 yards, and a team-high six TDs, and senior Evan Sickler has nine grabs for 251 yards, and five TDs.
In all, Tioga averages 11.4 yards per offensive play this season.
The Walton ground game, led by Seth Hunter and Colby Pzraner, is averaging about 275 yards per game this season.
Junior QB Caleb Moren is completing 50 percent of his passes for about 50 yards per game.
Last meeting: Tioga scored the first 48 points of the game on its way to a
55-8 win at Walton
.
CROSS COUNTRY
PIAA, Class AA Championships, 10 a.m., Hershey: Athens junior Sara Bronson is making her third appearance at the state meet, while freshman Graham Wanck is making his debut.
Bronson's race is set for 10:15 a.m. Saturday morning, while Wanck is scheduled to run at 12:30 p.m.

GIRLS SWIMMING
Section IV, Class B Championships, 2:30 p.m. @ Maine-Endwell H.S.:
Waverly advanced 11 swimmers in 19 entries in individual events, as well as all three relays from Wednesday's Class B preliminaries to today's Class B Championships.
Sophomore Mira Kittle posted the fastest times in the 50- and 100-yard freestyle events and is the top seed today, while sophomore Olivia Cheresnowsky is the top seed in the 100-yard backstroke in the 100-yard backstroke, and the second seed in the 50 free.
Kittle, Cheresnowsky, 8th-grader Lauryn Welles, and 7th-grader Audrey Kellogg are the too seed in the 200-yard freestyle relay, and Kittle, Cheresnowsky, Welles, and 7th-grader Natalie Steck are the top seed in the 200-yard medley relay.
Welles is the fourth seed in the 50 free, and the sixth seed in the 100-yard breaststroke.
Also in action are 7th-graders Ayla Wheeler, and Brynna Twedt, sophomore Lizzy Robinson, Vada Harmon, Sophie Williams, and Isabella Root.