SECTION IV FOOTBALL: TIOGA THUMPS WALTON, 63-16; WILL PLAY FOR SIXTH STRAIGHT CLASS D TITLE (24 PHOTOS)
(2023-11-04)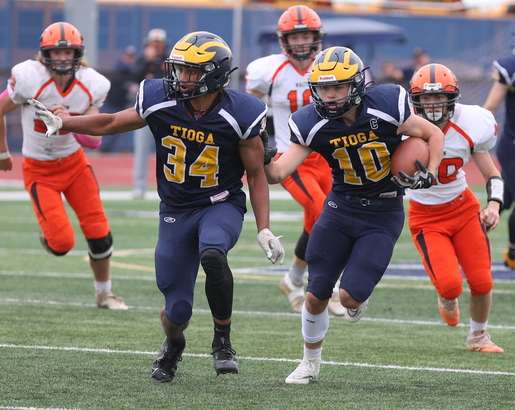 By TIM BIRNEY
Valley Sports Report
CONKLIN — Tioga did not run an offensive play in the first quarter, yet led 8-0, then blew the game wide open in the second quarter on its way to a 63-16 win over Walton here Saturday afternoon in the semifinals of the Section IV, Class D playoffs.
The two-time defending state champion Tigers, now 10-0 and winners of 36 straight games, will square off with Delhi Friday in a quest for their sixth consecutive (and 11th since 2011) Section IV, Class D title
"It was a great week of practice, the kids picked it up a notch, they know what time it is," said Tioga coach Nick Aiello. "It's playoff season, win-or-go-home.
"These guys have been around long enough that they're pretty good at shutting off the outside noise and focusing on the task at hand.
"Right now, we're firing on all cylinders," added Aiello. "We just have to keep working, and preparing like they're use to doing."
The good news for the Warriors was that their ball-control offense ran 21 plays in the first quarter, while Tioga did not run any. The bad news was senior Evan Sickler's 65-yard punt return gave the Tigers the lead after the first quarter.
"As a staff, we look at how we can get the ball in our playmakers' hands," said Aiello. "Being able to put Evan (Sickler) back there, that's where he gets the most touches a lot of times, is a big plus for us.
"I'm glad he took advantage of that. He's really turning into a dangerous returner for us.
"And, it was really great execution on the return," added Aiello.
Sickler also had three other punt returns of at least 25 yards, setting up the Tigers in Walton's end of the field each time.
"He had some big returns, but he also flew up and caught a ball on a fair catch, instead of letting it hit the turf," said Aiello. "That's stuff we talk about, so I'm glad to see that out of him
"He's just an example of all the guys listening, playing their role, and executing," added Aiello.
After the first quarter, Tioga churned out 381 rushing yards on just 23 carries, and completed just one pass for 12 yards
Tioga won the toss, and deferred to the second half, which allowed Walton to receive the opening kickoff.
The Warriors picked up eight yards on their first two runs, but an illegal procedure call turned third-and-2, into 3rd-and-seven. Walton was forced to punt when senior Ousmane Duncanson sliced through the defense, and dropped QB Caleb Moren for a 1-yard gain.
Sickler fielded the punt at the Tioga 35, broke to the visitor's sideline, picked up a block down field from senior Karson Sindoni, and raced untouched into the end zone. After Walton was flagged for offsides on the PAT attempt, senior QB Caden Bellis tacked on the conversion to make it 8-0 with 9:17 remaining in the first quarter.
Walton then went on a drive that would make legendary coach Jim Hoover proud, pounding out a 17-play, 55-yard possession that chewed up 9 minutes, and 20 seconds off the game clock.
The Warriors registered three fourth-down conversions, including Darrin Walley's 1-yard TD run on fourth-and-goal on the first play of the second quarter. Moren tacked on the conversion to tie the game at 8-8 with 11:57 remaining in the first half.
Walton would not pick up another first down until its first possession of the second half, at which time it trailed 42-8.
"We had to fine-tune some adjustments after that drive," said Aiello. "I thought we settled in after that.
"It's hard to replicate that in practice, between the cross-blocks, and the trap-blocks, the down blocks, and the combos … all that stuff, when you face it at game speed, it can take you a little while to settle in, and that's what we had to do," added Aiello.
Duncanson fielded a a Walton squib kick on the ensuing kickoff, and returned it 25 yards to the Walton 40.
Three plays later, senior Valentino Rossi took a handoff on a counter sweep and raced 27 yards for a TD to make it 14-8 with 10:42 remaining in the half.
After a Walton three-and-out, Sickler had a long return brought back by a block-in-the-back call, but the Tigers still had good field position at its own 48.
Senior Drew Macumber started the drive with an 8-yard run, and Duncanson followed with an 11-yard run to the Walton 33. Two plays later, Macumber broke loose on a 33-yard TD run with 8:06 left in the half. Bellis tacked on the conversion to make it 22-8.
After another Walton three-and-out, Sickler made a nice sliding catch on a fair catch at the Walton 45.
A pair of penalties put Tioga in a first-and-25 hole at its own 40, but Macumber ripped off a 28-yard run to the Walton 32. After a 9-yard run by Macumber, and a 19-yard run by Bellis, Macumber capped the drive with a 4-yard TD run to make it 28-8 with 3:09 remaining in the half.
Walton picked up six yards on its first two plays on its next possession, but Caden Bellis sacked Moren, who was rolling to his left, for an 8-yard loss, forcing another Walton punt, which Sickler returned 25 yards to the Warrior 35 with 1:00 remaining in the half.
Caden Bellis started the drive with runs of 18 and 17 yards, then hit Rossi in the flats, and he turned it into a 12-yard TD with 22.6 seconds remaining in the half. Senior Gavin FIsher's PAT kick made it 35-8.
The PAT was the 64th of the season for Fisher, which is a new Section IV single-season record.
Tioga returned the second-half kickoff to its 45, and quickly found the end zone once again.
One play after Caden Bellis ripped off a 26-yard run, Duncanson turned in a spectacular 34-yard TD run, shaking off a pair of tacklers inside the 10, and carrying another into the end zone. Fisher's PAT kick made it 42-8 with 10:43 remaining in the third quarter.
Walton picked up a first down on its next possession, but was forced to punt. Another good return by Sickler set the Tigers up at Walton's 35.
Moments later, Macumber scored his third TD of the game on a 25-yard run to cap a three-play drive. Fisher's PAT kick made it 49-8 with 6:51 remaining in the third quarter.
The Tigers subbed freely the remainder of the game, and played its JV team exclusively for the final 15 minutes of the game.
Walton's next possession ended with a interception by junior Jonah Lamb, who returned it 15 yards to the Warrior 40.
Tioga needed just two plays to find paydirt — a 29-yard run by junior Brennan Sindoni, and an 11-yard TD run by Lamb — to up its lead to 56-8.
Walton added to its point total with a 16-play, 73-yard drive that chewed up 9 minutes, and 27 seconds from the game clock. Kyle Miller capped the drive with a 1-yard TD run with 5:36 left in the game.
Tioga's final points came 60 seconds later when sophomore Logan Bellis broke a tackle at the line-of-scrimmage, bounced his run to the outside, and raced 63 yards down the visitor's sidelines for a score. Fisher's PAT kick made it 63-16.
Aiello was pleased with the performance of his reserves, and JV players.
"We put a lot of work in quite a few years ago to build up our numbers, and to be able to carry a JV team. We're seeing the fruits of that labor the last couple years.
"Having a JV team as a small school this year is big," said Aiello. "They went 9-0 this year and had some real quality wins.
"They're not that big, but they're feisty and they play good football," added Aiello. "To be able to put them out there, and see them successful in a varsity game is nice to see."
Macumber led Tioga with 124 yards, and three TDs on just eight carries, while Caden Bellis had 68 yards on four carries, Logan Bellis had 65 yards and one TD on three carries, and Duncanson added 52 yards, and one TD on four carries.
Caden Bellis completed 1 of 3 passes for 12 yards — a TD pass to Rossi.
Walton finished the game with 199 yards in total offense — all on the ground on 60 carries.
Walley led the Warriors with 70 rushing yards on 18 carries, and Colby Phraner added 27 yards on eight carries.
Tioga will face Delhi Friday at 5 p.m. at Johnson City High School in the Class D Championship game.
——————
IN PHOTO 1: Tioga's Drew Macumber (10) rides a block from Ousmane Duncanson (34) on his way to the end zone. … PHOTOS BY TIM BIRNEY.