PIAA CROSS-COUNTRY: ATHENS' BRONSON, WANCK BOTH POST TOP-60 FINISHES AT STATE MEET (6 PHOTOS)
(2023-11-04)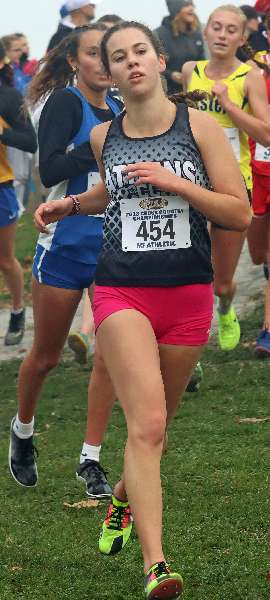 By CHRIS MANNING
Valley Sports Report
HERSHEY — The Athens duo of junior Sara Bronson and freshman Graham Wanck ended their seasons on high notes, both finishing in the top 60 here Saturday at the PIAA Class AA Cross-Country Championships.
"It was a tough race, it went out really fast, but I'm happy with where I am," said Bronson, who finished 56th.
She flirted with the medals early, going through the mile in 35th, before falling back to 49th at the halfway point on the 3.1-mile course.
Bronson moved back up to 45th at the 2-mile mark, but slid back from there.
"I wanted to be as far up as I could, and that was a pretty good spot to be," she said about running in the 40s. "I'm happy with how I finished. I was hoping to be a little bit higher, but I ran a minute faster than last year, so I'm happy about that."
Bronson, who finished 99th as a freshman and 54th last year, hopes that she can get that elusive state medal her senior year in 2024.
"That's a big hope for next year," she said. "Hopefully, next season goes a little bit better than this season.
"There was a little bit of a rough start, having surgery, and not being able to run. I'm looking forward to next year, and training more, and getting up there," added Bronson.
Wanck finished 53rd overall in 17:29, moving up from 96th at the mile to 72nd at the halfway point of the race.
He was 63rd at the 2-mile, and 60th with a 1,000 meters to go.
"I felt really good about it," he said. "My first time here, I went through the mile marker exactly where I wanted to be. I felt good, and then coming through the finish I saw my time, and I knew that was the time I wanted it to be. I know I passed more people than passed me."
Wanck was the highest-ranked freshman coming in, and he held that, being the first ninth-grader to cross the finish line.
"My coach told me that coming in, and I was sort of surprised by that," he said. "It means a lot to me."
This will certainly motivate him for next season.
"There's always things to improve on, and I can't wait to get better."
——————
PHOTOS BY CHRIS MANNING.