SECTION IV GIRLS SWIMMING: CHERESNOWSKY, KITTLE THREE-TIME WINNERS AT CLASS B CHAMPIONSHIPS; WAVERLY FINISHES FOURTH (9 PHOTOS)
(2023-11-04)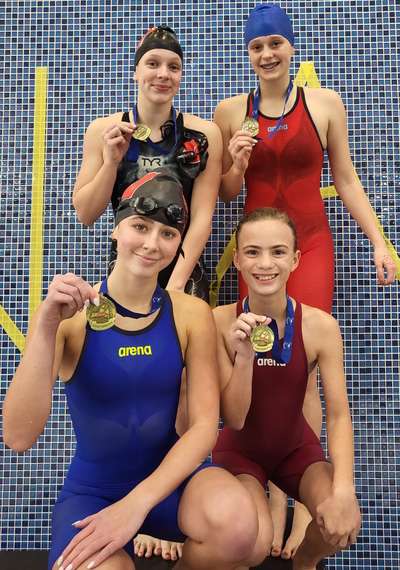 Valley Sports Report
ENDWELL — Sophomore Olivia Cheresnowsky won three class titles, and was a runner-up in a fourth event, and sophomore Mira Kittle also won three titles to lead Waverly to a fourth-place finish here Saturday afternoon at the Section IV, Class B girls swimming championships.
Maine-Endwell won the team title with 366 points, edging runner-up Chenango Valley, which had 359 points. Oneonta was third with 345 points, while Waverly tallied to 263 points, and Owego was fifth with 220.
Kittle, who has qualified to compete in the 50- and 100-yard freestyle events, and the 100-yard backstroke at the New York State Championships, lowered her school-record time in the 100 free Saturday, and was also part of the record-setting 200-yard medley relay, which has now lowered its own record three times this season.
Kittle and Cheresnowsky teams with 8th-grader Lauryn Welles, and 7th-grader Natalie Steck to win the 200-medley relay in a school-record time of 1:54.91, lowering their own record (1:55.54) from Wednesday.
Kittle, Cheresnowsky, and Welles teamed with 7th-grader Audrey Kellogg teamed to win the 200-yard freestyle relay in a time of 1:42.24. Swimming the anchor leg, Kittle swam a split of 23.53 seconds, which is more than one-half second faster than her school record in the 50 free.
Kittle won the 100-yard freestyle in a school-record time of 53.09 seconds, eclipsing her previous record of 54.11 seconds. Kellogg placed eighth in a time of 1:01.78, while 7th-grader Ayla Wheeler was ninth in 1:03.09, and 7th-grader Brynna Twedt was 13th in 1:08.67.
Cheresnowsky won the 50-yard freestyle in a time of 25.36 seconds, and Welles was third in 25.68 seconds.
Cheresnowsky finished second in the 100-yard backstroke in a time of 1:03.57, while Twedt was 12th in a personal-best time of 1:19.23, and Wheeler was 13th in 1:19.57 — 5 seconds faster than her previous personal-best.
Wheeler, Twedt, Kellogg, and sophomore Lizzy Robinson teamed to finish fifth in the 400-yard freestyle relay in a time of 4:18.99
Welles finished eighth in the 100-yard breaststroke in a time of 1:20.68, and Steck was 12th in 1:24.97.
Robinson finished ninth in the 200-yard freestyle in a personal-best time of 2:15.06, while Kellogg was 10th in 2:18.79. and sophomore Vada Harmon was 16th in 2:40.00.
Robinson also placed ninth in the 500-yard freestyle in a time of 6:08.54 — nearly 10 seconds faster than her previous best time. Freshman Isabella Root was 12th in a personal-best time of 6:50.98, and sophomore Sophie Williams was 16th in 6:53.78.
Harmon also finished 16th in the 100-yard butterfly in a time of 1:31.44.
The New York State Championships are set for Nov. 17-18.

——————
IN PHOTO 1: Waverly's Class B champion 200-yard medley relay team of (clockwise from top left) Mira Kittle, Lauryn Welles, Natalie Steck, and Olivia Cheresnowsky. … PHOTOS BY TIM BIRNEY.