SECTION IV VOLLEYBALL: T-BURG SWEEPS TIOGA IN CLASS C FINALS TO DENY TIGERS TITLE REPEAT (24 PHOTOS)
(2023-11-05)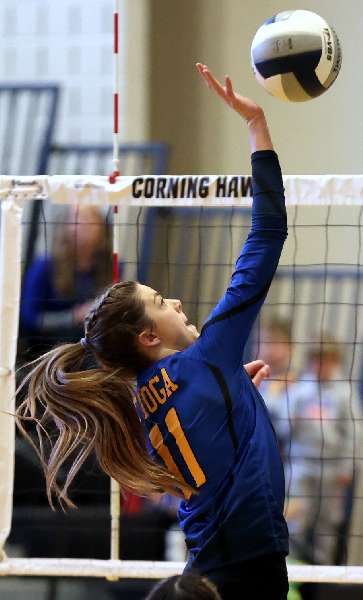 By TIM BIRNEY
Valley Sports Report
CORNING —Trumansburg has had Tioga's number all season, and Sunday was no different.
The fourth-seeded Tigers were denied a Section IV, Class C title repeat by the top-seeded Blue Raiders (15-1), who claimed this year's crown with a sweep by scores of 25-8, 25-19, and 25-14.
"I think there were some nerves early on, but Trumansburg also did their homework on our different defenses, and they tipped, and rolled us to death," said longtime coach Des Ford, who has nine Section IV titles since 2000 to her credit during her tenure at Tioga.
"I thought the second and third sets were better, even thought we lost," noted Ford. "I thought our girls adjusted.
"Our serve-receive was pretty strong," added Ford. "Thursday night our defense was good, today it wasn't."
The Blue Raiders swept Tioga during a pair of regular-season matches, and also beat the Tigers 2-0 in Class C semi-final pool play Thursday.
Trumansburg jumped out to a quick 5-0 lead in the first set on serves by Lydia Everhart.
Senior setter Sailor Ladd who directed the attack throughout the match, smoothly put shorts sets in place for 6-1 Lauren Millspaugh, and was equally adept at long sets to her outside hitters as the Blue Raiders built a 15-4, and a 21-6 advantage on its way to the 25-8 win.
"If the setter can put the ball where the hitters need it to be, it makes a big difference," said Ford. "(Trumansburg's setter) put the ball right where it was suppose to be all night."
Tioga was much more competitive in the second set with a pair of service points by senior Megan Vance giving the Tigers an early 5-2 lead.
Junior Kali Bailey's kill gave Tioga a 6-3 lead, but Trumansburg battled back to tie it at 7-7.
Another Bailey kill gave the Tigers a 9-8 lead, but Millspaugh returned the favor to tie it at 9-9, then Jenny Peters served up three straight points to give the Blue Raiders the lead at 12-9.
Tioga tied the match at 14-14 on a service point by sophomore Alyson Chamberlain, but T-Burg edged ahead 19-16, and four straight service points by Grace Olney gave them a comfortable 23-16 lead on its way to the 25-19 win.
Trumansburg jumped ahead to 2-0, and 4-1 early, and never trailed in the third set. Tioga did tied the set at 5-5 on a service point by senior Emily Bidwell, but a side-out, and four straight service points by Millspaugh gave T-Burg a 10-5 lead. Tioga never got any closer than four points re remainder of the match.
Tioga finishes the season at 9-8, with six seniors — Vance, Layni Whitmore, Joslyn Maciak, Lily Mesler, Bidwell, and Haley Powell playing their last match for the Tigers.
"They will be missed, they're good kids," said Ford.
The Tigers return Bailey, as well as sophomores Lydiah Decker, RaeAnne Feeko, and Audi Zorn from their starting line-up, as well as several other underclassmen that saw plenty of postseason action.
"I'm feeling pretty positive about the future," said Ford. "I think the under classmen we have coming back next year, and the kids we brought up from the JV postseason are a good foundation.
"Most of them are 10th-graders, and two are freshmen," noted Ford. "They got to see the tougher competition.
"It should be help them the next few years, in terms of knowing what it takes to win at this level," she added.
——————
IN PHOTO 1: Tioga's Audi Zorn. … PHOTOS BY TIM BIRNEY.