SECTION IV JV FOOTBALL: TIOGA FINISHES SEASON WITH PERFECT 9-0 RECORD
(2023-11-06)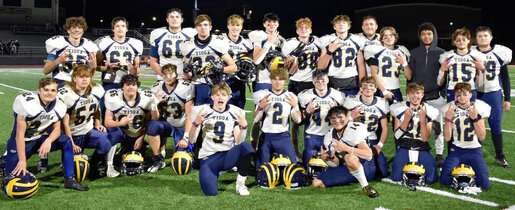 Valley Sports Report
TIOGA CENTER — Just like their varsity counterparts, the Tioga JV football team finished the regular season with a perfect record.
Tioga, under the direction of head coach Jason Bellis, Perry Silvestri (offensive coordinator), and Tyler Spires (defensive coordinator), posted a 9-0 record as the smallest school in the Section IV JV league.
Tioga outscored its opponents by an average of 33.9 to 8.7 points per game
Tioga opened the season with a 35-0 win over Athens, then edged Waverly, 20-14 in Week 2.
After a 33-16 win over Susquehanna Valley in Week 3, Tioga reeled of wins of 61-0 over Chenango Valley, 34-0 over Susquehanna Valley, 41-8 over Waverly, and 27-0 over Johnson City.
The junior Tigers finished the season with a 20-14 overtime win over Susquehanna Valley, and a 34-26 win over Chenango Forks in double-overtime.
"It was an interesting season," said head coach Jason Beillis. "We had some ups and downs. I
think we only played one game all four quarters — the second game against Waverly.
"We didn't go crazy with summer prep this past summer, but the boys came in willing to work on day one," he noted. "We had 50 percent of the line returning with 50 percent of the skill-players returning, but the 50 percent of newcomers were guys coming up from the modified program, which made it very easy to get into more detail and higher level technique with the freshmen.
Huge thanks to coach (Stan) Siberski, coach (Mike) Platukis and coach (Dan) Pearce for getting them prepared. In the two OT games, we didn't play four quarters in those games - but golly, you can't rep
the pressure and adversity of OT in practice - that is huge for these young student athletes moving forward," added Bellis. "They're definitely gritty."
Bellis notes the JV program wants to win, but the ultimate goal is to prepare the athletes for varsity competition.
"I'm not much of a statistics guy … the most important statistic to me is effort, and that we get better at playing the game of football," he said. "At the end of the day; our JV program is simply a stage of preparation — it isn't about wins and losses, but I do believe winning is something that needs to be taught or coached.
"Being prepared, putting forth effort and realizing success makes that happen.
"The coaching staff focused on expectations, effort, technique, execution and communication — on and off the field," noted Bellis.
"We received comments from coaches, officials and outside resources on the team's performance this year," added Bellis. "We heard 'best tackling team we've officiated all season,' 'we respect how your team plays the game,' and 'you guys are tough to compete against' — those are the important statistics to me."
Bellis also notes the JV team need support from the administration to exist, much less be successful.
"Being a JV football player is tough," said Bellis. "You have varsity commitments, you have varsity scout requirements, you play on Mondays … I commend the players and coaching staff for their prep and willingness to understand the situation and their role in the program."
"It all comes down to the school and football program as a whole to support a JV football team," added Bellis. "It is additional time and resources to have one, but they see the benefit it provides our student-athletes and the future outcome with our varsity team."
TIOGA JV ROSTER
"We have a nice mix of sophomore and freshman; plus one monster 8th grader," said Bellis.
SOPHOMORES:
Aaron Bellis, Austin Mumbulo, Conner Streeter, Gavin Albrecht, Dominic Palmer, Gage Hopkins, Jayden Duncanson, Kaydin Cole, Logan Bellis, Nathan Hulbert, and Steve Sherman.
FRESHMEN:
Allen Winans, Brayden Lounsbury, Declan McKee, Elijah Bellis, Gavin Kithcart, Jackson Bombard, James Howey, Markel Watkins, Owen Parker, Shane Platukis, and Talon Relyea.

8TH-GRADER:
Mark McKane (6-5, 275 pounds).