VALLEY SPORTS REPORT: WAVERLY TRIO — TOMASSO, VAUGHN, CHERESNOWSKY — NAMED BISHOP BROTHERS CONSTRUCTION 'ATHLETES OF THE WEEK'
(2023-11-06)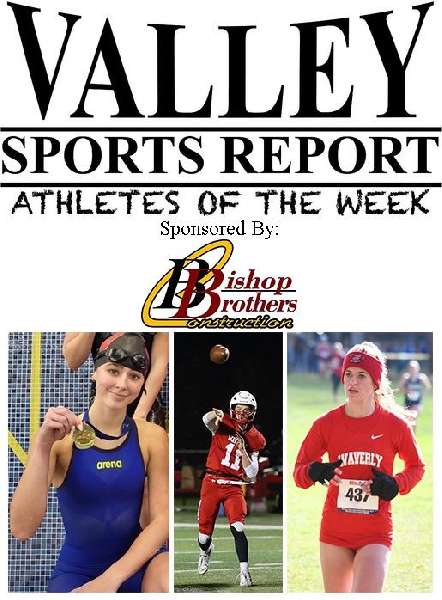 Valley Sports Report
THE VALLEY — Senior QB
Joey Tomasso
accounted for six TDs in leading Waverly back into the Section IV, Class C championship game, while Waverly senior
Elizabeth Vaughn
punched her ticket for a return trip to the state cross country meet, and Waverly sophomore
Olivia Cheresnowsky
placed in the top two events at the Section IV swim meet. They are the
Valley Sports Report
/
Bishop Brothers Construction
"
Athletes of the Week
," for the week ending Nov. 4.
WAVERLY'S TOMASSO NAMED BISHOP BROTHERS CONSTRUCTION BOYS "ATHLETE OF THE WEEK"
Tomasso tossed five TD passes, and ran for another score to lead the Wolverines to a 55-0 win over Susquehanna Valley in the Section IV, Class C semifinals.
Tomasso completed 20 of 27 pass attempts for 357 yards, including 306 yards and four TDs in the first half. His TD passes were for 27, 5, 10, 52, and 5 yards, and his TD run was for 1 yard.
Tomasso has thrown for 2,222 yards and 33 TDs this season.
Honorable Mentions: Waverly's Xavier Watson (football), Waverly's Matthias Welles (football), Waverly's Jacob Benjamin (football), Athens' Graham Wanck (cross country), Tioga's Drew Macumber (football), Tioga's Valentino Rossi (football), and Tioga's Evan Sickler (football).
WAVERLY'S VAUGHN, CHERESNOWSKY NAMED BISHOP BROTHERS CONSTRUCTION GIRLS "ATHLETES OF THE WEEK"
Vaughn will return to the New York State, Class C Cross-Country Championships after qualifying at the Section IV Championships.
Vaughn placed fifth in a time of 21:40.6 on the 3.1-mile course at Chenango Valley State Park.
Cheresnowsky had a trio of first-place finishes, and a second-place finish at the Section IV, Class B Championships.
Cheresnowsky won the 50-yard freestyle in 25.36 seconds, and was second in the 100-yard backstroke in 1:03.57.
Cheresnowsky also swam on a pair of first-place relays, one of which broke school records. The 200-yard free relay cocked in at 1:42.24, and the 200-yard medley relay swam a school-record time of 1:54.91.

Honorable Mentions:
Athens' Sara Bronson (cross country), Waverly's Mira Kittle (swimming), Waverly's Lauryn Welles (swimming), Tioga's Megan Vance (volleyball), and Tioga's Layni Whitmore (volleyball).