IAC GIRLS SOCCER: TIOGA HAS SEVEN SELECTED TO DIVISIONAL ALL-STAR TEAMS
(2023-11-08)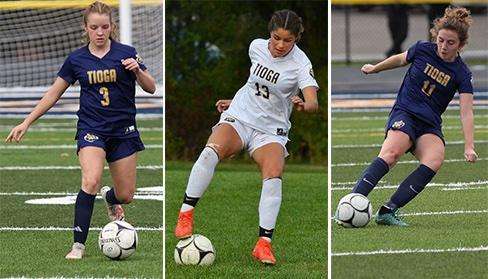 Valley Sports Report
TIOGA CENTER — The Tioga girls soccer team enjoyed one of the best seasons in program history, and was awarded with seven players being selected to the IAC South Small School Division all-star teams, including a trio of first-team selections.
Named to the first team were sophomore midfielder Sophia Haney, 7th-grade forward Grace Howey, and junior midfielder Erica Bradley, while senior midfielder Elyse Haney, senior defender Kaitlyn Vasey-Hunt, sophomore fullback Emily Ziwerlein, and junior keeper Taliah Speer were named to the second team.
Watkins Glen junior forward Skye Honrath was named the divisional MVP.

FIRST TEAM
Sophia Haney, sophomore, TIoga:
Fast and athletic, with great foot skills and a high soccer IQ, Haney led Tioga with 20 goals, and seven assists.
"Skye Honrath of Watkins Glen won MVP of our division (32 goals), but if there were a runner-up it would clearly be Sophia,' said Tioga coach Jim Walsh. "A very worthy captain, she hit two overtime winning goals this year … she was a real pleasure to coach."
Grace Howey, 7th-grader, Tioga:
A tenacious competitor with skills galore, and a strong knowledge of the game, Howey scored 12 goals, and dished out four assists.
"Adept at placing the ball like none other we have seen in a while, she took most penalty kicks," said also. She is an explosive attacker … at this rate and early stage, she could vie for leading goal scorer in Tioga history."
Erica Bradley, junior, Tioga:
A tireless worker, Bradley shined on both ends of the field for the Tigers. She had six goals and four assists.
"She is our most conditioned athlete and most powerful kicker — she is a complete player, who does it all on the field: goal kicks, throw-ins, assists, goals," said Walsh. "She has a true knack for the game."
Also named to the first team were:
Newfield senior Natali Titles and sophomore Sierra Lynch, Watkins Glen sophomores Ava Kelly, Rachel Vickio, and Natalee Oliver, and senior Lily Ameigh, and O-M's Paisley Jeziorski.
SECOND TEAM
Elyse Haney, senior, Tioga:
Possessing great foot skills and tremendous athleticism, Elyse Haney sacrificed scoring goals to set up teammates.
"She was only credited with one assist … in hockey, she would be credited with more - from her defensive midfielder position often set up the pass that led to the assist that led to the score,' said Walsh. "She was one of our playmakers, a smooth ball handler … have never seen the ball taken away from her. She had a great soccer career."
Kaitlyn Vasey-Hunt, senior, Tioga:
A key cog in the Tioga defense that keyed the turnaround in the team's success this season.
""She had not played since 8th-grade, but solidified starting spot after impressive first game,' said Walsh. "She is a strong central defender, played physical, played enthused, and is very coachable."
Emily Zwierlein, sophomore, Tioga:
A physical and fearless defender, Zwierlein was key component in Tioga's improved defense.
"Emily took on a defensive role with pride this year," said Walsh. "She is a tough player, who wants to succeed, … she wins all the 1-v-1 battles."
Taliah Speer, junior, Tioga:
A heady keeper, Speer improved as the season progresses. She had 105 saves and two shutouts.
"She continued to improve her improve her goalie skills and was highly motivated to do so," said Walsh.
Also named to the second team were
: Newfield senior Aaliyah McCoy and sophomore Emily Taylor, Watkins Glen junior Olivia VanSkiver, and sophomores Brianna Hatch and Olivia King, and O-M junior Maggie Pent.