SECTION IV FOOTBALL: TIOGA SEEKS TO JOIN EXCLUSIVE CLUB; SQUARES OFF WITH DELHI IN CLASS D TITLE GAME
(2023-11-09)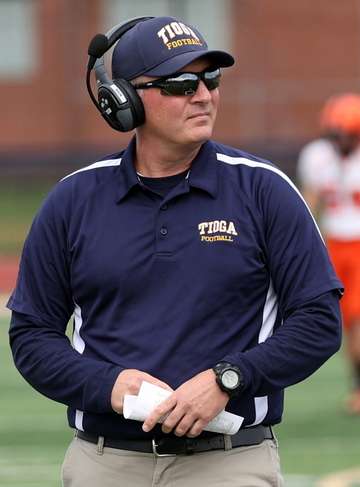 By TIM BIRNEY
Valley Sports Report
TIOGA CENTER — Tioga looks to join an elite club Friday evening as it seeks its sixth consecutive Section IV title when it takes on Delhi in the Class D championship game at Johnson City High School. With a win, Tioga will become the second program to accomplish the feat, and the first Class D school.
Chenango Forks has actually done it twice, winning seven in a row in Class B from 2001-07, and nine in a row — four (2012-15) in Class C, four (2016-2019) in Class B, and one more (2021) in Class C — between 2012 and 2021. (There were no playoffs in 2020).
Walton (1986-91) won six consecutive Class C "bowl games" prior to the state tournament in 1993.
Tioga is the only Class D school to win five in a row, and it's done it twice — from 2011-15, and 2017-19, 2021-22. Maine-Endwell also won five in a row — two in Class A (2010-11) and three in Class B (2012-14).
"Every year, you try to get in this position," said Tioga coach Nick Aiello. "We're just really lucky to have this special group of seniors who have been able to carry on our tradition.
"It's all about putting the working in as a program.
"We work really hard to re-load, to build up those younger teams, so once they get to varsity we can take the reins and mold them into what they can do to be a winning team, and put themselves in position at the end of the year," noted Aiello.
"It speaks to the work of a lot of people who have put a lot of time and work into our program, the support from the community, whether it be from fund-raising, or taking kids to practice … this is the fruits of all that labor," added Aiello. "To be able to play for a sixth straight Sectional title is incredible."
The Tigers are two-time defending state champion, and have beaten a number of state-ranked teams this season, including Waverly, Burke Catholic, and Delhi.
"Coming into the season, we returned 21 out of the 22 starting positions," said Aiello. "Coming off a state championship season, that's kind of unheard of.
"This group of seniors, for the most part, have played together all the way up through. they've been successful at every level," he noted. "Now, it's their senior year. We remind them that it will be what they make it, and they continue to put the work in, and get better week to week.
"I can tell you that in the playoffs, these guys have just locked in," added Aiello. "You can see they are excited to be in this position to see if they can make it happen in their senior year."
Aiello said his team has handled expectations very well, and he's seen no hint of complacency.
"The kids have not been difficult to motivate at all," he said. "Blocking out the outside noise has been the hardest part.
"These kids hear it, but they're either very, very good at listening to the coaching staff telling them not to listen to it, or they understand that it really doesn't matter.
"I think a lot of it comes from the fact these guys have played in a lot of big games, and have been on big stages," noted Aiello. "They understand big games can be up and down, and that you don't just walk on the field and win big games; you have to prepare, you have to work, and that's what these kids continue to do, week in and week out."
And despite a 28-point win over Delhi in Week 3, Aiello said his team is not overlooking the Bulldogs, especially after their 27-0 win over Newark Valley Saturday in the Class D semifinals.
"(The coaches) came in Sunday, and were working," said Aiello. "The kids were here to do some of their winter sports work. The wrestlers came in, then the basketball players came in, and they all said the same thing, 'Delhi looked pretty good on Saturday.'
"I think they know Delhi has gotten better as the season progressed," he noted. "I think Delhi had some young guys that have improved since we first played them, and I think their skill-guys, and returners have really stepped it up.
"I also think it shows how good their coaching staff is, and what a good job it does getting them to improve week to week.
"If you saw our kids working this week, you could see they understand what's on the line, and that Delhi is a good football team," added Aiello.
——————
Delhi is 9-1, ranked fourth in the state, and has won six in a row since a 56-28 loss to the Tigers in Week 3. The Bulldogs have outscored their opponents by an average of 38.4 to 15.0 points per game this season.
Tioga is 10-0, ranked first in the state, and has won 37 games in a row. The Tigers have outscored their opponents by an average of 53.7 to 9.4 points per game.
Tioga has beaten Delhi seven times in a row, including in the last four postseasons, most recently a 42-14 win in last year's Class D title game.
Tioga leads the all-time series 11-2.*
Aiello has the utmost respect for the Delhi program, and coach Phil Neumann.
"If you go back to 2019, Delhi has been in the mix, and they continue to improve as a program.
"The offense has evolved, and they've made subtle changes to their defense over the years," said Aiello. "They are a very, very difficult team to prepare for.
"They were one our toughest games last year, playing us to 7 points the first time around" he noted. "They are well-coached, and they are tough kids.
"They seem to get athletes that you don't see at every school, and their skilled group is what returns from last year," Aiello added.
Aiello believes the Bulldogs are much-improved since their first meeting on Sept. 23.
"You can tell as the year progressed (Delhi) has gotten better, and better, and better. I think last week against Newark Valley really showed that.
"Their line was young, but it has improved a great deal this season," said Aiello. "We played them in Week 3, and their best player (Sam Davis) got hurt early on, and I think that made a big difference for them.
"They've also started feeding (Tanner Bracchy) the ball, and we've always thought he was an explosive player," noted Aiello. "They have a big tight end (Angelo Krzyston), and a tall quarterback (Chuck Haight) with a quick delivery.
"They have the pieces to the puzzle.
"One thing I'll say about their coaching staff is they are difficult to prepare for because they always do a great job of getting their playmakers the ball," added Aiello.

WHEN DELHI HAS THE BALL
The Bulldogs had a season-low 135 rushing yards against Tioga in Week 3, but threw for a season-high 300 yards.
Delhi enters the game averaging 401.6 yards in total offense — 290.4 yards on the ground, and 101.2 through the air.
Senior Sam Davis, despite missing two games, lead the Bulldogs in rushing with 610 yards and three TDs on 83 carries, while Bracchy has 584 yards and six TDs on just 43 carries, senior Noah Dungan has 419 yards and seven TDs on just 35 carries, sophomore Adam Cook 391 yards, and eight TDs on 51 carries, and junior Ian Johnson has 381 yards and two TDs on 54 carries.
Junior QB Chuck Haight has completed 58.3 percent (60 of 103) of his passes for 1,012 yards, 15 TDs, and five interceptions.
Haight's top targets are 6-5 senior tight end Angelo Krzyston, who has 25 catches for 405 yards, and seven TDs, Bracchy (18 catches for 328 yards, and six TDs), and Dungan (12 receptions for 237 yards, and three TDs).
"(Delhi's) offense is a whole lot of everything," said Aiello.
"They run a massive amount of formations," noted Aiello. "They'll run under center with power-run formations and play-action … when they are in shotgun, they try to formation and motion you out of position to try to hit some well-designed passes to take advantage of the run a little bit.
"Their offense runs the whole gamut," he added. "It's an entire offensive system that you're trying to prepare your guys to play against."

WHEN TIOGA HAS THE BALL
The Tigers enter the contest averaging 374.7 yards per game in total offense — 274.1 yards on the ground, and 100.6 through the air. Tioga averages 11.6 yards per play on the season.
"Offensively, for us, it really comes down to playmakers," said Aiello. "When you return nearly everyone from the previous year, they're football knowledge is already high, so you can start tweaking formations, and play design to spread the ball around; that's what we've been able to do.
"When a team has to account for all our playmakers, it makes it pretty tough to defend.
"The big thing for the coaching staff is trying to keep all the kids happy," laughed Aiello. "But, they're really great about that … we talk about it, we tell the kids 'if you get the ball, take advantage of it because you may not get many touches in that game.'
"The biggest thing about this group is you can tell by the way they practice, they understand they may not get a lot of touches," noted Aiello.
"It really boils down to the fact these guys are team players. If they have the ball, they know everyone else is blocking for them, so if they don't have the ball, it's their job to block for who has it.
"It all comes down to how hard these kids work, and how well they understand what it takes to win big games," he added.
Senior tailback Drew Macumber leads Tioga with 768 yards, and 14 TDs on 86 carries, while senior QB Caden Bellis has 485 yards and nine TDs on 38 carries, junior Jonah Lamb has 385 yards and nine TDs on 27 carries, and senior fullback Ousmane Duncanson has 247 yards, and four TDs on 34 carries. The Tigers average 10.4 yards per carry.
Bellis has completed 66.1 percent (39 of 59) of his passes for 993 yards, and 20 TDs, with just one interception.
"Defensively, (Delhi) made a couple changes from last year," said Aiello. "They run a 4-3 defense that puts a lot of pressure on you because they play a lot of man (coverage) in the secondary, which means they're keying someone, and you have to account for that.
"When you play man, you can put a lot of pressure on the pass game, and the run game, and that's what we expect.
"Their defensive line play their gaps really well, their outside backers contain very well, and their middle backers, safeties, and corners fly around," noted Aiello.
"You can tell they're very comfortable in their defense, too," he added. "They align very well, and they're never really out of position."
——————
IN PHOTO: Tioga coach Nick Aiello. … VSR STOCK PHOTO.
* — My thanks to Don Dunbar for that nugget of info.