SECTION IV FOOTBALL: WAVERLY EYES BACK-TO-BACK TITLES, BUT MILLER SEES IT AS ANOTHER SHOT AT STATE PLAYOFFS
(2023-11-10)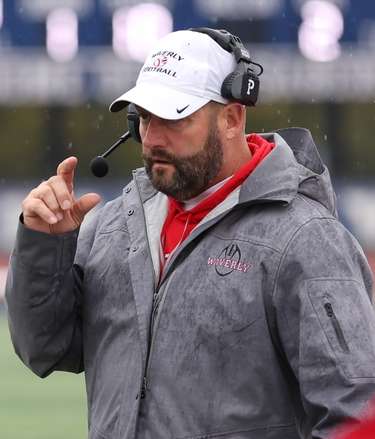 By TIM BIRNEY
Valley Sports Report
VESTAL — Waverly has its sights set on back-to-back Section IV titles for the first time in program history, but in order to accomplish the feat it will have to go through a familiar foe in Chenango Forks in the Class C championship game here Saturday at noon.
Waverly coach Jason Miller, however, is more concerned about a return trip to the state playoffs, than being called back-to-back champions.
"Back-to-back titles wouldn't necessarily mean anything. Honestly, I hadn't even thought about that until this moment," he said. "I see this game as an opportunity to go play in the state quarterfinal, a game we didn't play well in last year. We want another shot at that.
"We want to get into the state tournament; that's what drive us," noted Miller. "It's not about last year, it's not about consecutive titles. It's really about playing this game, and giving ourselves an opportunity to play in the state tournament, and do something special.
"We have a good group of seniors. It's not a big group, but it's a good group," added Miller. "We know what they're capable of, and we want to make it a special year for them."
In the past, Waverly had to battle not only Forks, but their tradition, which included 19 Section IV titles since1995, and seven state titles since 2003. Miller doesn't buy into the Forks "mystique" as a factor in his team's performance against them.
"I don't know if the kids ever felt the mystique. I think that's something people talk about," said Miller. "I think they were just better than us."
Despite back-to-back wins over the Blue Devils, Miller doesn't see his team as the "hunted" in this match-up.
"I don't really believe in the defending champion stuff," he said. "I do know we're playing well, and we need to continue playing well.
"It certainly helps to believe in yourself," added Miller. "Beating (Forks) is a confidence builder."
Miller also doesn't put too much stock in his team's 19-15 win over Forks in Week 4.
"We were down with 19 seconds to go, and made a good play to win," he said. "It's gonna come down to a similar type of game where you can't turn the ball over.
"We had two turnovers that led directly to two touchdowns … you can't necessarily worry about that, but the reality is, (Chenango Forks) is a good team, and they will make you pay for mistakes.
"We have to play mistake-free," added Miller.
The Wolverines enter the contest at 9-1 and ranked fourth in Class C in the state. They've outscored their opponents by an average of 40.8 to 11 points per game this season.
The Blue Devils are 6-3 and ranked 15th in the state. They have outscored their foes by an average of 30.3 to 9.8 points per game.
WHEN WAVERLY HAS THE BALL
Waverly averages 406.1 yards per game in total offense — 233.7 through the air, and 172.4 on the ground.
Senior QB Joey Tomasso has completed 72.9 percent (148 of 203) of his passes this season for 2,240 yards, 33 TDs, and just two interceptions.
Senior Jay Pipher is Waverly's leading receiver with 48 catches for 914 yards, and 11 TDs, while junior Xavier Watson has 39 grabs for 611 yards, and 10 TDs, senior Jake VanHouten has 30 receptions for 369 yards, and five TDs, and junior Kolsen Keathley has 22 catches for 281 yards, and four TDs.
Tomasso also leads the Waverly ground game with 469 yards, and seven TDs on 84 carries, while junior Payton Fravel has 335 yards and four TDs on 42 carries, and senior Carter George has 320 yards, and two TDs on 40 carries.
"I don't expect anything too different defensively from (Chenango Forks)," said Miller. "They have really good defensive players, and they have a sound scheme against us.
"They make it really hard to throw, dropping eight into coverage.
"We thought we played horribly on offense in the first game, but we looked back at it, and I don't think we played bad at all," noted Miller. "We had plenty of opportunities. We kept the ball, and had 17 first downs to their 6; that tells me we did a good job of staying on the field, and that's what we have to do.
"It's going to be about patience and staying on schedule, and you have to do that by running the ball. That's a tough task against (Forks), but that's the reality," added Miller. "As an offensive play-caller, you have to be a little bit conservative, and be a little bit mindful of keeping our defense off the field, so that's going to be the game plan."
WHEN FORKS HAS THE BALL (No stats available.)
"I think we'll see more of what he usually see from them," said Miller.
"They do have a new quarterback (Sam Paske)," noted Miller. "He's a freshman, a little bit more athletic, and throws the ball about as good as their other (quarterback). I think he's dangerous on his feet.
"I think (Forks) will commit, like they always do later in the year, to midline, trap, and base lead — the stuff that has gotten them seven state titles … it's what they're going to do, and I don't think we need to expect anything else.
"Teams like Forks and Tioga, do what they do … you have to stop it," added Miller. "Forks takes a lot of pride in knowing that you know what they're going to do, but you can't stop them. That drives us, and it motivates us — it's what we work on."
Miller says you have to respect Forks' athletes.
"We cannot give up big plays, and they have athletes on the outside to make big plays," he said. (Stephen) Samsel is a good receiver, and (Walker) Paske is a big tight end.
"They've been throwing the ball to Tate Bender, who has a lot of speed," noted Miller. "He's been on the roster, but he's come out of nowhere, but they're really utilizing him in the pass game, and the toss game; so that's a new wrinkle.
"And, they still have Chris Boyle and Lucas Bartlow," added Miller. "They have a lot of athletes who are capable of punishing you on the run."
Miller said field position will play a big role in the game.
"The key defensively is field position — field position is huge," said Miller. "And, keeping them in three-down territory is key … it's really, really hard to stop them when they cross the 50-yard line.
"They proved last year in this game, they are going to go for it on fourth-down," noted Miller. "They are going to do what it takes to keep the ball moving, and keep the possession going.
"We have very similar goals, because they want to keep the ball out of our hands, too."
"I think they'll commit to the run," Miller continued. "They've only thrown it 10 times in the last two games, so we're going to have to be able to stop the run, and make sure we position ourselves to get a three-and-out — get off the field on third down."
Miller also believes the kicking game will play a pivotal role in the game.
"Our kicking game will be a huge key, as it was in the first game.
"We hit a field goal in the first game, and we were positioned to kick a field goal, and, hopefully, win the game when we hit TD pass to win it," said Miller.
"Hogan (Shaw) is really driving the ball," he added.
——————
The Wolverines have won four Section IV titles since 2008 under Miller.
After beating Forks in the semifinals, and Windsor in the Class B finals in 2008, Waverly lost to Forks in the semifinals the following season.
After its run to the Class C state semifinals in 2011, Waverly let a late lead slip through its fingers in a 28-27 overtime loss to Forks in the Class C finals.
After rolling over Chenango Valley in the Class B finals in 2015, Waverly lost to Susquehanna Valley in the Class B semifinals the following season.
Last year, Waverly avenged a regular-season loss, and beat Forks 28-14 in the Class C title game, ending the Blue Devils' streak of 19 straight wins in Section IV championship games.
Waverly also won a Class C bowl game in 1984 (prior to the state playoffs) when the Sam Goble-led Wolverines thumped previously-unbeaten Trumansburg, 60-6.
——————
IN PHOTO: Waverly's Jason Miller. … VSR STOCK PHOTO.