SECTION IV FOOTBALL: TIOGA DOMINATES DELHI TO WIN SIXTH STRAIGHT CLASS D TITLE, AND 11 OF LAST 12 (24 PHOTOS)
(2023-11-10)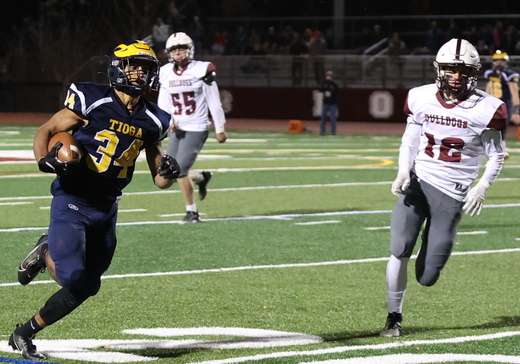 By TIM BIRNEY
Valley Sports Report
JOHNSON CITY — Tioga has dominated Class D football in Section IV since 2011, and that domination was never more evident than in its 55-7 win over Delhi in the Class D championship game here Friday night at Johnson City High School.
Tioga has now won six consecutive Class D titles, and 11 of the last 12 under head coach Nick Aiello, who said he never envisioned this type of success when his coaching career began in 2010.
"You don't write that stuff down on paper when you start out, and are thinking of your goals" he said.
"It really goes back to my first of coaching," noted Aiello. "We lost the first-round playoff game … we knew we had to get better. From then on, every single year we sat down as coaches and tried to figure out what we could do get our kids in position at the end of the season to try to do something in the playoffs.
"We try to keep it that simple.
"We've had great kids over the years, a lot of help, and community support — it all matters if you're going to be as successful as we've been," Aiello added.
Aiello is proud of how this team has handled the expectations placed upon them.
"I'm proud of the kids. There's a lot of pressure on them, pressure to carry on the tradition.
"With all the talk about this team coming into the year, they took it, and ran with it," said Aiello. They didn't let it be a burden on them, and I'm really proud of them for that, especially considering they're 16-, 17- and 18-year-old kids."
Aiello is especially proud of the 13 seniors on this team.
"This is an awesome senior group," he said. "If you knew them off the field, or knew them in the classroom, you'd like them even more.
"They are hard-working, they're level-headed and stay composed, and they are so easy to coach," noted Aiello. "If you tell them they need to get better at something, they just do it — they don't have attitudes.
"They are a great, great group," added Aiello. "They were raised right, and they are a joy to coach."
The Tigers, now 11-0 and winners of 38 consecutive games, scored on all six of their first-half possessions, and led 41-0 at the break. They piled up 372 yards of total offense, including 237 rushing yards in the first half alone, while holding Delhi to just 66 yards.
"We had a good idea of what they do defensively," said Aiello. "They did tweak some things here and there, but we made some good adjustments, hit some plays we thought would be there, and hit some explosive plays to put points on the board.
"Defensively, we were outstanding," noted Aiello. "The defensive coaches put together a real solid game plan. It was simple enough, with all the different looks that Delhi shows, that our kids were comfortable in it.
"The kids did a great job throughout the week picking up the game plan pretty fast, and communicating out there.
"Really, when you play teams like (Delhi), you need to be in the right position, so you can fly around, and I thought, especially after (Thursday's) practice our kids were ready to go, and it showed tonight," he added.
Delhi coach Phil Neumann, whose team wraps up the season at 9-2 — with both losses coming at the hands of the Tigers, could do nothing but praise Tioga after the loss.
"They have athletes all over, and they are a lot bigger than we are," he said.
"Defensively, they get to the ball so fast, it's tough to run anything against them, and move the ball.
"That's a special team," added Neumann. "I don't think anyone will touch them."
Neumann also praised his own team's season.
"I'm proud as hell of my team," he said. "Getting back to the championship game after losing 11 players … we lost a lot of really good players. I didn't expect to be back here this year, that's for sure."
Delhi won the pre-game coin toss, and deferred to the second half, which gave Tioga the ball to start the game.
The Tigers' first two plays — runs by senior tailback Drew Macumber — netted just five yards, and Tioga faced an early third-and-five at its 44.
A well-executed screen pass from senior QB Caden Bellis to senior fullback Ousmane Duncanson picked up 18 yards to the Delhi 42.
Seven plays later — all on the ground, including a 19-yard run by Duncanson — Macumber bulled in from 4 yards out with 6:50 remaining in the first quarter. Senior Gavin Fisher's PAT kick gave Tioga a 7-0 lead.
"I think there were some early-game jitters, we didn't get off to a great start, but hitting that screen play was big," said Aiello. "From there on out, we were clicking.
"I think after we hit that screen play, the guys just settled in," added Aiello. "And, we were pretty comfortable in our play-calling."
Delhi went to the air on its first play from scrimmage, and Tioga senior Evan Sickler came down with an interception along the visitor's sideline at the Tioga 32.
"(Sickler) ended up with two interceptions, and played a great center field tonight against a very explosive offense that can throw the ball down field pretty quick on you," said Aiello.
"That first pick was pretty huge," he added. "I think our secondary had quite a bit of confidence after that."
Three plays later, Bellis hit a wide-open Sickler for a 58-yard TD. Fisher's PAT kick made it 14-0 with 5:15 left in the first quarter.
Delhi picked up one first down on its ensuing possession, but was forced to punt, and Charlie Haight's boot covered 46 yards, rolling dead at the Tioga 22.
On the Tigers' first play, Duncanson busted through the line, broke toward the visitor's sideline, and raced 78 yards to paydirt. Fisher's PAT made it 21-0 with 2:50 remaining in the first quarter.
Duncanson led Tioga with 144 yards, and two TDs on just six carries.
"There were certain plays we though we could hit with (Ousmane), some quick stuff getting him through into the second level," said Aiello. "He's a guy I love watching run in the open field … he has a certain stride about him that makes him tough to catch.
"If he can break a tackle, he can go the distance," Aiello added.
Duncanson said he was fired up, especially after not playing against the Bulldogs in Tioga's 56-28 win at Delhi in Week 4.
"I've been amped up," he said. "I've missed three or four games this season, so I feel really fresh.
"The whole team really stepped it up today," noted Duncanson. "Everyone was doing their job blocking … I believe the reason we're scoring touchdowns at the rate we are is mainly because of the guys up front doing their job."
Delhi picked up a quick first down on its next possession, but Haight was flagged for international grounding while under heavy duress from Duncanson and senior Valentino Rossi, which left the Bulldogs in a third-and-23 hole at their own 18.
Following a 6-yard run by Davis, and a Delhi punt, Tioga took over at the Bulldog 40. Four plays later, Bellis, who had a 30-yard run in the four-play drive, scored on a 2-yard run to make it 27-0 with 11:08 remaining in the first half.
After a Delhi three-and-out, Tioga took possession again at its own 45.
Macumber started the drive with a 20-yard run, and capped the 11-play possession with an 11-yard TD run with 3:38 remaining in the half. Fisher's PAT kick made it 34-0.
After junior Garrett Godfrey's tackled of Sam Davis for a 3-yard loss on Delhi's next possession, putting the Bulldogs in a third-and-13 predicament, Haight connected with Tanner Bracchy for an 11-yard gain to set up a fourth-and-2.
Delhi, however, was flagged for illegal procedure, and elected to punt on fourth-and-7.
Tioga took over at its own 44, and on the first play, Bellis found senior tight end Karson Sindoni in the flats, and he outraced a defender to the end zone for a 56-yard TD with 1:42 left in the half. Fisher's PAT kick made it 41-0.
Delhi ensuing possession was the best of the half as Haight completed four of his six pass attempts, and time expired in the half with the Bulldogs at the Tioga 13.
Delhi received the second-half kickoff, and picked up one first down, before turning the ball over on downs at its 36.
Two plays later, Duncanson broke loose down the home sidelines on a 28-yard TD run with 7:05 remaining in the third quarter. Fisher's kick made it 48-0.
On its ensuing possession, Delhi faced a fourth-and-3, and Sickler picked off Haight for the second time in the game, giving the Tigers the ball at the Bulldog 34.
After runs of 15 yards by Rossi, and 11 by junior Jonah Lamb, Macumber tallied his third TD of the evening with an 8-yard run with 5:05 left in the third quarter. Fisher's PAT kick — his 75th of the season, which tied the school record — extended the lead to 55-0.
Tioga substituted freely for the remainder of the game, and Delhi answered on its next possession with a 10-play, 65-yard drive that bridge the final two quarters. Bracchy capped the drive with a 12-yard TD run with 11:11 remaining in the game to provide the final margin.
Tioga finished the game with 485 yards in total offense, including 350 rushing yards on 39 carries.
Macumber added 100 yards and three TDs on 17 carries, while Bellis tacked on 38 yards and one TD on three carries.
Bellis also completed 4 of 5 passes for 135 yards, and two TDs. Sickler led the Tigers with two catches for 61 yards, and one TD.
Delhi, which came into the game averaging 401 yards in total offense per game, was limited to 222 yards, with just 91 yards against Tioga's first team.
Haight completed 11 of 22 passes for 128 yards, and was intercepted twice.
Bracchy had 36 yards and one TD on six carries, and Davis had 36 yards on 11 carries to lead the Bulldog ground game, which was limited to 94 yards on 28 carries — well below its average of 290.4 yards per game.
Duncanson credited the coaching staff for the defensive effort.
"The coaching staff knows what they're doing," he said. "They get us ready every week … everything comes together on defense, it's a team effort."
Tioga will now face the winner of Saturday's Section III championship game between Dolgeville (7-2) and Mount Markham (6-3) Friday at 5 p.m. at Vestal's Dick Hoover Stadium.
——————
IN PHOTO 1: Tioga's Ousmane Duncanson. … PHOTOS BY TIM BIRNEY.