SECTION IV FOOTBALL: WAVERLY TOPS FORKS, 30-21, FOR SECOND STRAIGHT CLASS C TITLE (24 PHOTOS)
(2023-11-11)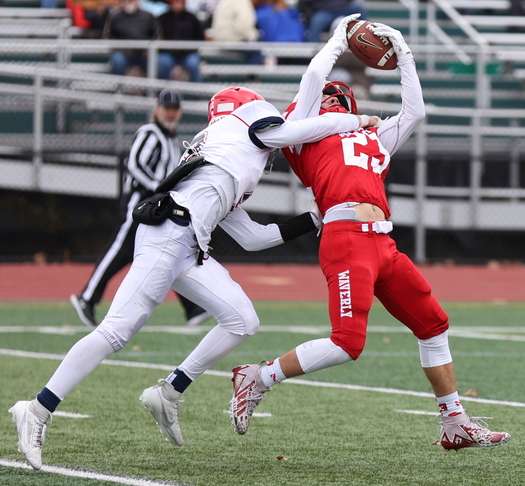 By TIM BIRNEY
Valley Sports Report
VESTAL — For the first time in program history, Waverly is a back-to-back Section IV champion after its 30-21 win over Chenango Forks in the Class C title game here Saturday afternoon at Dick Hoover Stadium.
Last year, Waverly snapped Chenango Forks' 18-game win streak, dating back to 1998, in Section IV championship games. Saturday, the Wolverines made it two in a row, and five Section IV titles for longtime coach Jason Miller.
"It feels awesome," said Miller. "I know the history of it, and I know the significance of it.
"My whole goal since I started coaching was to get to (Chenango Forks') level," noted Miller. "I'm not saying we're there as a program, but it feels to good to win three in a row against them, that's for sure.
"And winning like we did today, in a smash-mouth kind of game, feels really good," he added.
Senior all-state quarterback Joey Tomasso, who ran for two scores, and threw for another, and his teammates also realize the significance of the win.
"It's a great feeling," said Tomasso. "Not a lot of teams can do it, and not a lot of teams have done it. I don't know if anyone else has done it."
"(Chenango Forks) is a great team, and a great program," said senior Jay Pipher. "It's always a great win when we beat them, but this one is really special."
"It feels great," said two-way lineman Jacob Benjamin. "Most people knew what was going to happen, we knew what was going to happen, but we still worked our butts off for it.
"Nothing changed from this year to last year, or even the year before when we lost … nothing changed, we just worked our butts off," added Benjamin. "Nothing was going to stop us."
Waverly's longtime defensive coordinator Dave Shaw took a broader view of the win.
"I think it starts up top. (Superintendent) Eric (Knolles) does a great job, and supports the hell out of us, and we work for the best head coach (Jason Miller) there is.
"I'm speaking strictly defensively, but we have a lot of former (Waverly) players (coaching) with us," said Shaw.
"Having (Andy) Yeck (Yeckinevich) working with the inside linebackers, two kids who have never played … Peyton (Miller) working with the outside backers … the Mastrantuono boys (Josh and Jeff) working with the secondary, and Derek (Bowman) with the defensive line — those guys coach those kids every single day, and that's huge.
"Those guys care about this program, and want to see this program do well," added Shaw.
In their first meeting of the season, Chenango Forks had just 142 yards in total offense in a 19-15 loss. Their two scores came on an 80-yard scoop-and-score on an errant shotgun snap, and a 4-yard run after an interception return to the Waverly 4.
On Saturday, the Blue Devils looked like a typical Dave Hogan team, putting together a pair of long scoring drives — their only possessions — in the first half, and pounding out 137 rushing yards on 25 carries en route to a 14-14 tie at the half.
Waverly's defense picked it up in the second half, forcing three punts, and recording a safety in the Blue Devils' five possessions.
"I think the message at half time was 'just do your job,' said Shaw.
"With the exception of the first quarter-and-a-half against Tioga, I thought the first half today was the first time somebody really took it to us," he noted. "The kids started trying to make plays instead of doing what they're suppose to do.
"I'd like to tell you I made some great adjustment at half time, but I didn't. I just told the kids to do what they're suppose to do," added Shaw. "In order to be good on defense, you have to be unselfish as hell, and not care who makes the play, just do your little piece of the puzzle, and I thought that's what we did in the second half."
"We just played with a different mindset," said Benjamin." (Forks) was blocking really well in the first half, then we came out mentally stable for the second, and were ready to go."
"I think we were trying to do a little too much in the first half," said Pipher. "In the second half, everyone just did their job."
"We just wanted to settle down in the second half, and do what we do," said Tomasso. "We executed our game plan in the second half, and it showed."
The Wolverines opened the game with an eight-play, 54-yard drive to take an early 7-0 lead.
Tomasso's busted off a 21-yard run on the game's first play, and had four carries for 48 yards in the drive. He also completed three passes, including a 6-yard TD pass to junior Xavier Watson with 8:46 remaining in the first quarter. Sophomore Hogan Shaw's PAT kick made it 7-0.
Forks answered with a 12-play, 60-yard drive — all on the ground — to tie the game. Chris Boyle did most of the damage, with eight carries for 40 yards, including a 4-yard TD run with 1:19 remaining in the opening stanza to cap the 7-minute, 24-second drive. Jesse Stephens' PAT kick tied the game at 7-7.
Waverly answered with a long scoring drive of its own. Tomasso completed 6 of 7 passes for 56 yards, including a 33-yard pass to Pipher, who made a circus catch at the Forks 24.
Seven plays later, Tomasso scored on a 1-yard run on fourth-and-goal with 6:02 remaining in the first half to cap the 14-play, 82-yard drive that consumed 7 minutes and 10 seconds from the play clock. Shaw's PAT kick made it 14-7.
The Blue Devils had an answer, driving 80 yards on 14 plays, and scoring on a 1-yard run by Boyle on the final play of the first half.
On the play prior to the TD, freshman QB Sam Paske completed his only pass of the game, a 9-yard pass to Tyler Rifenbury to convert a fourth-and-four. The play appeared to run the final 7 seconds of the half off the clock, but officials put one-tenth of a second back on the clock.
Forks, which won the pre-game coin toss and deferred to the second half, began its initial possession at its own 20 when Shaw, with a stiff wind at his back, drove the kickoff into the end zone.
Three plays resulted in five yards, and Forks was forced to punt into the wind, resulting in an 18-yard kick.
Waverly took over the Forks 43, and junior Payton Fravel found paydirt immediately with a 43-yard TD run.
"That was a hell of a run, and it was a big play," said Miller. "He hit the hole, had a burst of speed, and took it the end zone."
Forks began its ensuing possession at its 20 after Shaw's kick again sailed into the end zone. The Blue Devils picked up one first down, but were again forced to punt into the wind, and Waverly started its possession at its own 46 following a 16-yard boot.
Tomasso picked up 6 yards on Waverly's play, and Forks was flagged for a late hit out-of-bounds moving the ball to the Blue Devil 33. Two plays later, Tomasso picked up another first down on a scramble, but Jayson Samson knocked the ball loose, and a Forks teammate pounced on it to end Waverly's threat at the CF 22.
A Forks three-and-out, and 14-yard punt gave Waverly the ball back at the Blue Devil 43.
A 24-yard run by junior Kolsen Keathley on second-and-17 moved the ball to the Forks 22, but the Blue Devil defense stiffened, and forced a Shaw 40-yard field-goal attempt, which came up just short with 39 seconds remaining in the third quarter.
The Blue Devils took possession at its 20, and shifted its run game back into high gear, driving 80 yards on 13 plays to tie the game.
Lucas Bartlow started the drive with three runs for 32 yards to move the ball into Waverly territory, and Boyle followed with four carries for 29 yards, including runs of 13 and 10 yards, to move the ball to the 14.
After a key fourth-and-goal pickup by Sam Paske, Boyle capped the 7 1/2-minute drive with a 4-yard TD run with 6:34 remaining in the game. Stephens' PAT kick tied the game at 21-21.
The Wolverines needed just seven plays to cover 70 yards on its ensuing possession to reclaim the lead.
Tomasso's 17-yard run on third-and-1 moved the ball to the Forks 44, and two plays later, Pipher came down from double coverage with a 37-yard reception to put the ball at the Blue Devil 8.
"Jay (Pipher) made some of the most incredible catches you'll ever see today," said Miller. "I don't know how he made them, at 5-8 going up over top of defenders to get them.
"Those are the types of plays you need from your seniors, and he's done that his entire career," added Miller.
"He's been doing that for as long as I can remember," said Tomasso. "He always shows up in the clutch."
Pipher humbly gave Tomasso the credit.
"I know Joey is going to throw a great ball, so it's a high-percentage catch," he said. "I know it's going to be there, so I just go up and grab it."
Two plays later, Tomasso scored on a 3-yard run with 2:52 remaining in the contest. Shaw's PAT kick made it 28-21.
On the ensuing kick, Shaw hit a low drive just inside the Forks 20, where it was mishandled. By the time Forks came up with the loose ball, it was pinned at its own 6.
It got worse quickly, as a shotgun snap sailed over Paske's head into the end zone. The freshman signal-caller scooped it up, but Keathley and Benjamin were on hand, with Benjamin finishing him off for the safety to extend the lead to 30-21 with 2:34 remaining.
Waverly recovered the onside kick, and facing a fourth-and-2 appeared to have a game-sealing first down on Keathley's 15-yard run, but a holding call put the Wolverines in a fourth-and-10 predicament.
On fourth down, Tomasso fired a ball across the middle, and Pipher came down with it between three defenders for a 22-yard gain, and Waverly was able to run out the clock in victory formation.
Tomasso completed 12 of 15 passes for 127 yards, and one TD, breaking his own single-season yardage record early in the game. He now has 2,367 yards, eclipsing the mark of 2,245 yards he set last year.
Pipher led the Wolverines with three receptions for 92 yards, upping his total receiving yardage on the to 1,006 yards. Senior Jake VanHouten had five catches for 11 yards, and Watson had four grabs for 24 yards.
Tomasso also led the Wolverines on the ground with 101 yards and two TDs on 22 carries.
"Joey is a great leader," said Miller. "At one point in the game, he said 'give me the damn ball,' and that gives you a lot of confidence.
"He understands the game plan, and does a great job executing it," added Miller. "He always well prepared."
The Wolverines rushed for 192 yards on 28 carries, with Fravel adding 48 yards and one TD on two carries, and Keathley tacking on 28 yards on two carries.
"I thought we did a really good job up front," said Miller. "We ran a lot of different types of plays we hadn't run … we had a week of practice to do that, to take advantage of what we saw on film, and did a good job of executing it.
"We still had a hard time blocking their linebackers, who are very, very good," noted Miller. "(But), we completed enough passes, especially on the perimeter to keep them honest, and keep the outside linebackers out of the run support, which we didn't do in the first game."
Tomasso also lauded the play of his offensive line.
"We knew it was going to be a tough game," he said. "We wanted to keep it on the ground … we thought our big guys would play really well, and they did.
Forks finished the game with 241 rushing yards on 50 carries. Boyle led the Blue Devils with 107 yards and three TDs on 23 carries, while Bartlow added 75 yards on 11 carries, and Paske had 51 yards on 11 carries.
Paske completed 1 of 2 passes for 9 yards.
Waverly, now 10-1, will face the winner of Sunday's Section III championship game between defending champ General Brown and Adirondack, which knocked off the state's top-ranked Cazenovia in the semifinals Saturday at noon at Dick Hoover Stadium.
Last year, Waverly dropped a 29-14 decision to General Brown in the state quarterfinals.
Miller said the Wolverines will be better prepared this year, regardless of the opponent.
"We didn't have a great week of practice," he said. "It was kind of a wonky week with a big snow storm… we didn't even know if we were playing Saturday until Saturday, and I don't think that's ever good for kids. I think they have to know 100 percent what the plan is.
"We're going to have a great week of preparation, and we get to scout our opponent tomorrow; that makes me feel better than anything," added Miller.
Tomasso said the Wolverines won't make the same mistakes this year.
"We need to get right back to work.
"We celebrated a little too much last year, and I think it cost us in our State playoff game," said Tomasso.
——————
IN PHOTO 1: Waverly's Jay Pipher. … PHOTOS BY TIM BIRNEY.