NEW YORK STATE CROSS-COUNTRY: WAVERLY'S VAUGHN IMPROVES ON LAST YEAR'S RUN AT CLASS C CHAMPIONSHIPS; FINISHES 44TH
(2023-11-12)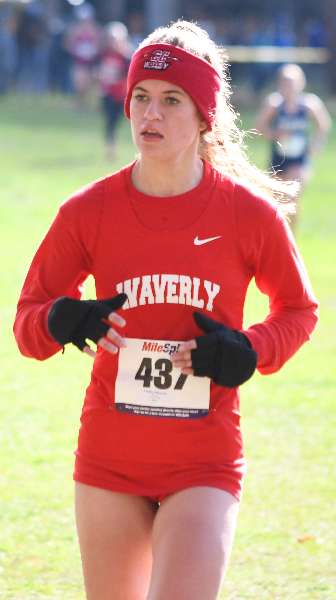 Valley Sports Report
VERONA — Waverly senior Elizabeth Vaughn, a two-time state qualifier, had two goals at the New York State Cross-Country Championships, and she accomplished both. in running to a 44th-place finish in the Class C event.
Vaughn clocked in at a time of 21:25.7 — 22 seconds faster, and three spots better than she finished last year — to beat her previous best on the Vernon-Verona-Sherrill High School course.
Vaughn also finished ahead of a pair of Section IV competitors who edged her out at last week's Section IV, Class C Championships.
"Cross-country has always been my favorite sport," said Vaughn. "I can't believe this is the last meet I'll ever run, but it certainly was a good one.
"There's just something about cross-country that no track can be prepared to," she added. "I'm so glad, I did so well in my last meet, with it being my senior year. I just wish I could have more of it."
Waverly coach Nate Culver was pleased with Vaughn's performance, and proud of her effort.
"We could not be more proud of Elizabeth's performance," he said. "She surpassed every goal set before her and ended this state meet with the culmination of all her hard work, perseverance and dedication to her running career at Waverly.
"She definitely had some uneasy nerves before the race but when you invest so much of yourself into something you are passionate about, it's only natural to feel that way," he noted.
"Being her last season of cross-country, I hope Elizabeth will always hold on to all the special moments shared with her teammates over the years that led up to this moment," added Culver.
Ethan Degan of Afton-Harpursville-BG was the top Section IV finisher, placing ninth in a time of 19:49.0.
East Aurora's Emilia O'Leary won the Class C title in a time of 18:42.7 — nearly 42 seconds faster than runner-up Caitlin Thomas of Hastings, who clocked in at 19:24.5.
——————
IN PHOTO: Waverly's Elizabeth Vaughn. … VSR STOCK PHOTO.