VALLEY SPORTS REPORT: WAVERLY'S VAUGHN AND PIPHER, TIOGA'S DUNCANSON NAMED BISHOP BROTHERS CONSTRUCTION 'ATHLETES OF THE WEEK'
(2023-11-13)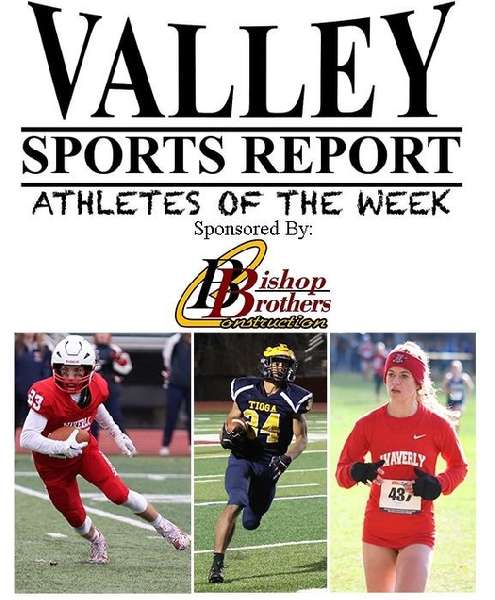 Valley Sports Report
THE VALLEY — Waverly senior
Jay Pipher
, and Tioga senior
Ousmane Duncanson
helped their respective teams to Section IV football titles over the weekend, while Waverly senior
Elizabeth Vaughn
had a strong run at the New York Cross-Country Championships. They are the
Valley Sports Report
/
Bishop Brothers Construction
"
Athletes of the Week
," for the week ending Nov. 11.

WAVERLY'S PIPHER, TIOGA'S DUNCANSON SHARE BISHOP BROTHERS CONSTRUCTION BOYS "ATHLETE OF THE WEEK"
Pipher only had three receptions in Waverly's 30-21 win over Chenango Forks in the Class C championship game, but all three were highlight-reel catches.
Pipher had 92 receiving yards in the game to put him over 1,000 yards on the season. His first two catches — for 33 and 37 yards — led directly to Wolverine touchdowns, and the third picked up a critical fourth down, and allowed Waverly to run out the clock in victory formation.
Defensively, Pipher had six tackles.
Duncanson was stellar on both sides of the ball in helping Tioga to its sixth consecutive Class D title — a 55-7 rout of Delhi.
Duncanson had a season-high 144 yards, and two TDs on just six carries. He also had one reception for 18 yards. Duncanson had TD runs of 78, and 28 yards.
Defensively, Duncanson had eight tackles, including five solo tackles, and two tackles-for-losses.
Honorable Mentions:
Waverly's Joey Tomasso (football), Tioga's Evan Sickler (football), Waverly's Jake VanHouten (Waverly), Waverly's Payton Fravel (football), and Tioga's Drew Macumber (football).

WAVERLY'S VAUGHN NAMED BISHOP BROTHERS CONSTRUCTION GIRLS "ATHLETE OF THE WEEK"
Vaughn turned in a strong performance at the New York State Class C Cross-Country Championships, running to a 44th-place finish.
Vaughn, who clocked in at a time of 21:25.7, topped last year's time at States on the same Vernon-Verona-Sherrill High School course by 22 seconds.
Vaughn was the second-fastest Section IV runner in the Class C race.