NEW YORK STATE FOOTBALL: TIOGA FACES FAMILIAR FOE IN DOLGEVILLE IN CLASS D QUARTERFINALS
(2023-11-16)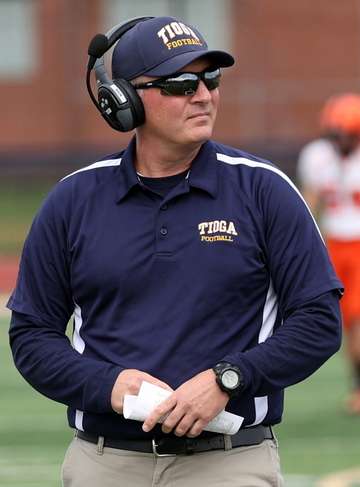 By TIM BIRNEY
Valley Sports Report
VESTAL — The New York State Class D quarterfinals are familiar territory for two-time defending state champs Tioga, as well as their foe — Section III champion Dolgeville — here Friday evening at Dick Hoover Stadium.
It will be the third year in a row the Tigers and Blue Devils, who have 20 Section III titles under their belt, have squared off in the quarterfinals, and the fifth time since 2014.
"Dolgeville has a bunch of Section III titles, so they have a rich tradition," said Tioga coach Nick Aiello.
"They tend to be the team to beat in Class D up there," added Aiello. "It's really no surprise that we've played Dolgeville this much."
For the Tigers, it's the 11th trip to the quarterfinals since 2011. Tioga is 10-0 in the quarter-final games — all against Section III opponents — and has won by an average score of 48.5 to 14.6.
Aiello has no sure-fire explanation for Tioga's dominance over Section III foes, but believes its regular-season schedule is a big part of it.
"Playing in Class D of Section IV gets you ready for the postseason; that's probably the biggest contributor to our success over the years," he said.
"If you get out of Section IV, you're battled-tested," added Aiello. "Year-in and year-out, I think that's what's gotten us ready."
Tioga's topped Dolgeville 50-12 in 2021, and 42-6 last year. In their first two meetings in the state quarterfinals, the Tigers beat the Blue Devils 46-22 in 2014, and 46-16 in 2017.
Despite back-to-back dominating wins over Dolgeville in the state quarterfinals, Aiello doesn't believe his team will get caught looking ahead to a potential semi-final match-up against No. 2 Clymer-Sherman-Panama.
"This is the third year here for most of our kids," he said. "They take every game in stride, and they understand what it takes.
"They understand if they want to play next week, they have to take care of business this week; that seems to be the mindset," noted Aiello. "I really felt that mindset take hold beginning with the last week of the regular season against Newark Valley. It was a big game to our kids, it was a game they were excited for.
"They've seemed locked in since then.
"They understand that we're in playoffs, and if you want to play next week, you need to do the things you need to do to give yourself the best chance of winning come game day," added Aiello.

WHEN DOLGEVILLE HAS THE BALL (No stats available.)
Dolgeville enters the game at 8-2 and ranked 9th in the state, having outscored its opponents by an average of 30.2 to 10.4 points per game this season.
The Blue Devils are on an eight-game win streak. After losing (14-12) to Sandy Creek and (13-12) to Beaver River in the first two weeks of the season, they avenged the loss to Beaver River with a 20-8 win in the Section III semifinals, then beat Mount Markham, 32-14, in the Class D title game.
"One thing I've notice about Dolgeville this year is how hard they play," said Aiello.
Dolgeville's biggest weapon is 220-pound running back Trevor Borst, who ran for five TDs in Dolgeville's win over Mount Markham.
Quarterback Cade Mosher has also done his fair share of damage on the ground, but the Blue Devils average less than five pass attempts per game.
"They have a big horse in the backfield (Borst) … he's listed at 6-foot-2, 221 pounds, and they feed him the ball a lot," said Aiello. "It's a lot of power run, and stuff right at you.
"The big back has broken quite a few long runs, especially in the last few games. He seems kind of slippery, tackling a big back like that is going to be a big test for us; that's what we're getting ready for.
'They're mostly under-center with a lot of power-run type schemes, but they will get into a 'pistol' shotgun with some Wing-T type plays," noted Aiello.
"It's very different than preparing for last week with Delhi and their formations and looks, and different styles of play-calling," added Aiello. "This week it's pretty simple, but it's been effective for them.
Defensively, Aiello said the secret for success is simple.
"This week comes down to controlling the line-of-scrimmage, and tackling."

WHEN TIOGA HAS THE BALL
Tioga enters the game at 11-0, winners of 38 games in a row, and ranked No. 1 in the state, having outscored its opponents by an average of 53.8 to 9.2 points per game.
The Tigers average 390.1 yards per game in total offense — 286.6 on the ground, and 103.5 through the air.
Aiello doesn't know what to expect out of Dolgeville defensively.
"That's the big question," he said. "We're getting our guys ready for just about anything.
"The two films we have on them, and what we've been able to find on them shows us they seem to scheme their defense to what they're going to see that week.
"We've seen them play three different fronts," noted Aiello. "And, looking at last year's game, it was different from anything we've seen from them this year.
"We're just working on communications up front, and making sure our guys keep their heads up, so they can see what's in front of them," added Aiello. "Again, we're getting them ready for anything."
Senior QB Caden Bellis has completed 67.2 percent (43 of 64) of his passes for 1,125 yards and 22 TDs, with just one interception.
Senior Karson Sindoni leads the team with 12 receptions for 301 yards, and five TDs, while senior Valentino Rossi has 10 grabs for 352 yards, and six TDs, and senior Evan Sickler has 10 catches for 312 yards, and a team-high seven TDs.
Senior tailback Drew Macumber leads the Tiger ground game with 873 yards, and 20 TDs on 110 carries (7.9 yards per carry), while Caden Bellis has 523 yards and 10 TDs on 41 carries (12.8 yards per carry), senior fullback Ousmane Duncanson has 434 yards and seven TDs on 44 carries *9.9 yards per carry), and junior Jonah Lamb has 395 yards and nine TDs on 29 carries (13.6 yards per carry).
In all, Tioga is averaging 10 yards per carry on the ground, and 11.3 yards per play overall offensively.
The Tigers have a full cache of offensive weapons. They have nine backs with a rushing TD, and six with at least three, as well as eight receivers with a TD catch, and three with at least five.
"We've been trying to spread the ball around all season," said Aiello.
"It's two-fold. It makes it difficult to key on one guy, or even a couple of guys; and it keeps everyone happy," he noted..
"We're just looking to set certain things up, and taking advantage of what's there," added Aiello. "We like a good mix, and we think it's the best way to keep a defense on its heels. We feel comfortable in what we're doing, and what we're setting up."
——————
IN PHOTO: Tioga coach Nick Aiello.