NEW YORK STATE FOOTBALL: WAVERLY LEARNS FROM LAST YEAR'S MISSTEPS IN PREPARATION FOR CLASS C QUARTER-FINAL GAME
(2023-11-17)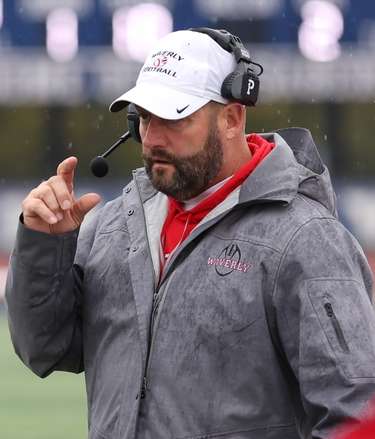 By TIM BIRNEY
Valley Sports Report
VESTAL — Fresh off back-to-back Section IV, Class C titles, Waverly will take on Section III champ Adirondack in the state quarterfinals Saturday at noon here at Dick Hoover Stadium, and Wolverine coach Jason Miller said they are not making the same mistakes this year.
"(Beating Chenango Forks) was a big win last year … it was hard to stay grounded," said Miller. "It was like Tuesday or Wednesday and we realized in our mind, 'hey, we have to play again,' and we stopped celebrating.
"This year, it was back to work. It's been a different mindset, and, hopefully, that translates to a win," noted Miller. "We didn't have to do much work to keep people grounded, and that's where your senior leadership comes in.
"I believe we're more prepared, and that falls on us as coaches," added Miller. "I think we have a better plan."
Miller notes things have already been much different than last year when a major snowstorm in Upstate New York resulted in the game being moved from noon on Saturday to 6 p.m.
"I think we've had a great week of practice," he said. "From what I recall about last year is that we didn't have a great week of practice.
"We had sickness, and a snow storm. It was a mess.
"I don't think defensively we were settled on what we really wanted to do, (General Brown) was different than what we had seen all year," noted Miller. "I just feel like we're confident going into this game because we're going to continue to do what we've gotten good at.
"(Adirondack) kind of plays like we do," added Miller. "They're physical and run at you, and that suits us better than having to play assignment, option football … there's a reason that Notre Dame and bigger school take a bye week before they play Navy (which runs a similar offense to General Brown), it's because that offense is tough to defend."
Miller said last year's loss to General Brown hasn't been much of a topic of conversation this week.
"As a group, I think this group, as a whole, is much more mature. We haven't talked much about last year because this is a different team, but the ones who were here last year certainly remember.
"The reality is went to (Cicero-North Syracuse) and did not play well," said Miller.

WHEN ADIRONDACK HAS THE FOOTBALL
The Wildcats enter the contest at 10-1 and ranked fourth in the state. They outscore their opponents by an average of 32.7 to 20.6 points per game, while averaging 372.5 yards in total offense per game — 313.1 on the ground, and 59.4 through the air.
Junior QB John Hennessey leads Adirondack's ground game with 1,214 yards and 15 TDs on 173 carries (7 yards per carry), while senior Isaac Croneiser has 741 yards and five TDs on 112 carries, junior Braden White has 586 yards and nine TDs on 119 carries, and junior Dalton Miranda has 300 yards and five TDs on 48 carries.
Hennessey has completed 33 of 58 passes (56.9 percent) for 286 yards, with five TDs and four interceptions. Senior Maxim Weiler is his top target with 14 catches for 195 yards, and two TDs, while señor Bailey Gleasman has 10 grabs for 92 yards, and two TDs, and Croneiser has nine receptions for 158 yards and one TD.
White has also seen some time at QB, completing 21 of 36 (58.3 percent) of his passes for 333 yards and three TDs, with two interceptions.
"They are a big physical team," said Miller. "They run it right at you with a lot of power stuff.
"Their quarterback is very athletic and tough," he noted. "He just puts his head down and runs. He makes plays, and is very difficult to tackle. It all starts with containing him. Not that their other backs aren't a threat, they are, but everything goes through (Hennessey).
"With that said, we can't focus 11 guys on him because they have very capable backs that can hurt you also.
"They are very well-coached. They run a lot of counter stuff, a lot of the things we do," added Miller. "That's part of preparing for this week. We do that every day … part of the preparation every week is if you can replicate what your opponent does that's certainly a big help, and, hopefully, an advantage."

WHEN WAVERLY HAS THE BALL
Waverly enters the contest at 10-1 and ranked second in the state, having outscored their opponents by an average of 39.8 to points to 11.9 points per game. They average 397.3 yards per game in total offense — 223.8 through the air, and 173.5 on the ground.
Senior QB Joey Tomasso, who is now third all-time in New York State in career passing yards, and fourth in career passing TDs, has completed 73.4 percent (160 of 218) of his passes for 2,365 yards and 34 TDs, with just two interceptions.
Senior Jay Pipher leads the Wolverines with 51 receptions for 1,004 yards, and 11 TDs, and junior Xavier Watson has 43 catches for 635 yards, and 11 TDs, while senior Jake VanHouten has 34 grabs for 380 yards, and five TDs, and junior Kolsen Keathley has 22 caches for 281 yards and four TDs.
Tomasso also leads the Wolverine ground game with 565 yards and nine TDs on 105 carries, while junior Payton Fravel has 383 yards and five TDs on 44 carries, and senior Carter George has 331 yards and two TDs on 41 carries.
"Adirondack plays a 4-3, and has played a quarter and man coverage," said Miller. "They will try to keep seven in the box … (but) formation-wise, they're just not going to be able to do that, so it's a little bit of an unknown.
"That's the thing when you start playing out of your Section … there's a familiarity when you're playing in your Section," noted Miller. "You know what everyone is going to do. There might be some variations, but for the most part you know.
"When you get out of the Section, you don't really know. You don't have a lot of film, and you don't get to see them, especially this team," continued Miller. "They've had a good team the last couple years, but we really didn't see them last year.
"They have the same athletes as on offense, so we know they're capable," added Miller. "We need to do a good job of seeing what they're giving us."
KICKING GAME
"I think the kicking game is another critical piece," said Miller. "It's going to be a little windy on Saturday again, and it will be considerable in terms of decision making. Again, the kicking game is key.
"One of the reasons Adirondack got here is General Brown scored with three minutes remaining to go ahead, and tried an onside kick," noted Miller. "It gave (Adirondack) the ball back at its 45. They got one first down, then they were in four-down territory, and went down and scored. Three minutes is a long time when you have three timeouts.
"(Adirondack) didn't even punt in that game, so I have no idea," laughed Miller. "Hopefully, we'll see if the punter is any good this week."
——————
IN PHOTO: Waverly coach Jason Miller. … VSR STOCK PHOTO.