NEW YORK STATE GIRLS SWIMMING: KITTLE SECOND HEADING INTO 50 FREE FINALS TO HIGHLIGHT WOLVERINES DAY AT STATES (12 PHOTOS)
(2023-11-17)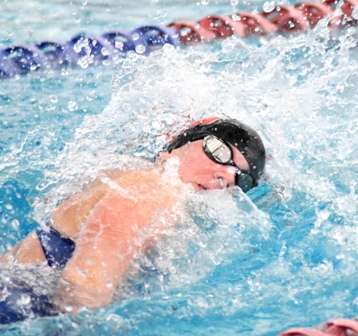 By BRIAN FEES
Valley Sports Report
WEBSTER — The first day of the NYSPHSAA Federation Swimming & Diving Championships went better than even Mira Kittle could have hoped for.
The Waverly sophomore hoped to make the final in the 50 free, but she didn't expect to swim a school-record 23.51 and be the second seed after the prelims.
"Honestly, when I first came here I just wanted to stay in the top 10," Kittle said. "Seeing second place, I'ms till shocked about it right now.
"I felt really good. I hope to do better tomorrow."
Kittle is second after the prelims behind another Section 4 swimmer — defending state champion of Angie McKane (23.30).
Now, Kittle is starting to think about a top three finish at the state meet.
"It would be really cool, especially only being 15 years old, it would be pretty awesome," Kittle said.
Kittle swam a 53.46 in the 100 free to finish 14th in the prelims, and she will swim in tomorrow's B final
"My 100 could have been better, but I'll be back tomorrow to do better and our relay did pretty good and hoping to do better again tomorrow," Kittle said.
Waverly's 200 free relay of Kittle, Olivia Cheresnowsky, Lauryn Welles and Megan Atanasoff finished 19th in 1:42.09 and will be in the B final tomorrow.
"This was really fun, it was a good experience so far," Cheresnowsky said.
Kittle was at states last year, as the only Waverly swimmer at the meet. This year it's fun to have her teammates with her.
"It's really fun having my friends swimming with me this year so I'm not all by myself, I was really excited for that," Kittle said. "It's really great, last year was a little stressful. I'm happy to have them with me this year."
For the other three swimmers in the relay it was fun getting their first experience at states.
"It was a a good experience, especially being so young as a team and being able to come here," Welles said.
"It's been incredible being able to come here with my teammates," Atanasoff said. "It has been really fun being able to swim with my teammates and hopefully we make it next year."
For the other three relay members it helps having Kittle, who had been to states in the past.
"Mira has always been like our leader on the team, she's always helped all of us out," Welles said.
"It's great to have her guide us and hope us not feel as nervous throughout the meet," Cheresnowsky said.
"It was great to have her right there with us through it all," Atanasoff.
With the entire relay returning next year the Wolverines have high hopes for the future now that they have gotten a taste of states.
"It's going to be great for the future years for all of us to swim together and hopefully make it to states again next year too," Cheresnowsky said.
There were some nerves Friday for the first state meet for the girls.
"We were very nervous, but the atmosphere here is electric so it pumps you up," Cheresnowsky said.
"I was really nervous when I got here, but as the day went on I got less nervous," Atanasoff said.
The Wolverines swimmers were happy with their time on Friday, but they feel like they can do even better Saturday.
"I feel like I did good, hopefully I can PR tomorrow too," Cheresnowsky said.
"I think I can do a lot better tomorrow," Welles said. "Hopefully I can not second guess myself while I'm swimming because I think that's what happened."
"I think I can do a lot better tomorrow, but I'm really happy with how I did today," Atanasoff said.
When she was younger Atanasoff watched her brother Mike swim, and medal, at the state meet. Now she's at states, this time competing herself.
"It was interesting to see him swim and me swim for states," Atanasoff said. "It is completely different (swimming instead of watching)."
———
PHOTOS BY BRIAN FEES