NEW YORK STATE FOOTBALL: TIOGA ROLLS TO 56-12 WIN OVER DOLGEVILLE IN CLASS D QUARTERS; ADVANCES TO STATE SEMIS FOR SIXTH STRAIGHT YEAR (24 PHOTOS)
(2023-11-17)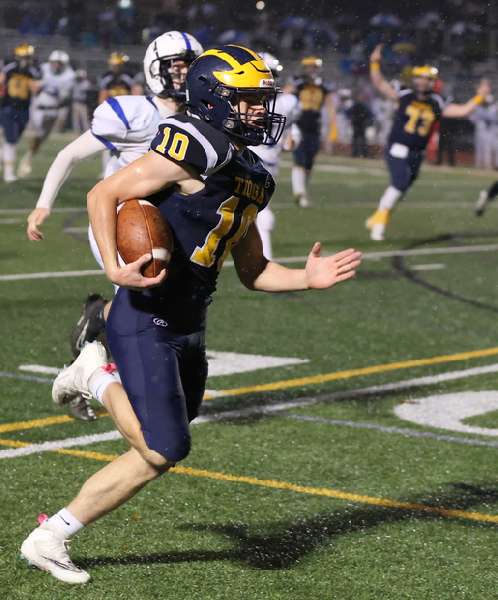 By TIM BIRNEY
Valley Sports Report
VESTAL — Tioga raced out to a 42-0 second-quarter lead, and advanced to the New York State Class D semifinals for the sixth consecutive season with a 56-12 win over Section III champ Dolgeville here Friday night at Dick Hoover Stadium.
The Tigers, now 12-0 and winners of 39 straight games, improve to 11-0 since 2011 against Section III teams in the state quarterfinals.
"I've said it before, but I think in Section IV, Class D you're forced to coach against good coaches with good game plans, and you're forced to play a physical brand of football if you want to get through," said Tioga coach Nick Aiello.
"I think that's why we're prepared for the state tournament year-in and year-out," he noted.
"A lot of coaches say this, but we hang our hat on trying to peak at the end of the season as you roll into the playoffs," added Aiello.
The Tigers have outscored their three postseason opponents (Delhi, Walton, and Dolgeville) by a combined margin of 174 to 35, and 21 of the points allowed came against Tioga's reserves.
"We're at the point right now with these guys that they're right where they want to be," said Aiello. "They are locked in."
Tioga scored three TDs on just 10 offensive plays in the first quarter, and led 21-0 11 minutes into the game. In the second quarter, Tioga ran just one offensive play and tacked 21 more points on the board.
"Our guys understand how to come out of the gate hot, and they did tonight.
"We put a couple defensive touchdowns on the board tonight, too, which always makes it much more comfortable when you're calling plays on offense," said Aiello.
The Tigers only ran 29 offensive plays in the game, and rushed for 262 yards on just 26 carries.
"With what Dolgeville was running (defensively), we thought if we could get to the second level we'd be all right," said Aiello. "Sure enough, Drew (Macumber) popped one early, and he was gone.
"Then, because they were playing up, we were able to throw it a little bit … even though it was raining, we felt comfortable putting the ball in the air," he added.
Dolgeville won the pre-game coin toss, and elected to defer, giving Tioga the ball first.
The Blue Devils hit a short pooch kick to the Tigers front line, and senior Gianni Silvestri signaled a fair catch at the Tioga 45.
Senior QB Caden Bellis connected with senior wideout Valentino Rossi for 19 yards on the game's first play from scrimmage, and two plays later senior Drew Macumber broke loose around right end on a 26-yard jaunt to the end zone just 71 seconds into the game,
Gavin Fisher's PAT kick — his 76th of the season — not only put Tioga up 7-0, but set a new single-season state record.
"I love starting on defense to set the tone," said Bellis. "… but I think we really set the tone offensively. We got a couple quick scores, and they didn't respond very well.
"We out-physicalled them, that's really what won us the game," added Bellis. "We had a good game plan, and the guys just got after it."
Three plays after the ensuing kickoff, Dolgeville faced fourth-and-inches at its own 29. The Blue Devils rolled the dice, and QB Chase Mosher picked up 1 yard for the first down, but four plays later Dolgeville was forced to punt.
Senior Evan Sickler returned the punt 25 yards to the Blue Devil 29. Four plays later, including a 15-yard pass from Bellis to Sickler, Macumber bulled in from 2 yards out to make it 14-0 with 4:39 remaining in the first quarter.
"We came out hot. Everyone was ready to go," said Macumber.
After a Dolgeville three-and-out, Tioga took over at its own 37. Following a run of 5 yards by senior Ousmane Duncanson, and a 23-yard pick-up by Macumber, Bellis found Rossi open down the middle of the field for a 45-yard TD pass with 1:00 minute remaining in the first quarter.
"I think mentally that play really took it out of (Dolgeville)," said Bellis.
On its next possession, the Blue Devils picked up a pair of first downs, and moved into Tioga territory for the first time. On fourth-and-1 at the Tioga, Cade Mosher fumbled the snap, and Tioga senior Josh Benjamin-Doyle pounced on it at the 42.
On Tioga's first play, Duncanson busted up the middle, and raced 58 yards to paydirt with 7:57 remaining in the first half.
On the PAT attempt, Sickler, who was the holder, scooped up a low snap, and raced around right end for the conversion to make it 29-0.
Dolgeville picked up one first down on its next possession, but faced third-and-7 at its 31 moments later. Mosher then lost control of the ball as he faked a pitch,, and ball bounced around in a mass of players.
Duncanson alertly scooped the loose ball off the top of the pile, turned and raced 29 yards for a TD with 4:28 remaining in the first half. Fisher's PAT kick made it 36-0.
"Ousmane (Duncanson), the ball kind of popped into his hands … and he took it the distance before anyone really knew he had it," said Aiello.
Two plays after the ensuing kickoff, Dolgeville went to the air, and the results were disastrous as Tioga junior Shea Bailey came down with a Mosher pass at the Tiger 49, weaved his way through traffic, and raced 51 yards for a score with 3:24 remaining in the half to make it 42-0.
"I'm real happy for Shea (Bailey) … he made a great run on the return," said Aiello. "He needed a play like that."
The Blue Devils finally got their offense into gear on its next possession, marching 73 yards on eight plays, including runs of 15, 17, and 13 yards by 220-pound tailback Trevor Borst. Cade Mosher capped the drive with a 24-yard TD to Brett Mosher with 3 seconds remaining in the half to close the gap to 42-6.
Tioga ran just 11 offensive plays in the first half, and racked up 206 yards in total offense, including 127 rushing yards on eight carries. Dolgeville had 141 yards of offense, including 117 rushing yards on 30 carries.
"We knew they wanted to run a lot of lead on us, so we were ready for that," said Macumber. "They wanted to pound it on us … that was really the only play they ran. We were ready for it."
Dolgeville opened the second half with the ball, and was quickly forced to punt.
Tioga took over at midfield, and on its first third-down play of the game, Silvestri busted loose on a counter for a 44-yard TD run to make it 49-6 with 8:27 remaining in the third quarter.
The Tigers subbed freely the remainder of the game, while Dolgeville's starters played the entire contest.
After an exchange of punts, Tioga stopped Dolgeville on downs at the Tiger 45 with 16 seconds remaining in the third quarter.
Junior Brennan Sindoni ripped off consecutive runs of 16 and 17 yards, sandwiched around a 5-yard penalty on the Tigers, to move the ball to the Dolgeville 17 as the third quarter expired.
Three plays later, including a 13-yard run by Sindoni, he bulled into the end zone from 1 yard out for Tioga's final TD of the night. Fisher's PAT kick made it 56-6.
Dolgeville's final score of the season came on a 12-yard TD run by Borst with 3:39 remaining in the contest.
Bellis was 3-for-3 for 79 yards and one TD in the game, with Rossi hauling in two catches for 64 yards and one TD, and Sickler recording one catch for 15 yards.
Duncanson led a balanced ground game with 70 yards and one TD on four carries, while Macumber ran for 57 yards and two TDs on four carries, Sindoni had 52 yards and one TD on six carries, and Silvestri added 48 yards and one TD on two carries.
Worst led Dolgeville with 133 yards and one TD on 27 carries, and Logan Kraszewski added 78 yards on nine carries. The Blue Devils finished the game with 257 rushing yards on 55 carries.
Cade Mosher completed 2 of 5 passes for 28 yards, one TD, and one interception.
Duncanson led Tioga with 11 tackles, including five solo stops, and two tackles-for-losses, while fellow linebackers Caden Bellis and Macumber had nine tackles apiece, and junior lineman Tate MaCauley had eight stops.
Aiello said the line played a major role in the defensive effort.
"We're a little young up front on our line, but they've come a long way, and have been playing really, really well down the stretch, and understanding their role even better," he said.
"You saw them in on some tackles tonight, but they were doing a really good job of keeping our linebackers free so they can fly around," added Aiello.
Macumber agreed with his coach.
"If the linemen aren't doing their job, the offensive linemen are going to be right on us, and we're not going to be able to do our job, which is to make tackles," he said. "They were a big part of it tonight."
The Tigers will now face Section VI champion Clymer-Sherman-Panama (11-0), which rolled over Section V champ Canisteo-Greenwood, 55-15, Friday night, next Friday at 3 p.m. at Cicero-North Syracuse High School.
CSP holds a pair of wins over Tioga in the state semifinals in 2018 and 2019.
"Similar to Section IV, whoever comes out of Section VI is battle-tested," said Aiello.
"CSP has had some good games this year, they've played some C schools, including a win over Salamanca, which won the Section VI title," he noted. "CSP is a good team. They have two state championships (2018-19) under their belt.
"They pose challenges on both sides of the ball," added Aiello. "We're going to have to be ready, and play well if we want to win that game."
——————
IN PHOTO 1: Tioga's Drew Macumber. … PHOTOS BY TIM BIRNEY.