NTL GIRLS SOCCER: ATHENS LANDS FOUR ON LEAGUE ALL-STAR TEAMS
(2023-11-18)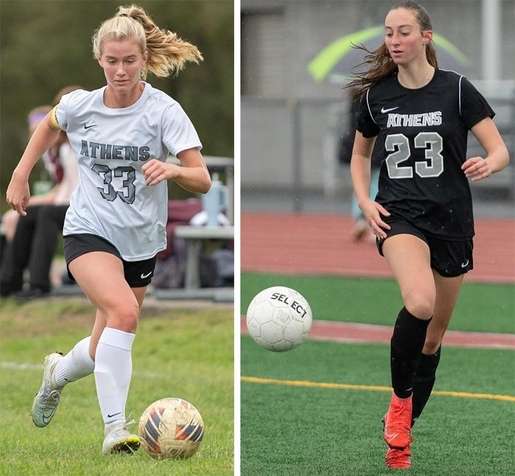 Valley Sports Report
ATHENS — Athens had four players — two first-team, and two second-team — earn NTL all-star honors in recent voting by the league's girls soccer coaches.
Junior Addy Wheeler, and senior Mya Thompson were first-team selections for the Wildcats, while senior Liz Shaw, and sophomore Lizzie Gorsline were second-team picks.
FIRST TEAM
Addy Wheeler, junior, Athens:
Wheeler scored six goals, and doled out five assists, while manning the midfield for the Wildcats.
"Addy did everything for us, from playing all 3 midfield positions to playing forward and filling in as an outside back a few times," said Athens coach Rich Pitts.
"Addy provided calm to the game for us on the ball and began to find the physical part of the game to be one of the toughest players in the league," he noted.
"She will go into next season as one of the leaders on and off the field and has already begun preparing for it," added Pitts.

Mya Thompson, senior, Athens:
"Mya Thompson is the best defender in the league in my opinion," said Pitts. "Her one-v-one defending skill is second to none.
"She became a vocal leader of the back line, which I know was tough for her as she is a super quiet kid," noted Pitts. "We have had some amazing defenders on this team but she is in the top-5, maybe top-3 of all time. It will be big shoes to fill."
SECOND TEAM
Liz Shaw, senior, Athens:
"Liz is a feisty, spirited player who became a very good soccer player over the last two years," said Pitts.
"She played outside back, which in our formation allows her to play defense, but also gets her into the offensive end, too," noted Pitts. "By year's end, she was putting pressure on team's defenses going forward.
"Liz led with her play and her voice, and we will need to find a girl who can take up that role next year as she kept us fired up all season,"he added.
Lizzie Gorsline, sophomore, Athens:
Gorsline led the Wildcats with nine goals, and had three assists.
"Lizzie was a great addition to our squad," said Pitts. "She can play pretty much any position, and do it well.
"She gave us some goal scoring punch that we needed coming into the season.
"Lizzie is a very physical player who likes the game to be played that way," noted Pitts. "She tackles every ball as hard as she can, and fights for every thing she gets.
"She will be asked to move into more of a leadership role next year as a junior, and to lead in the way Shaw did," added Pitts.
——————
IN PHOTO: Athens junior Addy Wheeler (left) and Mya Thompson. … VSR STOCK PHOTOS.