NEW YORK STATE FOOTBALL: WAVERLY ROLLS OVER ADIRONDACK, 49-8, IN CLASS C QUARTERFINALS; ADVANCES TO STATE SEMIS FOR FIRST TIME SINCE 2011 (24 PHOTOS)
(2023-11-18)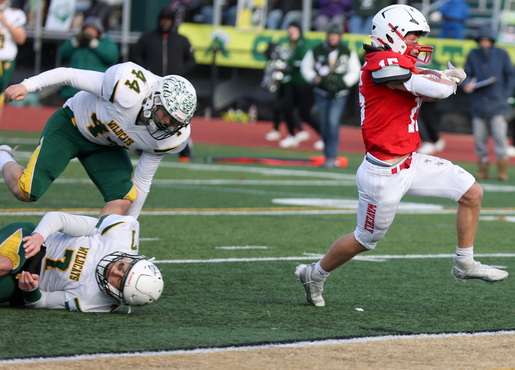 By TIM BIRNEY
Valley Sports Report
VESTAL — Despite all-state QB Joey Tomasso being hobbled by a late hit early in the game, Waverly amassed 502 yards in total offense in a 49-8 rout of Section III champ Adirondack Saturday afternoon in the New York State Class C quarterfinals here at Dick Hoover Stadium.
With the win, Waverly will make its first trip to the state semifinals since 2011.
"It feels good," said longtime Waverly coach Jason Miller.
"We had a great week of practice,"noted Miller. "We played very hard, and we matched their intensity,"
"This win means a lot," said Waverly junior Kam Hills. "Last year, we got killed by General Brown … this year, I think we have a good shot to win a couple more games."
The Wolverine defense limited Adirondack to 237 yards in total offense, but only 105 of that came against Waverly's first unit, which also forced three turnovers in 2 1/2 quarters.
"I thought we played outstanding defense, and I thought we did a really good job of stopping their quarterback," said Miller.
Adirondack's junior QB John Hennessey entered the game averaging 110.3 yards per game on the ground, and 7 yards per carry, but was held to just 46 yards on 14 carries (3.3 yards per carry).
"I think we just came into this game like we have every other game," said Hills. "(Adirondack) is a hard-running team. They know what they're doing, they've made it this far for a reason.
"We worked as a team," noted Hills. "Last week, we through we'd run all over Chenango Forks, but in the first half we really messed up. Today, we came in here prepared, and we played as a team. It was good."
"Last week, we made the mistake of not coming out and playing like a team," said junior Kolsen Keathley. "Today, we came out, we knew our jobs, we did our jobs, and it worked for us."
Miller agreed that his defensive front four of Hills, senior Jake Benjamin, sophomore Troy Beeman, and freshman Matthias Welles dominated in the trenches.
"They really did dominate … I can't say I'm surprised, but I wasn't completely sure coming in," he said. "(Adirondack) has dominated people up front throughout the year.
"We pushed those guys this week, and I think they took it to heart," added Miller. "They accepted the challenge, and played outstanding."
Miller said his defense also did a good job on Adirondack's run to the outside.
"Kolsen (Keathley) and Carter (George) played great," he said. "They did a great job of getting off blocks, and getting up field to make plays."
Waverly, on the other hand — with Tomasso essentially playing on one leg — pounded out 336 rushing yards on 33 carries. Keathley led the way with 144 yards and one TD on just four carries, while junior Payton Fravel had 92 yards and two TDs on 13 carries, and freshman Bryce LaForest added 58 yards on five carries. Tomasso, the team's leading rusher, did not have a carry.
Adirondack won the pre-game coin toss, and elected to take the ball. Their first possession ended with a three-and-out.
Waverly took over on its own 37, and on its second play, Keathley busted loose on a jet sweep to the visiting sidelines, and raced untouched 63 yards for a score. Sophomore Hogan Shaw's PAT kick made it 7-0 with 9:43 remaining in the first quarter.
"When teams play man-to-man, they have no run support on the outside," said Miller. "It was a really quick adjustment to what (Adirondack) was doing … we could have probably done that more.
"(After his injury), Joey just didn't have the strength to throw the ball downfield, noted Miller. "Fortunately, we were able to do a great job up front, and do a good job blocking on the edge.
"We were able to run the ball inside, run the ball outside, and keep them off balance," added Miller.
"I have amazing blockers off the edge," said Keathley. "I came off the edge, I saw field, and I ran — it's my favorite thing to do."
The Wildcats picked up a first down on their ensuing possession, but turned the ball over on downs four plays later at the Waverly 49.
Tomasso was flushed out of the pocket on Waverly's first play, scrambled to his right, and was sacked for a loss, but the Wildcats were flagged for a horse-collar tackle, which moved the ball to the Adirondack 36.
On the next play, Tomasso's pass fell incomplete, but Adirondack was flagged for a late hit around the knees, which left Waverly's all-state QB on the ground for several minutes, and moved the ball to the Wildcat 21.
Three plays later — with freshman Ben Shaw in at QB, junior Payton Fravel busted loose up the middle for a 10-yard TD run with 4:14 remaining in the first quarter. Shaw's PAT kick made it 14-0.
"We have given Ben (Shaw) a lot of reps on inside run stuff, so we didn't really miss a beat as far as running the ball," said Miller. "He did a great job of coming into a situation like that, and just executing the offense.
"He's had a lot of reps … he was prepared for that, and it was good to see that translate from practice into a big game," added Miller.
Adirondack fumbled the ensuing kickoff, and Waverly junior Nate Peters came out of the pile with the ball at the Adirondack 33.
A holding call on Waverly's first play put them behind the chains, and Wolverines ended up punting. Shaw's boot bounced into the end zone, giving the Wildcats the ball at its 20.
Adirondack quickly faced a third-and-9, and George batted down Hennessey's pass to force another Wildcat punt.
Tomasso returned to the game, and connected with senior Jake VanHouten for 8 yards, and junior Xavier Watson for 18 yards to the Adirondack 15 as the first quarter came to a close.
Two plays later, however, Braden White stepped in front of a Tomasso pass at the 3-yard line, and returned it to the 7.
The Wildcats' momentum was short-lived, however, as Keathley penetrated into the backfield, and tackled White for a 4-yard loss to the Adirondack 3. The Wildcats did pick up a first down on a fourth-and-1 conversion at their own 16, but punted four plays later.
Waverly took over at its 32, and Tomasso directed an 11-play drive that increased the Wolverine advantage.
Tomasso completed 4 of 5 passes for 33 yards and Fravel picked up 31 yards on five carries, including a 21-yard run to the Wildcat 10.
Tomasso capped the drive with a 9-yard TD pass to Watson with 1:40 left in the first half. Shaw's PAT kick made it 21-0.
"It was a scary, scary moment," said Miller of Tomasso's injury. "It was very painful for him.
"He just showed again how tough he is," added Miller.
Tomasso finished the game with 10 completions in 14 attempts for 153 yards, and two TDs, with one interception — just his third in 232 pass attempts.
On its ensuing possession, Adirondack converted a fourth-and-15 with the hook-and-lateral play for a 23-yard gain to the Waverly 45 — the first time it crossed midfield, but VanHouten ended the first half with an interception of Hennessey's desperation pass at the first-half horn.
Keathley returned the second-half kick 29 yards to the Adirondack, and three plays later, Fravel ripped off a 40-yard TD run. Shaw's PAT kick made it 28-0 just 66 seconds into the third quarter.
Adirondack quickly moved the ball into Waverly territory with a 17-yard run by Hennessey, a 15-yard personal foul flag against the Wolverines, and an 11-yard pass from Hennessey to White, which gave the Wildcats a first down at the Waverly 23.
After a holding call moved the ball back to the 33, VanHouten came up with a deflected pass for an interception to end the Adirondack threat.
Three plays later, Tomasso hit Pipher with a quick slant, and the speedy senior did the rest of the work, weaving his way through traffic on an 83-yard dash to paydirt. Shaw's PAT kick made it 35-0 with 7:38 remaining in the third quarter.
After a series of punts, Waverly took over at its 37, and freshman Ben Shaw directed a four-play drive into the end zone.
Keathley provided the big play with a 33-yard run, and the drive culminated with a 14-yard TD pass from Ben Shaw to Watson, who wrestled the ball away from the defender on the way to the ground, on the first play of the fourth quarter. Hogan Shaw's PAT kick made it 42-0 with 11:53 remaining in the game.
Adirondack avoided the shutout on a 2-yard TD run by White with 6:26 remaining in the game. Hennessey added the conversion to close the gap to 42-8.
Waverly answered with a three-play, 63-yard drive. Freshman Bryce LaForest started the drive with a 37-yard run, and junior Seth Noto capped the drive with an 11-yard TD run with 5:35 left in the contest. Hogan Shaw's seventh PAT kick made it 49-8.
Watson led Waverly's receivers with six catches for 50 yards, and two TDs, and Pipher had two catches for 91 yards, and one TD. Pipher now has 1,095 receiving yards this season, eclipsing his own single-season school record of 1,034 yards.
White led Adirondack with 71 rushing yards and one TD on nine carries.
Hennessey completed 2 of 11 passes for 34 yards, and two interceptions.
Waverly, now 11-1, will square off with Section VI champ Salamanca (10-2), which beat LeRoy, 21-13, Saturday, in the state semifinals next Saturday.
"We saw Salamanca a little bit in 7-on-7s this summer, but didn't play against them," said Miller. "I know they are tough kids, and are quite athletic.
"I'm not surprised to see them win," he added.
——————
IN PHOTO 1: Waverly's Payton Fravel. … PHOTOS BY TIM BIRNEY.