NEW YORK STATE GIRLS SWIMMING: WAVERLY'S KITTLE BRINGS HOME STATE MEDAL, PLACING 8TH IN THE STATE (14 PHOTOS)
(2023-11-18)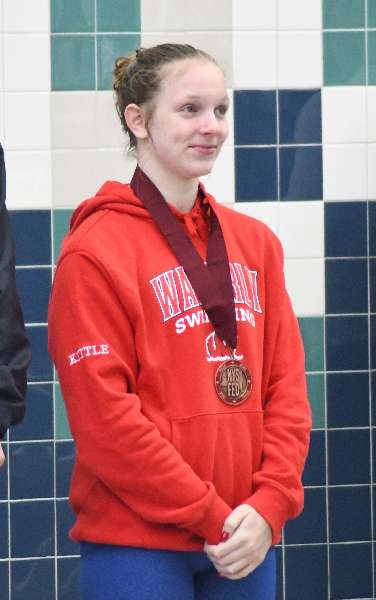 By BRIAN FEES
Valley Sports Report
WEBSTER — After the 50 free came to an end, Waverly's Mira Kittle looked to the lane next to her and saw her friend celebrating after winning the race.
While Corning's Angie McKane was celebrating another state title, Kittle was upset after not reaching her expectations for the race.
That's when the Corning standout, who was named the outstanding competitor at the state meet, reached out to the Waverly swimmer and pulled her in for a long hug, and looked her in the eyes and gave her some comforting words.
"It means a lot to me," Kittle said. "Especially since I've known her for a little while and I've become pretty close with her. It's really special."
Kittle had swam a 23.51 in the prelims Friday to be the second seed in the finals of the NYSPHSAA Swimming & Diving Championships at the Webster Aquatic Center. In the final Kittle swam a 24.22 to finish in eighth place.
Knowing that the race wasn't exactly what Kittle wanted, McKane made sure the young Wolverine knew she had a bright future in the sport.
"She did really well yesterday," McKane said. "She got a PR. Today her race just didn't come together and I've been in that exact position before and I know how it feels and I know it feels like everything is kind of crumbling and your hard work didn't pay off. But, I just needed her to know one race doesn't define you and everyone has bad swims. Like yesterday, they weren't bad swims, but I didn't get the times I wanted to. You just have to go into the next race with a new mindset and be excited. You have to have adrenaline and just get your blood pumping and look forward to the next thing."
McKane, who has won the past two 50 free state titles, and the past three 100 fly state titles, knows that Kittle is on her way to being a star in the sport.
"Honestly, I see a faster version of myself in her," McKane said. "I didn't have a 23.50 as a sophomore. She's really speedy and I'm super excited to follow her journey over the next two years and see how she does when she's a senior."
While the time wasn't everything Kittle wanted, she finished the day as a state medalist.
"It's really special," Kittle said. "I definitely think I could have done better. But, I always have next year."
The disappointment of wanting a faster finals time is something that's just pushing Kittle to be better next year.
"It drives me a lot," Kittle said. "I was already talking to my coach about it. I really want to lock down this upcoming season."
Kittle finished 18th in the 100 freestyle with a time of 53.84, swimming in the B final of the race.
Kittle, Megan Atanasoff, Lauryn Welles and Olivia Cheresnowsky took 18th in the 200 free relay in 1:43.04.
"I feel like we swam good," Cheresnowsky said. "Definitely could have done better, but we did the best we could. This was a a lot of fun. A good experience and hopefully we'll do better next year."
Atanasoff loved getting a chance to swim at the state meet.
"I think this is my favorite meet of the season, it was a lot of fun," she said. "I think we could have done better, but I think we did good."
While Kittle thought she could have done better in her individual races she was happy with being a part of the relay as well.
"It was alright," she said. "I think personally my performance, I could have done better. But, as a relay I thought we did the best we could and hopefully come back stronger next year."
The girls all loved the chance to compete at states.
"Awesome experience, I hope we can come back next year," Welles said.
Only Kittle had been to states before, and all four are underclassmen, so they know this was a good chance to see what states was like.
"This is definitely a good learning experience for next year if we qualify," Cheresnowsky said.
"I think next year I'll know more what to focus on because I'll be more experienced," Atanasoff said.
The Wolverines swimmers all want to get back to the state meet in the future.
"I am really excited to come back next year with these girls," Kittle said.
———
PHOTOS BY BRIAN FEES.