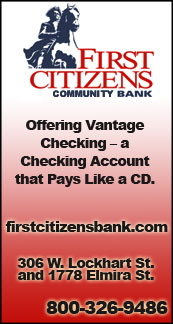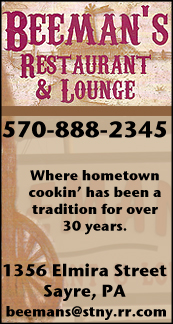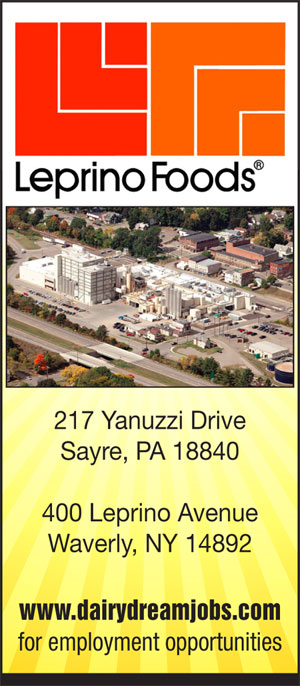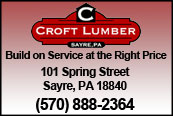 FROM THE PRESS BOX: A LOOK INTO THE CRYSTAL BALL AT THE 2016-17 GIRLS HOOP SEASON (2016-03-25)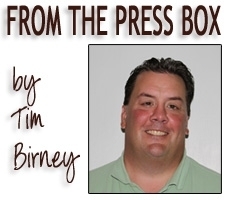 It was a very good season on the girls basketball hardwoods with three of the four Valley teams winning at least 15 games and all four qualifying for the postseason.

The only team not to post a winning record, Tioga, more than doubled its win total from the 2014-15 season.

What's in store for the 2016-17 season? Well, the Crystal Ball is a little murky, considering the start of the season is still about eight months away, but I can make out enough to venture an educated guess.

Athens Lady Wildcats: The Lady Wildcats will be hard-pressed to replace Morgan Westbrook, but I expect junior-to-be Breanna Gambrell to step up her game on both ends of the floor.

The driving force for Athens will likely be the formidable backcourt duo of Emily Lunger and Shanell Baglini, who will likely form the best guard tandem in the NTL.

To repeat this year's success, the Lady Wildcats will need all their returning players — Ariana Gambrell, Kara Chapman, Emma Adams, Julianna Sporn and Reagan Lynch — to improve their production.

Around the NTL, Mansfield and Wellsboro will be hit very hard by graduation, while Wyalusing graduates a pair of starters, but returns the majority of its team. The Division 1 title is there for the Lady Wildcats to take.

Prediction: Even with the loss of Westbrook, Athens returns a pair of potential "Player of the Year" candidates in Lunger and Baglini and a player who could be better than both of them in Breana Gambrell if everything clicks. The whole key will be how the remainder of the team fills it roles. An increase in numbers (only 13 on roster between varsity and JV this season) would be a big boost as well.

Despite a tough non-league slate, Athens finished the regular season at 15-7 and I could easily see them improving on that mark. … 2016-17 record: 17-5.

Sayre Lady Redskins: Coach Eileen Sparduti can't even worrying about trying to replace "Player of the Year" Paige Wampole. Instead, she may look to a different style of play with a more guard-oriented team on the horizon.

The Lady Redskins return a trio of starting guards in Kaeli Sutryk, Andi Noldy, and Camry Lane, as well as, Kate Cron and Stephanie Klovekorn, who could make a big impact next season.

Molly Ball, who was one of the most improved player in the region this season, returns in the low post, but there is no one else returning with any substantial varsity experience.

Sophomore-to-be Blair Wampole saw some time in the postseason and could be a contributor, and Emily Moore is another who could see time on the blocks, while Madisyn Wheeler should provide depth in the backcourt.

Around the NTL, Northeast and Liberty will both be hit hard by graduation, which leaves the door wide open for a Sayre three-peat in Division 2.

Prediction: The Lady Redskins will look a little different next year without Paige Wampole, but expect their guards and Ball to step up their play and give teams fits with their athleticism. Sayre finished 17-5 in each of the last two regular season and that's in the ballpark for next season. ... 2016-17 record: 17-5.

Tioga Lady Tigers: The Lady Tigers lose a pair of three-year starters in Katelyn Stubbs and Taylor Ayres, but coach Joe Robinson has several players coming up from the JV ranks who should provide quality minutes.

Aside from those two seniors, everyone else returns with Madi Teribury, Olivia Howland and Megan Godfrey in the low post forming a formidable backline, while Sarah Hollenbeck, Kirsten Schweiger and Holly Tinney return in the backcourt

Tioga's JV team won the overall IAC Small School title and should provide several players who could play a role on the team next year, led by Sara Strong and including Arielle Ayres, Grace Manwaring, Anna Schumacher, Emily Polo Rankin, Kurstan Martin, Lauren Allen and Hannah Browne.

Around the IAC, O-M returns several talented young players and Newfield returns all-everything Mariyah Byrd, but will be hurt by graduation. The Lady Tigers could be in the hunt for a division title if everything falls right.

Prediction: Once again, Tioga won't have a go-to scorer it can count on for 18 points a night or more, but it may have more players capable of scoring in double-figures. The Lady Tigers improved from 3-15 in 2014-15 to 8-11 this season and there's no reason to think they won't improve again next year. ... 2016-17 record: 10-9.

Waverly Lady Wolverines: With Elle Nittinger and Wendi Hammond, the Lady Wolverines have a pair of dynamic all-around players. Next season, with the return of Alex Tomasso, who missed this season with a knee injury, they'll have three players capable of scoring 20 points on any given night.

Waverly graduates just one starter and should boast impressive depth next season.

I expect Marissa Trudeau to take another step forward next season and Zoey Mennig and Shailei Kraft to continue to hit the boards and play hard-nose defense.

Eighth-grader-to-be Sydney Tomasso could be the biggest beneficiary of her sister's return. She can knock down the 3-pointer, but her biggest attribute is a quick release with her mid-range jumper that allows her to get her shot off over taller defenders in the lane when the Lady Wolverines run their three-man-weave at the top of the key.

Around the IAC, Notre Dame returns most of its team and Watkins Glen also brings back its best players, which means Waverly could be in a dog fight in the Large School Division.

Prediction: The Lady Wolverines will be deep and talented with the ability to run and score in the half court, an area where Alex Tomasso's return will really benefit them. The added depth could allow coach Bob Kelly to increase the defensive pressure, which spells trouble for the IAC. Waverly finished the regular season at 14-6 and should easily improve on that mark. … 2016-17 record: 17-3.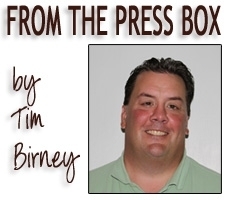 Print Friendly Version
You've asked about helping ...
here's your chance. Click HERE